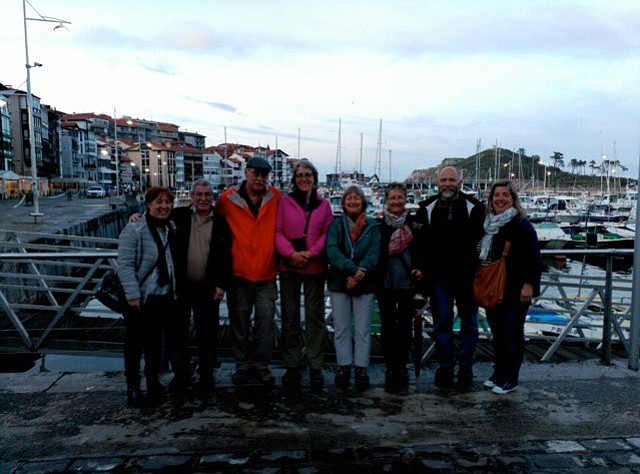 I was a Girl Scout over 50 years ago, but the lyrics to a popular scouting song still remain lodged in my brain, years after memories of merit badges and the taste of campfire s'mores are long gone: "Make new friends, but keep the old. One is silver and the other's gold."
Some solid gold friends recently traveled to Spain with my husband and me. We've known Anne and Gil for over 30 years, and during that time have shared everything from an outhouse in the Sierras to the deaths of our parents. They've been true, supportive friends all these years.
Of the four of us, only Anne fits reasonably well in a coach airplane seat, but both she and Gil are seasoned travelers who put up with the discomfort knowing the payoff is worth the pain. My husband and I are flying greenhorns who still clutch the armrests every time the plane shakes from a bit of turbulence.
We landed in Madrid over 12 hours after our travels began in Portland, all four of us intact, but only one of us (me) with a suitcase. The rest of the luggage was MIA, and the clerks at the Air Europa desk were less than helpful. We handed them our itinerary in hopes the airline would deliver our missing suitcases, and they handed us three small pouches filled with white t-shirts, toothbrushes, toothpaste, and shampoo. Armed with these "essentials," we picked up our rental car and took off for points north. The men had packed extra underwear and raincoats in their backpacks; I shared a sweater and jacket with Anne.
Three days later and five hours from Madrid, the remaining suitcases arrived at our lovely hotel in Ribadesellas. During those days without any clean clothes or amenities, none of my fellow travelers complained about their predicament, and no one gave me the evil eye for being the lucky bearer of a suitcase.

•
The day after celebrating our suitcases' arrival, we laced up our hiking shoes and headed up into the Picos de Europa National Park. We hiked around alpine lakes into the flower-filled meadows ("Las Vegas" in Spanish) and gave thanks for our friendship and the incredible scenery as we munched on a picnic lunch while cows, their bells clanging, munched on the verdant grassland below us.

While in Ribadesellas, I made new friends one evening with a waiter and a group of Australian hikers when I helped translate the menu from Spanish into English. The next day, we returned to the café for dinner. As we left, my waiter friend uttered his only words of English to me: "Bye-bye!" I was teased unmercifully about my "boyfriend" for the rest of our vacation.

From Ribadesellas, we traveled east into the heart of the Basque country, settling into the town of Lekeitio. Our friends from Hood River, Manuel and Mikka Irusta, know Lekeitio intimately, as Manuel was born there, and most of his relatives still live there. Before we left Hood River, they gave us names and phone numbers for all the Basque cousins.

We had barely unpacked before Manuel's cousin Nekane connected with us through our hotel. In the early evening, we met her in front of the cathedral. Nekane took us to her office where she works as a tourism guide and filled our hands with maps and brochures of her beloved community. From there, we began what is a routine event for Spaniards — hours of strolling through the town, stopping by a series of cafés and bars to have a glass of wine or a mixture of wine and Coke known as Kalimotxo. Pintxos, the Basque word for tapas (which is the Spanish word for appetizers), always accompanied the drinks. At one of our first stops, we were met by more cousins — Miren, Idoia and her husband Jose. They greeted us as old friends, and indeed we soon felt like we had known them forever.

•
In addition to being an evening filled with libations, it was an evening full of language — Nekane spoke Basque, Spanish and English, Miren and Idoia spoke Basque and Spanish, Jose spoke Spanish but understood Basque. Gil and I spoke mostly Spanish, Anne understood some Spanish, and Jim, monolingual at the beginning of our trip, proved to have an affinity for learning Basque words.

Late that evening, I texted Mikka and Manuel to thank them for setting up our cousin rendezvous. Minutes later, Mikka texted back that they had already seen pictures of our group gathered in front of Lekeitio's harbor. The Internet has truly made it a small, small world.


The Americanos and the Basque cousins repeated the fun the next evening, now joined by Miren's husband Jon. Jon is one of 10 children, most of who still live in Lekeitio. Thus, every time we entered a café we met still another sibling, uncle or cousin of Jon's. By the end of the evening, our new friends were too numerous to count. The next morning Gil, Anne, Jim and I headed down the now familiar path from our hotel to the downtown area, saying "Hola" to the ever-present cows. We were on our way to a Basque festival of dance in Lekeitio's main plaza. We watched, mesmerized, as 1,000 traditionally costumed Basque dancers from all over the Basque country performed dances from their rich culture. By chance, we bumped into Miren and Jon, and spent another wonderful hour with the friendly Irusta cousins. Then, with hugs and kisses on both cheeks, we said "Adios" and continued our travels through other parts of Spain.

At a time when certain politicians are suggesting we mistrust those who speak a different language or claim another country as their place of birth, it was refreshing to embrace, and be embraced by, those who are different from us. Whether gold or silver, tin or aluminum, old or new, our relationships are precious.