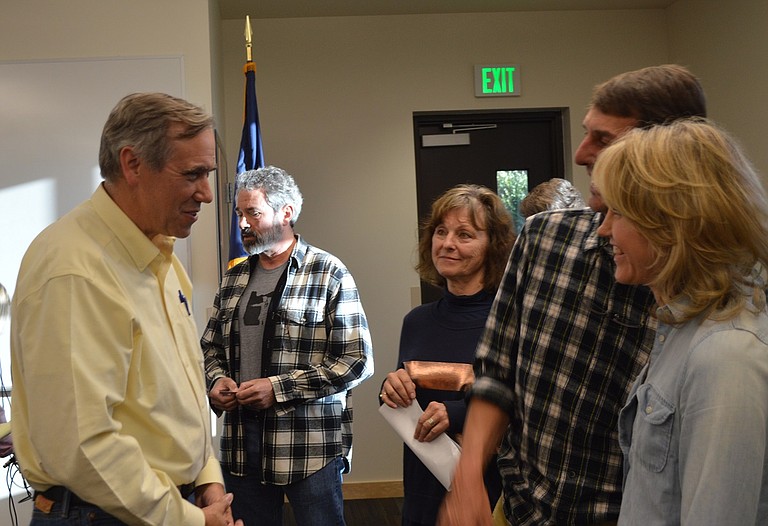 Originally published June 22, 2016 at midnight, updated June 22, 2016 at midnight
U.S. Sen. Jeff Merkley (D-Oregon) hit Hood River on his town hall sweep Saturday evening.
Merkley spanned a wide legislative umbrella during his talk at Ty Taylor Fire Hall, from rail safety and environmental advocacy in the Gorge to partisan conflicts within Congress.
The meeting drew dozens, including local dignitaries: Hood River Mayor Paul Blackburn and City Council Members Kate McBride, Mark Zanmiller and Peter Cornelison, Hood River County Chair Ron Rivers, Port of Hood River Commissioners Brian Shortt and Rich McBride, and Port of Cascade Locks Commission President Jess Groves. Merkley appeared at a Mosier town hall earlier in the day.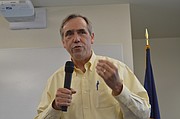 Merkley began by "shining the spotlight" on local clean energy partnerships, such as the newly formed Hood River County 2050 Coalition. He presented Erika Rench of Climate Action Network with a United States flag.
"I have not encountered a community that has such an impressive list of undertakings," Merkley said of local clean energy advocacy and conservation teamwork.
Merkley launched into an update from Congress.
First was education. The senator reported the controversial No Child Left Behind policy had been replaced with a new strategy: Every Student Succeeds, which he termed as a more state-driven concept.
"The state will be able to wrestle with the testing issues and incentives and hopefully will have a much better structure than we had before," Merkley said.
On infrastructure, he brought mixed news. Congress passed a long-term transportation bill, he said, but "the bad news is it's not funded on a level that substantially increases what we can spend."
He pointed to the aging Hood River-White Salmon Interstate Bridge and Bridge of the Gods as structures hurting for upgrades.
Addressing the June 12 nightclub shooting in Orlando, Merkley took on a somber tone and called for an end to legalized discrimination against LGBT citizens in the United States.
Railway safety became a dominant discussion point, in light of the June 3 oil train derailment in Mosier. Merkley called for stronger safety standards and a deeper investigation into the incident.
"When a plane falls out of a sky, we examine everything about it and the similar planes are grounded until we know what caused it and we fix it. We're not doing the same on the railroads … it's almost a cost of doing business attitude right now," he said.
Earlier this month, Merkley supported several Oregon policymakers in a temporary halt of oil unit trains, but that's not permanent, he said.
"The general challenge we have is that the major train routes are a common carrier which means they carry everything we use in our economy," Merkley said.
Charlie Boonstra, a new graduate from Hood River Valley High School, asked Merkley what youth can do in response to derailments. Similarly, Hood River City Council member Kate McBride asked for direction for "who to talk to" to keep up the freeze on oil traffic.
"There's a moratorium right now for unit trains of oil … and you've basically pledged to help us work on this issue. Who else do we need to talk to (in order) to keep this moratorium going until we get some safety?" McBride said.
Merkley urged people to reach out the Oregon House, and to advocate against the expansion of new oil terminals like the Tesoro-Savage marine-by-rail hub proposed in Vancouver. New terminals would increase the demand for oil transport through the Gorge, he said.
The issue of partisan divides within Congress rose up at the town hall.
Joe McCullough of Hood River asked Merkley how Democrats would respond to candidate Donald Trump if he became president.
"When is (partisanship) going to stop and what's going to happen if Donald Trump gets elected? Are the Democrats going to be able to work with him?
"No," Merkley said, which drew laughs from the audience. He opposed Trump on claims that he "systematically denigrates" women and immigrants, as well as people practicing certain religions.
"We very much need to have a Congress that pushes back and says (those) are not the values of this nation and we're going to make sure that the executive branch operates with a very different set of philosophies," Merkley said.
One of the final issues Merkley tackled was drug addiction.
Luz Oropeza of Hood River County Prevent Department asked Merkley about what action policymakers have taken in response to young people's concerns regarding drug abuse.
He anticipates a "huge conversation" will be building up nationwide.
"It's really an epidemic," Merkley said of prescription drug and opioid abuse. "We've got to change our practices; we've got to change our accounting system."