Wednesday, March 23, 2016
1916 — 100 years ago
Parkdale Grange met in McIsaacs hall Saturday afternoon with a good attendance. Four new members were initiated and a number of applications for membership received. Resolutions opposing the state assuming any further liabilities for irrigation or drainage projects and favoring the Chamberlain land grant bill were passed.
The light opera "Sylvia" to be given next Friday by the Hood River High School talent is well worth seeing. The scenes are laid in England and show life among the hay fields, where farmer lads and maidens mingle with the court ladies and gentlemen, making the fields ring with merry notes.
1926 — 90 years ago
The first step towards carrying out plans for enlarging the Mount Hood Hotel was undertaken this week, when Mrs. C.A. Bell and Fred Bell, owners, contracted L.C. Baldwin for a number of improvements and reconstruction work. The large store on the ground floor of the hotel, now occupied by the Interstate Motor Co., is to be vacate within a few days and this will be converted into a large lobby and hotel offices, and will be modern in every respect.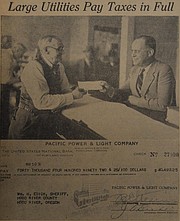 1936 — 80 years ago
A meeting to discuss plans for operating the golf links at the Country Club at Oak Grove, Monday evening, brought out a large number of players and others who are interested in maintaining the links for public use, and the hope is now expressed that sufficient interest will be available to operate the links this and coming seasons without saddling owners of the property, M.E. McCarty and Geo. Thomsen, with any of the cost of operation or maintenance. Twenty-one of those present announced that they would guarantee at least two memberships apiece.
In the near future, according to District Ranger S.C. Walters of the Forest Service, a crew of 20 men from the CCC camp at Wyeth will be allotted to the work of clearing a tract of 25 acres, near McMullin's Tavern on the Loop highway, as a winter sports playground for the use of residents in the Mid-Columbia area. Included in the plans are a slalom course, jumps which will meet Classes B and C requirements, toboggan runs and an open area for winter games.
1946 — 70 years ago
The housing committee of the Veterans' county council voted on Wednesday to petition the City of Hood River to seek 12 additional housing units, similar to the 26 veterans' homes to be erected on the Mooney tract, corner of Belmont Road. Mayor Joe Meyer stated Thursday that the city has obtained the maximum allotment of housing units under the presents Federal Public Housing Authority, but that more will be requested if the current legislation before congress is passed authorizing additional expenditures for the housing program.
Three Hood River men, Harold Hershner, H.O. Kresse and Harold Tucker, who, over a long period have given their time, without any financial remuneration, for the operation of Selective Service plans in Hood River County, have received recognition in the form of Selective Service Medals and certificates of merit and were, last night, to be guests of honor at a banquet and ceremony at The Dalles Hotel. The awards were to be made by Governor Earl Snell, of Oregon.
VERBATIM: County Districts Will Reorganize
Approval of the plan of the county school district to reorganize Barrett, Oak Grove and Frankton school districts has been given by the county school board and members of the local committees from the three districts. The plan will go into effect at the beginning of the 1956-1957 school year.
Under the new program, Barrett will handle all fourth, fifth and sixth grades, and first, second and third grades will be split between Frankton and Oak Grove.
It is expected that a much better educational program can be achieved through reorganization and, in addition, the new plan should save about $10,000 in teacher salaries.
— Hood River News, March 22, 1956
1956 — 60 years ago
The Hood River city schools last week adopted a new salary schedule for teachers, according to an announcement by City School Superintendent Wayne Foster. The base scale was raised to $100 and the first four yearly increments were raised from $100 to $150. The new schedule goes into effect for the 1956-1957 school year. Average teacher raise, which includes yearly increment, amounted to $314. There has been a general trend of teacher salary increases throughout the state this year, reported Foster.
E. Riddle Lage, Hood River fruit grower, and Bruce Williams, Salem attorney, were named late last week by Governor Elmo Smith as new members of the Oregon liquor control commission. They replace Lester Ireland of Hillsboro and J. Harry Sroufe, Portland. The pair will serve with Lowell Seaton of Albany, holdover member.
1966 — 50 years ago
John Weber, a leader in helping organize an Odell Sanitary District, said Federal wheels may at last be turning on the Federal planning aid for the project. There's one other development, said Weber. The district board plans to levy a tax In the district this year. "We're in the process of drawing a budget now," he said. Its purpose is to repay the county for the cost of its election, and for establishing a reserve fund for eventual payment of sewer planning and construction costs.
Jack Oller, fruit frost meteorologist with the U.S. Weather Bureau, will begin weather forecast broadcasts over radio KIHR next Monday. His broadcasts are of special interest to fruit growers and will be at 12:10 p.m. and 8 p.m. each day throughout the end of May.
1976 — 40 years ago
County and state officials have issued warnings about pesticides in and around waterways after a Hood River County resident discovered apparent pesticide pollution in a creek running through her property. Ann Nieminen, Rt. 1, said she discovered a foul smell coming from Lentz Creek when she fed her animals the night of March 16. The Nieminens use the creek, which runs through their eight acres of land, for irrigation and as a source of water for their animals.
A city police car, disabled because of a flat tire, became the target of vandalism early Sunday, and was put out of service for the entire day while repairs were made. Cost to repair the car will probably be less than $25.
1986 — 30 years ago
The 38th annual Mosier School homecoming banquet will take place April 5 in the school gymnasium. All alumni, teachers and students, and their guests, are invited. Cost is $6.50 per person.
Get ready, folks, it's almost Easter egg hunt time at the Hood River Inn. The Inn, located east of the interstate bridge toll house, has established the hunt as an annual event, and this year will follow the tradition, according to Julee Vawter, banquet coordinator. She says the festivities will be on March 29 and it will start promptly at 2 p.m.
1996 — 20 years ago
In one corner of the new, 8,000 square foot Hood River County Senior Center, Lloyd Nance and Ben Foster shoot a game of pool and talk about the weather. In the recreation room, three women are intent on putting together a puzzle and others gather items for an upcoming craft fair. The center, with a multipurpose meeting room, lounge, dining room and lobby, is a dream come true for the county's large population of seniors. That dream will be celebrated March 23 when the center will hold its grand opening, led by master of ceremonies Greg Walden.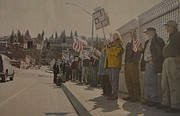 2006 — 10 years ago
Honks and thumbs-up repeatedly greeted citizens who staged peace demonstrations in Hood River on Sunday morning. Signs with expressions such as "No More War," "PEACE," and "War Has Two Losers" expressed the participants' views that the United States needs to get out of Iraq and drastically alter foreign policy in the Middle East.
The School Board approved a dual language charter school concept last week. The district plans to place the charter school at Westside Elementary. Two new portables have been ordered to accommodate the school.
The charter program will include one class at each grade level from kindergarten through fifth. The lottery will be conducted on March 22; students who do not make the first lottery will be placed on a waiting list.
— Compiled by Trisha Walker, news staff writer