Wednesday, March 30, 2016
Calling all artists: 'KOOBDOOGA: Community Reads' is back for a second year. The Friends of the White Salmon Valley Community Library invite artists to take part in the October 2016 "KOOBDOOGA" Art Exhibit. This year's featured book will be "The Boys in the Boat: Nine Americans and Their Epic Quest for Gold at the 1936 Berlin Olympics," written by Washington author Daniel Brown.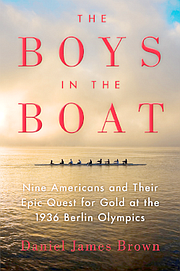 "The Boys in the Boat" is an inspirational true story of nine working-class boys from the American west rowing for the University of Washington crew team, who at the 1936 Berlin Olympics showed the world what true grit really means. The book has been the recipient of numerous regional and national awards and honors, including the Washington State Book Award (2014), the American Booksellers Association's Adult Nonfiction Book of the Year (2014), and the American Library Association's Andrew Carnegie Medal for Excellence in Non-Fiction (2014).
The Friends are again calling the "community reads" event "KOOBDOOGA" ("A Good Book" read backwards). The goal of the project is to bring the community together to celebrate the reading of a good book.

In addition to the month-long Art Exhibit of works inspired by the featured title, "KOOBDOOGA: Community Reads 2016" will include a series of five special events to be held each Saturday afternoon throughout the month of October.
Participating artists are invited to pick up a free copy of the book, create a work inspired by the featured book and display the work in the month-long exhibit this fall. Works in all mediums are welcome, including acrylics, oils, pastels, photography, fiber arts, bead work, mixed media, etc. Free copies of the book are now available for participating artists to pick up at the library's front desk.
Submission deadline for artwork is noon on Saturday, Sept. 24. The Friends of the Library will host a public Artist' Reception in the library's Sprint/Baker Gallery on Oct. 1, from 2-4 p.m.
Interested artists are encouraged to pick up a copy of the book along with the "Details for Participating Artists" flyer and the "Artwork Display Agreement and Registration" form at the library.
Artwork must be suitably prepared for display and ready to hang (i.e. framed and wired, etc.). Works must be no larger than three-by-four, weigh less than 45 pounds and may protrude no more than 12 inches from the wall.
For more information contact Kathy Grisanti, Art Exhibition chair 509-493-3586.