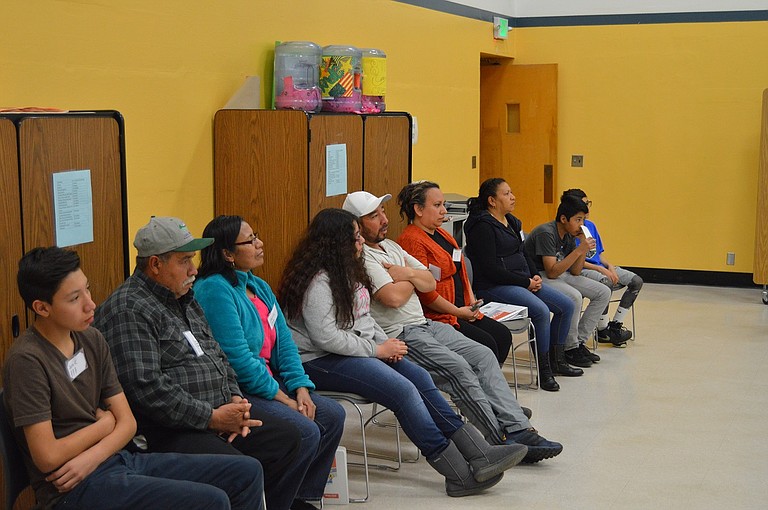 Families gathered at the Wy'east Middle School cafeteria on April 28 for a potluck celebration to mark the end of Juntos ("together" in Spanish), a Latino high school/college and career readiness outreach program that had brought them together the past five weeks.
Now in its second year, Juntos began as a pilot program of Oregon State University (OSU) Open Campus, said Ann Harris, OSU Open Campus education coordinator in Hood River and Wasco counties.
Juntos has been established in Hood River, The Dalles and Mosier, and receives support from OSU, Hood River County School District, Columbia Gorge ESD, Columbia Gorge Community College, The Next Door Inc., Hood River County Prevention, Lake Family Foundation and fundraisers.
Luz Oropeza, one of the program's facilitators and a prevention specialist with Hood River County Prevention, said the program covers a number of topics to get middle school and high school students — and their families — thinking about the different types of post-secondary education (college, internships and trade schools), as well as any potential barriers (drug use, bullying or teen pregnancy).
"It's unique because we have families come (here) together," said Oropeza. "They don't drop off the kids. They do this together, and laugh together. It's really interactive."
Each session begins with a meal and focuses on topics designed to "build on both students' and parents' knowledge of what it takes to successfully complete high school and transition to college or other post-secondary programs," said Harris — like making education a family goal and high school graduation requirements.
The curriculum follows the Popular Education model — students and adults are on equal footing here, and everyone is encouraged to share.
"We can teach each other and honor each other," explained Harris.
"They already know a lot — we're just filling in the gaps," added Oropeza.
But before those Wy'east families officially graduated from the program that evening, they still had work to do.
First up: Create a realistic action plan to achieve a goal.
"We walked through the steps of making timely, measurable, realistic, specific and obtainable goals," said OSU Extension Program and Outreach Assistant JP Ideker, another of the group's facilitators. Each member chose a specific action, created a timeline for completion, and discussed resources available to help bring it to fruition, such as "where Juntos could plug into that, and how Wy'east as a school could plug into that," he said, with goals ranging from weight loss to speaking more English at school.
Next, the founders of the Hood River Valley High School Juntos Club — seniors Emmy Robles and Jennifer Heredia (who will attend OSU and Mt. Hood Community College next year, respectively), junior Jose Barrera and sophomore Alexis Montoya, who offered free childcare during the sessions — talked to the group, offering advice and experience on high school and answering questions from parents.
"Parents and families got to see seniors in high school, Latino students achieving their dreams and getting that higher education," said Ideker. "… It was great and empowering to be able to see high school students come to Wy'east and welcome the middle schoolers into the school, like a preemptive welcome. They got to meet the face of the Juntos Club at the high school."
Then, finally — and with mixed emotions — it was time for "graduation." While the graduation march played, families were called to receive their certificates to enthusiastic applause. Cake was then served, decorated with the words "Felicidades Juntos."
"It was the culmination of the hard work, and physical and emotional presence, of the families through five whole weeks," Ideker said. "The families loved the program and were disappointed this was the end of it. They wanted more sessions and are looking forward to the high school session — they're excited to be a group again, which excites me a lot."
The next session has already begun — at The Dalles Middle School — with a new set of families. Those interested in facilitating future Juntos workshops or volunteering with the program are asked to contact Ideker at gorgeamericorps@oregonstate.edu or 214-558-9912.