U.S. Rep. Greg Walden wrapped up a district-wide tour Friday with a sparsely-attended town hall at the Port of Cascade Locks' pavilion.
He brought good news to the port, and among the audience of 20 people were Port Commission President Jess Groves and Commissioner Brad Lorang, along with City Councilors Bruce Fitzgerald, Glenda Groves, and Richard Randall.
Walden spoke out against continued delays by the U.S. Forest Service on the Mt. Hood Meadows land exchange at Cooper Spur, reported on encouraging developments regarding pending legislation on forest management practices, and said his endorsement of presidential candidate Donald Trump — "not my third, fourth or fifth choice" – was a matter of Republican party politics.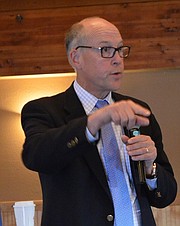 Walden, who had flown in after stops in Grants Pass and Jackson County, told his Cascade Locks constituents that "work with Congressman Peter DeFazio (D-Eugene) had paid off regarding Water Resources Development Act (WRDA) legislation proceeding next week, including a provision on the 80-year-old flowage easement issue," which is a Corps of Engineer regulation connected to creation of the Bonneville Dam that heavily restricts the port's ability to make capital improvements to its property.
"It was resolved for Hood River last year, and then we found out it's a problem here, and the next available vehicle is WRDA," Walden said, adding that in the proposed WRDA changes, "we will be able to adjust the flowage easement here as well; long-term it give you more flexibility for managing around the Bonneville pool."
On forest management, Walden said that multiple legislation is included in an updated energy bill, set for vote on Friday, to include "a number of pieces of legislation that have already passed the House, including an amendment to a measure for forestry legislation worked on by DeFazio and Kurt Schrader (D-Portland) and the full Resources Committee, designed to allow management including reducing fuel loads and the requirement that 75 percent of a forest fire be replanted.
"That's always been the goal but there was no funding for it," Walden said, "and this creates that funding so we can be better stewards, create jobs and reduce the intensity of the fires.
"We are pretty encouraged we will get some agreement with the Senate on a lot of these amendments," said Walden, who later in his talk characterized forest management policy as an ongoing battle he has fought with the Obama administration.
On the Mount Hood land exchange, he said further delays by the USFS are "unacceptable."
"When we passed the Mount Hood legislation in 2008, it called on USFS to complete the land exchange with Mt. Hood Meadows within 16 months. Now here we are 90 months later." He said he and Sen. Ron Wyden continue to underscore to the USFS that the property appraisal it has in hand is the one they must use, and to no longer use as an excuse the argument that the appraisal is outdated.
Walden vowed to work on another delayed issue involving USFS, a 26-mile mountain bike path around Cascade Locks, proposed 14 years ago, something that Lorang said the port has spent about $100,000 on.
"These are things (trails) that can help your economy," Walden said. "There is high demand for these things when they are done appropriately. We will follow up on that."
On Trump, asked to comment on reasons for his decision to endorse the presumptive nominee, Walden said, "Yeah, he's going to be the nominee of my party."
An audience member interjected suggesting he "feel the Bern (Sanders), we need a change," criticizing Trump's plan to build a wall along the border with Mexico.
"I'll let the Democratic party sort out who their nominee is," Walden said. "They seem to be having a hard time with that."
Walden was asked by a reporter, "You said he's (Trump) going to be the nominee of your party. Beyond that, why endorse him?"
"What I said was that I was going to support the nominee of my party," Walden said. "I don't think that should come as a shock to anybody that I would do that. And I think most of my colleagues will, but not all. I also said at the time, if you read the statement, that I object to a lot of what he has said and some of his policies and publicly condemned some of his comments, especially on Muslims and some other things. And so, it's no surprise either.
"I also don't want to see a continuation of the Obama policies for another four years. I don't think they've been helpful to our district or our country. And I see an Obama, whether it is Sanders or Clinton, continuing down the path of a bigger, more intrusive government that clearly, at least in President Obama's time, has clearly overstepped the law.
"He said 'sue me,' and we just did and prevailed in House when he spent $175 billion on the Affordable Care Act that was never authorized, and so it's this executive overreach and this regulatory overreach that troubles me, and the fact that we can't get a land exchange in 85 months that troubles me, and the list goes on. So I think we need to shake things up in Washington. (Trump) wasn't my third, fourth or fifth choice but he's going to be the choice of the party, the Republicans have spoken, and I want to see change in Washington."