A beer and cider tasting at Venue 301 (301 Oak Street) for the Hood River County Education Foundation will provide tastes of six beers and three ciders on First Friday, June 3.
The Gorge Gulp is a fundraiser for the Education Foundation's Opportunity Campaign, to support middle schoolers who can't afford participation fees for sports and activities.
Featured breweries and cideries include pFriem, Double Mountain, Full Sail, Solera from Parkdale, Everybody's Brewing from White Salmon, Thunder Island from Cascade Locks, and the cideries Fox Tail of Odell, Hood Valley of Parkdale and Slopeswell of Hood River.
Two entrees will be sold separately by Four and Twenty Blackbirds at the event.
The Gorge Gulp is a 21-and-over-only event, 5 to 9 p.m. The $15 admission comes with an etched commemorative glass and five tasting tickets. Additional tastes are five for $10.
With no advertising outside of Hood River County, the Gorge Gulp is planned for residents of the region on both sides of the river to enjoy the beverages produced here.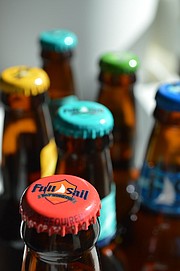 Full Sail changes product designs
Full Sail Brewing Company has announced a new package design, signaling a brand evolution.
"In an increasingly competitive craft-beer marketplace, we knew Full Sail's packaging needed to be as notable and attention getting as the award-winning brews inside the bottle," said Full Sail Executive Brewmaster Jamie Emmerson. The color palette, hand-drawn artwork and contrasting design elements that vary from package to package together tell a story about Full Sail's environment, ingredients, geography, heritage, and taste.
A good brew starts with great water, and the new packaging's water imagery honors this magnificent resource, according to Emmerson. "A layer of spot varnish that evokes flicker and catches the attention of your peripheral vision and hand-drawn, wavy lines in a moiré illustration style are the guiding visual elements," said MiQ Willmott of TWEEQiM creativeLab, who penned the artwork. The revitalized Full Sail logo and coat of arms also breathe new life into the story behind the brand, highlighting Full Sail's Oregon heritage and connection to the winds that blow through the Gorge, Mt. Hood's majestic beauty, the mighty waters of the Columbia and the abundant agriculture that supplies the brewery.
Subtle design elements on each package serve as a nod to Full Sail's principles and priorities. A topographical map and GPS coordinates pinpoint the brewery's location in Hood River and the Columbia Gorge, whose natural beauty and resources have always provided Full Sail's inspiration. Artistic renderings pay homage to Hood River's water sources, bounty of fresh ingredients, the brewery's commitment to environmentally sustainable practices, and of course, the award-winning taste in each and every bottle.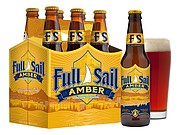 Look closely: each variety of beer gets a slightly different treatment: Wells Island and the Gorge on the Pilsner, Columbia swell on the Classic IPA, hop vines on the Classic IPA, the brewery and townscape on the Amber, a Mt. Hood farm on the Blood Orange Wheat.
"There's never been a more exciting time to be a part of Full Sail," said Full Sail Brewmaster Jim Kelter. "This rebranding reflects our pride and heritage as one of the original craft brewers as well as our vision for the future, which more than anything entails continuing to make delicious beer that we know our customers love."
The newly rebranded packages are being rolled out in Full Sail's award-winning Amber, Pilsner, Classic IPA, and the new Hop Pursuit IPA and Blood Orange Wheat Ale.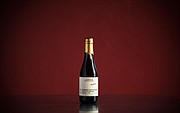 Double Mountain issues new Pale Death
Double Mountain Brewery & Taproom releases Oak Barrel Aged Pale Death, Belgian Style Imperial IPA and the second batch in its barrel-aged beer series. This special release IPA is available in the bottle at the Double Mountain Brewery & Taproom (9.5 percent ABV, 93BU.
Brewer Matt Coughlin had this to say about the life and times of Pale Death: "The blending process began with a bunch of beakers on the round table in the Vicar room. A handful of brewers were in on the tasting of various blending percentages, and I feel we came up with something really special. We don't get to use new oak that often, so this was really good to experience.
"When we got a hold of these beautiful , brand spankin' new barrels, we wasted no time filling them with a batch of Pale Death from 2015 we had in the tanks. A little over a year later, we blended back in some of the 2016 batch of Pale Death to bring some youth to the honeyed and wooden vanilla aromas that came from the aging. The tannins accentuate the bitterness, and the extra age provides a deeper wisdom to the beer."
A personal note on beers far and wide: I recently spent four days in the Rust Belt and Washington D.C. regions, and found fine beer aplenty: three fine beer towns I visited are Kalamazoo, Mich., Frederick, Md., and Asheville, N.C. The most amazing brewery I saw was Old Church Brew Works in Pittsburgh, practically a religious experience.
In general the best of the ales I tasted were about as good as anything in Oregon and the rest of the west coast, but with a few exceptions the flavors weren't as deep and the aromatics less distinct.
I have tasted Hood River ale and beer wares extensively and am more convinced than ever that the beers of this county as a group are as thoroughly consistent in quality as any beer-burg you'll find.
Of any brewery I visited back east, the best output tended be thinner than equivalents here in Oregon, though the Biere de Mars and hibiscus Gose at Monocacy Brewing in Frederick were as good as any equivalent I've ever tasted, and a Scotch ale (my preferred style) I had at Maumee Bay Brewery in Toledo, Ohio, more than matched other versions I've tasted.
One World Brewery in Asheville, a subterranean nano brewery (love those word together) is hard to find but combines sophisticated beers and a cool basement environment.
I'm certain that Oregon still has an edge on these places in overall quality and variety, but in time these beer centers could rival what we have here (our pristine water being a perennial edge) and are highly recommended for any Midwest or east coast visitor. Anyone going to Kalamazoo is welcome to borrow my brewery passport, and we'll fill it with stamps, tag-team-style.