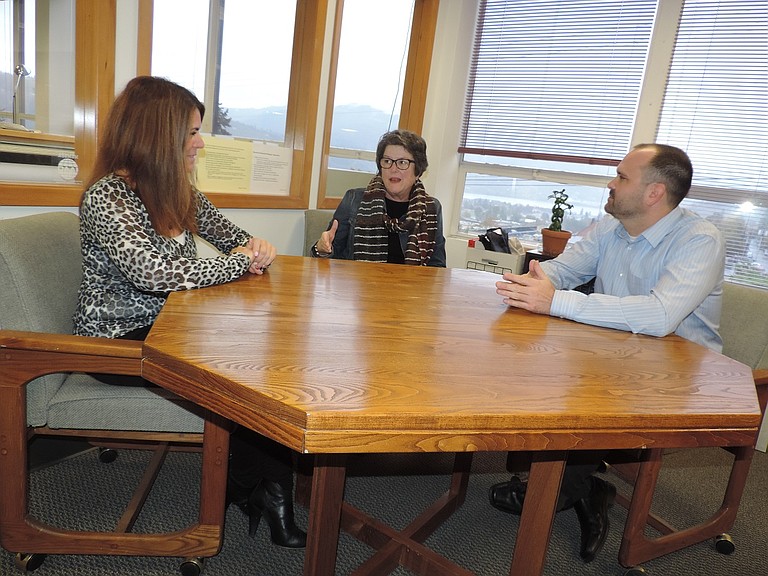 Wednesday, November 2, 2016
Ballot preparation time included a special visitor in advance of the Nov. 8 General Election.
Voters are casting ballots for the election, with races ranging from president to city councils, and several ballot measures. All ballots must be received by Nov. 8 at 8 p.m.
Hood River was the last in a 36-county tour of Elections Offices personally made by Secretary of State Jeanne Atkins last month. As Clerk Brian Beebe and Chief Deputy Clerk Kim Kean and their staff prepared for ballots to go be mailed out and then returned, Atkins said the Hood River County ballot issuing and counting operations were solid and ready to go.
•
If you planned on voting by mail, Nov. 1 was the last day you could do so and be sure it arrives in time.
Deliver your ballot to ballot drop off sites. See page A12 for other timely voting recommendations from the county.
•
Atkins said her tour showed her that elections offices had "different spaces, but the processes are the same" for the collection and counting of ballots.
All locations have secure means of opening and separating the ballots from the envelopes they came in, and are carried out "by a committed group of folks, of mixed party representation." Atkins noted that all clerks are open to inquiries from community members who wish to come in and learn more about the process, and potentially observe.
National election campaigns have suggested rampant instances, past or pending, of voter fraud, but Atkins points out that the mail-in system virtually eliminates any chance of organized vote fraud, and historically, "the number of complaints have been minimal." The process of signature matching, while painstaking for elections staff, is the surest measure of ballot security, Atkins pointed out.
From 2000-2016, the state of Oregon has prosecuted a total of 20 voter-related fraud cases, according to Atkins' office.
"Most instances of voter 'fraud' that come to our attention are innocent mistakes — like a person not knowing they can't sign their spouse's ballot," said Molly Woon, communications director for the Secretary of State. "Because of the decentralized nature of voting in Oregon, it would be difficult to implement any large scale type of fraud in the system."
IMPORTANT BALLOT REMINDERS
• If you have received a letter asking you to come to the Elections Office regarding questions on your ballot, do so as soon as possible.
• If you have not received a ballot by this time, come in and get one (address below).
• Fill out and sign only the ballot that comes with your name on the outer envelope.
• If you received two ballots, including one with a green sticker, cast only the stickered one and discard the other.
• Place your ballot in the secrecy envelope and place that envelope inside the mailing envelope.
• Submitting it any other way means that ballot will not count. If you have lost your signature envelope, come to the Elections Office (Sixth and State streets) and get another. You must place the ballot inside the secrecy envelope, and then sign the larger signature envelope and place the secrecy ballot inside.
• Elections Office address and phone number — Sixth and State streets, third floor, 541-386-1234.
• Ballot drop-off locations — County Building, Sixth and State streets, Hood River, street level and in the Elections Office; Cascade Locks City Hall.
(Anyone may come in and vote at a voting booth in the Elections Office and stop your ballot off, during business hours, 8 a.m. to 5 p.m. There, you can also pick up an "I Voted" sticker.)