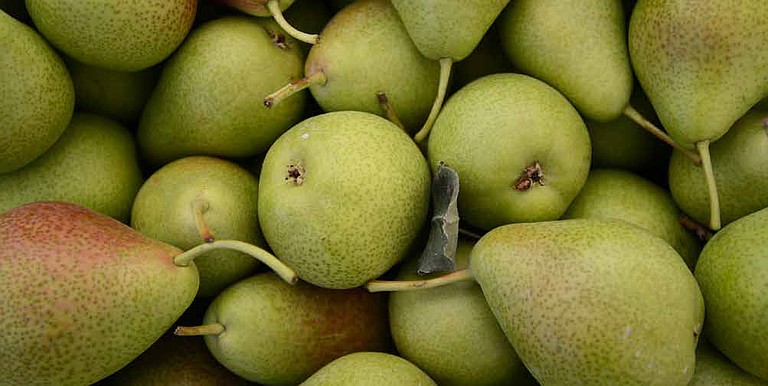 When Trina McAlexander returned to Mt. View Orchards in Parkdale two years ago — the family farm where she grew up — she was excited and grateful to be the third generation to work the land. Her enthusiasm hasn't waned.
"I love it — farming is in my blood," she said. "I was born to do it and I'm honored to do it."
She learned "the art of farming" from her parents, Lyle and Ruthie McAlexander, and in particular from her mother, who "cares deeply about growing food for our region," she said. "It's an honor to farm beside my mom." McAlexander calls her mom a "pioneer."
"She can do anything on the farm," she said. "The old traditional farm wife thing is not what I'm talking about. I'm talking proprietor, owner — career fields typically occupied by men."
McAlexander has made a few changes at the family farm, but has kept the open, friendly atmosphere the same. "Mt. View is known for its u-pick," she said. "We open up the farm like a big living room — people want to know the face who grows their food, to have a relationship with the farmer."
One such change is the new pavilion and "orchard meadow," finished in July and host to a number of nonprofit farm-to-table dinners this summer, for which McAlexander donates its use, and as a wedding venue. And she's increased u-pick offerings to include a pumpkin patch with Mount Hood as a background, blueberry bushes and flowers — dahlias, sunflowers and hollyhocks — for single bouquets and to supply large events.
Sales are not limited to the farm's fruit stand. Around town, you can find Mt. View fruit in Double Mountain's peach beer and Solstice's peach margarita, and Solera's peach beer and apricot beer. And then there's Boda's peach lemonade and peach and tomato salad. Fresh Start Culinary Institute receives three flats a week for its products.
But there are two endeavors McAlexander is really excited about: fermenting cider and her new fruit CSA.
Cider has been two years in the making, she said, because of federal and state liquor laws as well as those in the county. As in farming, she's one of the few female fermenters in the area — both are fields dominated by men.
Dubbed "Golden Row" after the farm's 100-year-old Golden Delicious trees, the cider is being served at restaurants and breweries as well as onsite, allowing patrons to enjoy the cider in the location it was made.
As for the fruit CSA, "it's been wildly successful," McAlexander said. This year, she offered 50 shares; next year, she hopes to increase that to 100. For 16 weeks, members get a generous box of farm-fresh produce that includes cher-ries, apples, peaches, nectarines, blueberries, pluots, plums, apples and pears. The idea came to her last year, during her nightly walk around the farm, when she prays a blessing over the trees. "People care about supporting small farms," she said. "But not everyone can come to the farm for their weekly box of fruit." So she brings the fruit to them, and additionally sends out emails with recipes and preservation tips. One of her goals is to not only help people access local food — she donates a lot to youth and scouting groups, food banks and schools — but to teach them to preserve it. She's started the "Yes We Can" canning group, where she teaches the lost art of canning with her own fruit and equipment.
And she's deeply committed to the Hood River community and her employees. She's done significant upgrading to her farmworker housing, and is "paying as much as I possibly can to make sure they have dignity and can live in our community and thrive," McAlexander said. "Social justice — it matters." She's also made it a habit to purchase a pig at the county fair each year from a young female farmer. That was how she earned money for college, and now she pays it forward.
"I hope to keep it up and rally behind young women considering agriculture," she said. "There's an underrepresentation of women in ag,
one in 10 farmers or something. I would like to see more of a balancing out of that, to see more young women think, 'I could be a farmer,' not have it
be so unique and rare for a woman to own a farm and do that for a living."
Although, McAlexander points out, farmers often need second jobs to make ends meet, so she works three days a week as a psychiatric mental health nurse.
"You can't really buy a farm here unless you have an outside job, and I'm grateful to have my part time job at the Center for Living with my lovely colleagues and wonderful patients," McAlexander said. "It's positive work we're doing in the community."
It's all part of a deliberate plan that allows her to lead this lifestyle.
"I can't farm the way my grandparents did, or even my parents," she said. "You have to have diversity to make it, you have to be willing to create and come up with ways to pay for your life to be able to make it. People will say,
'Wow, you have cider, and apples and pumpkins.' That's all intentional and part of the plan and strategy to have this same life."