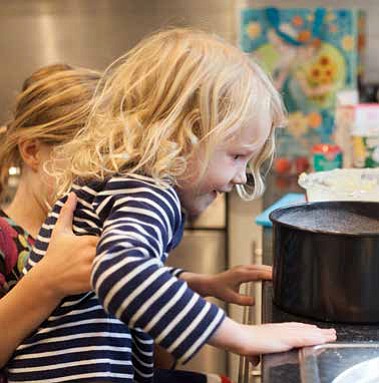 Our family recently moved, and as we are getting settled in our new home, I am reminded that cooking in general doesn't need to be complex. It's easy to get whipped up, no pun intended, in complicated ingredients and recipes—which I, of course, love. But often the best way to cook is to keep things easy and simple. Kids certainly appreciate when the cooking is kept simple. They're able to participate with more elements of a recipe, remember steps as they go, and recall recipes in the future. There's nothing better than when your child feels like they accomplished something on their own (or with very little supervision).
We're finding our footing in a new house, and the kids are eager to help with any of the furniture assembling, laundry, cleaning, and cooking that they can. The other day we decided to make a simple yogurt cake. Yogurt cake is a really easy thing for kids to make, and once they reach the age or five or six, they can make it almost completely on their own. It's maybe the easiest cake ever to make, and one that's really hard to screw up. You need relatively few ingredients, and the recipe can be quickly adapted to what you have on hand, so long as you have a few basic ingredients. All we had on hand when we set out to make is was an 8-inch cake pan borrowed from a neighbor, but this cake is ideally made in a loaf pan—it comes out a bit like pound cake!
We made this cake with strawberries from the market and strawberry jam that we had on hand, but it could easily be adapted to whatever you like. You could add the zest of a couple of lemons, or a splash of almond extract along with the vanilla, or you could toss a cup of chocolate chips lightly in flour and fold them into the batter. Really, it can go in any direction, which is part of what makes it such a fun, easy cake to make. I have a feeling we'll be making versions of this cake often, especially through the fall and winter when we need something warm from the oven for dessert. This cake also makes a wonderful breakfast served with a side of yogurt … and I don't know about your kids, but mine are always thrilled to have "dessert" for breakfast, as am I.
Ingredients
1 cup plain, whole milk yogurt
2 cups all-purpose flour
2 teaspoons baking powder
1/2 teaspoon fine salt
1 cup granulated sugar
1 teaspoon pure vanilla extract
1/2 cup vegetable or canola oil
3 large eggs, at room temperature
strawberry jam
sliced strawberries
Directions
Preheat your oven to 350ºF. Grease and flour a loaf pan using butter or cooking spray. In one bowl whisk together the yogurt, eggs, sugar, oil, and vanilla. In a separate bowl sift together the flour, baking powder, salt. Slowly add the dry ingredients to the wet ingredients, mixing until just combined.
Pour half of the batter into the loaf pan and spread in a layer of jam. Pour in the remainder of the batter, and top with the sliced strawberries. Bake for 45 minutes to 1 hour, until a thin knife or skewer inserted into the center of the cake comes out clean. Allow the cake to cool for 10 minutes before transferring it out of the pan and onto a cooling rack. Serve with fresh whipped cream and a dusting of confectioners' sugar.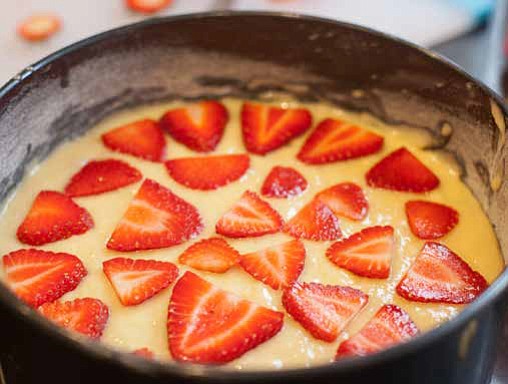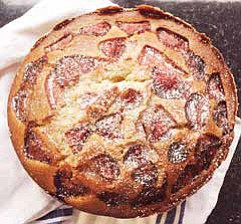 Kacie McMackin is a food writer, blogger and photographer, and founder of gorgeinthegorge.com.