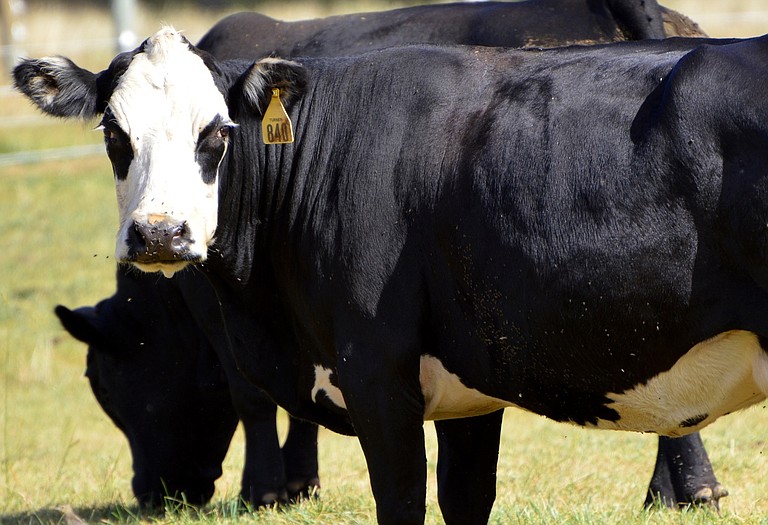 Long before the patty hits the bun, ranchers in the Columbia Gorge region work hard to raise their cattle with a gentle touch, hoping their daily toil — and compassion — will pay off down the road. The resulting naturally raised beef finds its way to plates on tables throughout the Gorge in a variety of ways. Here, we take a look at two of them.
Jefferies Ranch Beef, Grass Valley
"It came natural to me," says Tim Jefferies, owner of Jefferies Ranch Beef, while he peddles his wares at the Hood River farmers' market on a crisp Saturday morning. A fourth-generation cattle rancher, Jefferies comes from a long line of agricultural expertise. About 15 years ago, he took a chance on a new business avenue: grass-fed, free-range cattle.
His family ranch now spans about 2,400 acres near Grass Valley, a community in Sherman County rolled snugly between the Deschutes and John Day rivers. Tim works alongside his wife, Keely, and their grown son and daughter. It's a seven-day-a-week job, he explained. The Jefferies live a bustling life, and one largely off the electrical grid, in a solar powered home.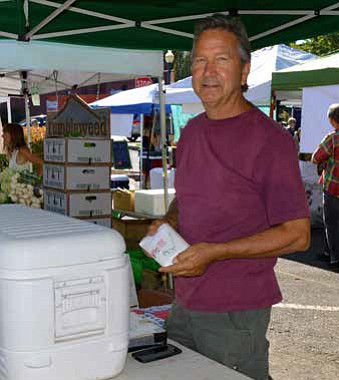 Cows at the ranch are humanely treated, roaming 30 grassy acres per head. It's a "bigger than average" operation, Tim said, with about 160 "mama" and baby cows at a given time. The Jefferies family manages nearly everything from a calf's first hoof steps to its marketing as a slice of lean meat. No antibiotics, hormones, or pesticides get used along the way. It takes about two years until the animals are ready to be butchered, weighing 1,200 to 1,400 pounds. That's when the cows go to a respected butcher company in Madras.
Tim markets the finished product. Most of his customers are local buyers, and he's a friendly face at the farmers' market. He smiles and chats with friends who swing by his stand to buy wrapped up cuts of dry aged meat from his portable coolers.
"I like the whole feel of the farmers' market and the vibe. I have great neighbors," Tim says.
Jefferies Ranch beef is also available at two popular Hood River locales: Farm Stand in the Gorge and White Buffalo Wine Bar & Bistro.
Over the years, consumer interest in natural beef has "definitely improved," Tim said. Besides its succulent taste, grass-fed beef has a higher content of Vitamin E, folic acid, and omega 3 fatty acids than grain-fed beef, he explained. Tim hopes to keep his business sustainable into the future, with cows spread out comfortably under the sun, munching native grasses.
Mt. Shadow Natural Meats, Dufur
While some leaders in the Gorge beef industry focus on the ranching, others have evolved into distributors. Mt. Shadow Natural Meats, a business based in a small ranch home under the hazy spire of Mount Hood, used to raise beef. Now it markets it.
"I call myself the gatherer — I find all these products I can sell," owner Jim Hanna says at his home outside Dufur. The goal, he described, is "local as possible." Under the Mt. Shadow brand, the Hanna family seeks out top-tier, naturally raised beef, pork and chicken from across the West, and sells it directly to restaurants and stores. The farms range from neighboring pastures in Wasco County to as distant as northern California.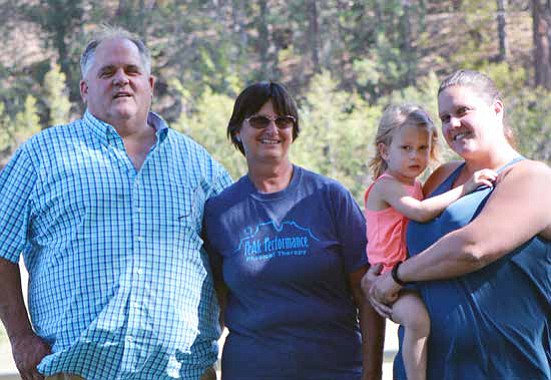 Jim is also a fourth-generation farmer. His great-grandparents arrived in covered wagons to settle a homestead. "We've been farming and raising cattle ever since," he said. Selling beef to the public, however, was a new adventure — one that came about in a strange whirl of events.
In 2005, amid a mad cow disease scare that riled up consumers nationwide, the Hanna family decided to find a healthy niche in the market, Jim's daughter, Josie Turner, explains. Mt. Shadow cut out the middleman and began to sell large portions of high quality beef — whole and quarter animals at first — straight to local customers. The company also tried its hand at selling meat to restaurants.
When the economy went south around 2008, Mt. Shadow coped by taking early forays into its current format: distributing meat from other suppliers. That's become the company's central model. "(The restaurants) want the best possible product for the best price," Jim said. "It sells itself."
Mt. Shadow sources ground beef and steaks (and various meats) for more than 20 restaurants and grocery stores, including outlets throughout the Gorge and Portland. Jim drives out in his pickup truck and delivers the product himself, part of his grueling work week. Some of the restaurants he sources for include popular Hood River brewpubs Full Sail, Double Mountain and pFriem, as well as Sixth Street Bistro and Boda's Kitchen, and adventurous destinations like Cascade Dining Room at Timberline Lodge.
On the horizon, more venues could come. "We're now thinking we're going to try to expand that market … now that it's financially viable," Jim says.