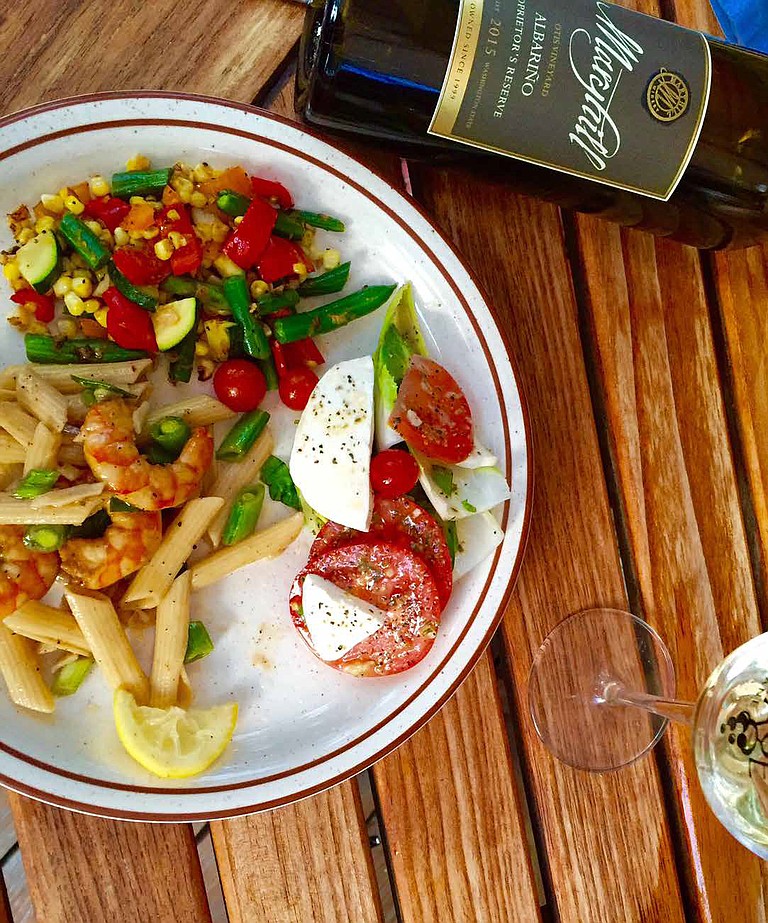 Six stellar Gorge wineries — Hood Crest, Domaine Pouillon, Viento, Wy'East, Maryhill and Aniche — share favorite family dishes, and the wines they love to drink with them. And it's not the food you might expect.
Once, not that long ago, we believed there was wine food, and there was beer food. Wine food was refined, French maybe, and never spicy. Beer food was the wild, hot, spicy street-food of the world.
But all along, winemaking families knew that advice lacked a certain honesty. Because they knew what they ate at home. And when they sat down to enjoy family dinner and a bottle of their wine, it wasn't pate de foie gras on the plate. No, it was hearty, sometimes spicy fare, the kind of stuff that might help you through a long day of harvest and crush. It was something everyone around the table would love, and something you could fix with a modicum of ease.
And so it is that our Gorge winemaking families have shared six such recipes with us, and the wine that they plunk down on the table next to these dishes.
Hood Crest Winery, Hood River
Tess and Patrik Barr have always loved serving pizza to guests at their tasting room. In the old days, the pizza oven, built by Patrik in the back yard, just on the other side of the fish pond, was quaint, and the pizza was delicious. Those days are gone. Now, Hood Crest has spread out into a stunning new tasting room, and the pizza oven has a new home. The pizza and wine are just as luscious.
"We maintain a certain acid profile in all of our wines which makes them pair well with food," says Tess. "We chose this classic Italian Super Tuscan blend we call Super Tesscan to go with our very popular classic Italian Margherita pizza. Our 2013 Super Tesscan is a red wine blend of 50 percent Sangiovese, 25 percent Merlot and 25 percent Cabernet Sauvignon, giving it the ability to pair well with the richness of the marinara sauce, the crunch of the wood-fired pizza and the sweetness of our garden grown heirloom tomatoes and savory fresh whole milk mozzarella and kiss of fresh basil. Because tomatoes are high in acidity, we feel you need a medium to high acid wine with soft tannins. The Super Tesscan fits the bill nicely. Other of our wines we could have chosen for a lighter start would be Grenache or Brooklyn Rose."
Hood Crest Pizza Crust
3 1/2 cups flour
1/2 cup cornmeal
1/2 cup Parmesan cheese
3 tablespoons olive oil
1 tablespoon Italian herb blend, fresh or dried
1 1/2 cups water
2 1/4 teaspoons yeast
1 teaspoon sugar
1 teaspoon salt
Proof yeast in 1/2 cup warm water (not over 105 degrees) with the sugar. Meanwhile add all the rest of the ingredients into a mixer, add the yeast mixture and the other one cup of warm water. Mix until blended and then knead for eight minutes. Let dough rise about an hour, punch down and then refrigerate overnight. Roll into 8-ounce balls, place a drop of olive oil on each one and wrap in plastic wrap and put into a storage bag. Makes three to five 12-inch pizzas. The dough balls can also be frozen for use later.
Hood Crest Marinara
Olive oil
2 large sweet onions, chopped
6 bell peppers, red and green, chopped
Salt
3 heads fresh garlic, peeled and smashed
Red wine
1 #10 can San Marzano tomatoes
2 large handfuls fresh basil
1 teaspoon lemon juice
Sauté onions and peppers in olive oil until translucent, sprinkle with salt and add garlic and red wine to cover about an inch above vegetables. Bring to a boil, then simmer for 20 minutes. Add tomatoes and basil and simmer another 20 minutes or until desired thickness. Add lemon and then salt to taste if needed. Use immersion blender to smooth out vegetables if desired.
Toppings
Fresh whole milk mozzarella
Heirloom tomatoes
Fresh basil
Let pizza dough balls come to room temperature, and toss or spread to 12-inch circles. Spoon sauce across top and, using a pizza peel, slide onto a pizza stone that has fully heated for 30 minutes in a 500-degree oven. Remove from oven when the crust is crispy and done through. Top with sliced tomatoes, fresh basil and fresh mozzarella.
Maryhill Winery, Maryhill, WA
Every Gorge wine lover has stood in awe on the deck of Maryhill Winery. The view out across the rising wheat fields of the Columbia Plateau across the river in Oregon is spectacular. Maryhill's owners, Vicki and Craig Leuthold, cherish the same view from their home above the winery. They love cooking in their big kitchen there, often feeding winery workers during crush.
Vicki serves this succotash, chock full of fall vegetables, next to a caprese salad and lemon shrimp pasta. She likes to pair it with Maryhill's Albarino, which she also uses in preparing the dish.
"The Albarino accompanies the dish so well with its bright fresh acidity and loads of complex flavors in both the dish and wine," says Vicki.
1/2 lb green beans cut to 1/2 inch lengths
5-7 sweet peppers, large diced
1 hot pepper, small diced
1 zucchini, large diced
3 cloves garlic, crushed
4-5 ears of corn cut off cob
2-3 tomatoes, diced
Juice of one lemon
2 tablespoons butter
1 tablespoon olive oil
Salt and pepper
1/4 cup Maryhill Albarino
Heat sauté pan until hot, add olive oil and all the vegetables and toss for 4-6 minutes.
Add salt, pepper and wine and simmer 3-5 minutes until wine is almost gone. Remove from heat.
Stir in butter and lemon juice and serve.
Domaine Pouillon, Lyle, Washington
First comes love, then comes marriage, then comes baby in the baby carriage. The jump-rope song is not far from the fast-paced love affair of Alexis and Juliet Pouillon. A whirlwind romance brought Juliet into Alexis' winery dream, and as they built it together, two beautiful babies, in rapid succession, joined the winery romp. If you think Juliet has time for extravagant meal preparation, well, that would make her laugh. But her training as a chef helps her bring dinners to the table that match the couple's luscious wines.
This chicken dish, made with a surprising zucchini stand-in for pasta, makes grand use of fall vegetables. Juliet pairs the dish with their 2014 Savoir-Faire, a white blend with 50 percent Grenache Blanc, 30 percent Marsanne, and 20 percent Picpoul Blanc.
"The citrus and mineral notes from the Picpoul and Grenache Blanc complement the bright lemon and fresh basil flavors, while the fatty Marsanne elevates the roasted chicken flavors," says Juliet.
Fresh Garden "Pasta" with Chicken
Serves 2
2 small, firm zucchini, spiralized or thinly sliced in long strips on a mandolin
4 tablespoons extra virgin olive oil
Juice from ½ lemon
1 clove garlic, minced
½ cup sweet onion, chopped
2 cups shredded chicken (a great way to use up your left over rotisserie chicken)
½ cup dry white wine
Fresh cherry tomatoes
2 tablespoons chopped sweet basil
Parmesano Reggiano
Salt and pepper to taste
After cutting, lightly salt the zucchini. Set aside while placing a large pot of water on the stove to boil. When the water boils, blanch the zucchini for 30 seconds, then run under cold water or place in an ice bath to halt the cooking process.
Over medium heat, sauté the garlic and onion in the olive oil. When the onions begin to brown on the edges, add the shredded chicken and continue to cook for about 4 minutes, stirring occasionally. Add lemon juice and wine, stir to deglaze the pan. Add the blanched zucchini. Turn off the heat and toss to fully incorporate. Salt and pepper to taste. Divide onto two plates and top with fresh cherry tomatoes, basil and Parmesan.
Wy'East Vineyards, Hood River
Keely Kopetz is a busy mom, too, who throws herself into marketing and managing Wy'East Vineyards along with her parents Dick and Christie Reed. During the harvest, when the Kopetz and Reed families are working long hours and doing a lot of manual labor, "we look forward to a protein-packed meal at the end of the day," says Keely. And one of their favorites is a dish Keely and her husband Pete first tasted years ago in Florida. As luck would have it, family friend and winery tasting room aficionado Glen Pierce lived in Florida and once saw this dish prepared at the Alessi Market Cooking Class in Tampa.
Keely pairs this Cuban Picadillo with a new release for the winery: Reed's Red Blend, a Pinor Noir-inspired blend. "The wine is a non-vintage and includes our estate grown Pinot Noir and also has some Sangiovese and Zinfandel added, all sourced from local vineyards. The blend was assembled by my parents and me as well as our winemaker Peter Cushman. The idea behind this wine was "friends, food and fun." It's a medium-bodied red wine and goes perfectly with this bold dish."
When Keely makes this dish for Pete and their daughter Vinette, they keep it as local as possible, buying the beef locally. "A good friend of mine (and colleague), Sierra Wright of The Pines and I split part of a McDuffee Vineyard cow (he roams freely on the same property as the vineyard) every year."
Serves 6-8
¼ cup olive oil
1 green pepper, chopped
1 large onion, chopped
2 tablespoons chopped garlic
1 lb. ground beef
1 lb. ground pork
1 teaspoon ground cumin
½ cup capers (rinsed)
1 pinch oregano
1 teaspoon salt
1 can tomato sauce (25 oz. – low sodium preferred)
1 5 oz. jar stuffed Spanish olives, drained
1 cup dry white wine
½ cup dry red wine
2 tablespoons chopped pimento and/or fresh parsley
Heat oil in the pot you want to use to simmer the recipe in and sauté the onion and green pepper over medium heat for about five minutes. Add garlic and cook another two minutes, stirring constantly. Add and brown both meats and break into very small pieces, stirring constantly. Add tomato sauce, oregano, salt, cumin, capers, olives and wines. Lower heat and simmer for 30 to 90 minutes. Monitor consistency and cover as needed. Just before serving garnish with pimento and/or fresh parsley. Mixture should be a medium thick sauce when ready to serve.
Serve with or over rice. "We use Vigo brand Saffron Yellow Rice. Black beans are an excellent side. We use Rosauers beans from the bulk food aisle," says Keely.
AniChe Cellars Winery, Underwood, WA
The Mera family — winery founders Todd Mera and Rachael Horn, and winemaker and chef daughter Anais — are wont to name their wines for the literary characters they love. So it's not a surprise that they held a Lord of the Rings weekend recently, and served a shortbread in homage to the lembas bread served by the elves. Anais (Ani for short), also a busy mom of two, says the recipe is "super easy, but delicious nonetheless!"
Ani suggests pairing the savory shortbread with AniChe's Shelob 2014, a blend of 40 percent Nebbiolo, 40 percent Zinfandel, 20 percent Dolcetto, a lovely red blend with just the right notes to soar high with the herby, buttery shortbread. Fans of Lord of the Rings may wonder why the Meras would name a wine for Shelob, a mean, nasty spider who smelled to high-heaven. Rachael explains, "It's named more after the appearance of Primitivo … hairy leaves and hairy tendrils! Looks spider-like!" (Primitivo and Zinfandel being twins.)
2 cups flour
2 sticks butter
1 teaspoon salt
Scant ¼ cup sugar, not filled to the top.
Crushed fresh and dried herbs: thyme, rosemary, oregano and basil (2 tablespoons total)
Preheat oven to 375 degrees. Mix all ingredients but herbs with an electric mixer until well combined. Grind up herbs in a mortar and pestle until fine. Mix in your herbal arrangement as you prefer. Two tablespoons of all the herbs seems to be enough, but if the herbs are too much or too little flavor, adjust to your preference! Add herbs and mix in for a few minutes. Roll into logs around 1 ½ inches thick, cover in plastic wrap and sit in fridge for 1 hour.
Slice a little less than ¼ inch thick. Bake on a cookie sheet lined in parchment paper for 13 minutes or until the edges turn slightly golden.
Viento Winery, Hood River
Rich and Robin Cushman have planted more than some of the Gorge's oldest vineyards: they've grown a winemaking family. Son Joe and his wife Krista farm 70 acres, and Joe manages vineyards through his Root and Cane Vineyard Services. Son Peter is Viento's associate winemaker, and Peter's wife and chef, Sarah, is Viento's wine club manager.
This dish, Sarah's creation, "Rocks with our 2014 Dry Riesling," says winemaker Rich. "The grapes come entirely from our estate vineyard; the vines were 33 years old at this vintage. I make our Viento wines using zero winemaking tricks — just see what the harvest offers us and then get wines to where they want to be," Rich says. And why the Riesling with the curry? "The vibrant, electric acidity in the dry Riesling brings forward the flavors of lime, tangerine, pear and flint in this deeply flavorful Riesling to partner exquisitely with the classic, deep curry flavors of Sarah's special curry preparation."
Curry Sauce:
½ cup fresh cilantro
1 cup coconut milk
4 green onions, sliced
1 thumb-sized piece of fresh ginger, peeled
4 cloves garlic
2 tablespoons fish sauce
1 tablespoon chili powder
2 teaspoons cumin
2 teaspoons ground coriander
2 teaspoons brown sugar
½ teaspoon turmeric
1 teaspoon fish sauce or shrimp paste
1 fresh fresno or serrano chili or other "heat" source to taste: cayenne pepper, sambal or sirachi
Vegetables to add:
3 potatoes, Yukon gold, cut into small cubes
1 yellow onion, halved and cut into large slices
1 green pepper, coarsely chopped
2 carrots, cut into diagonal coins
Seafood to add:
1 pound of the freshest seafood you love
Place the first 13 ingredients for the curry sauce in a large sauce pan, bring to a simmer and use an immersion blender to blend until smooth. In a skillet, gently cook the potatoes, yellow onion, green pepper and carrots in 2 tablespoons vegetable oil. When al dente, add to blended curry sauce, and heat until vegetables are at their desired doneness. Add fresh seafood of your choice, such as albacore tuna, prawns, scallops or rockfish. Cook until the fish is just done. Serve over jasmine rice, with fresh cilantro accent and a wedge of lime or lemon.
Kathy Watson is chair of Fresh Start Culinary Arts Program in Hood River, and is writing a memoir, "No Bun for Corky: My Life as a Small Town Chef."