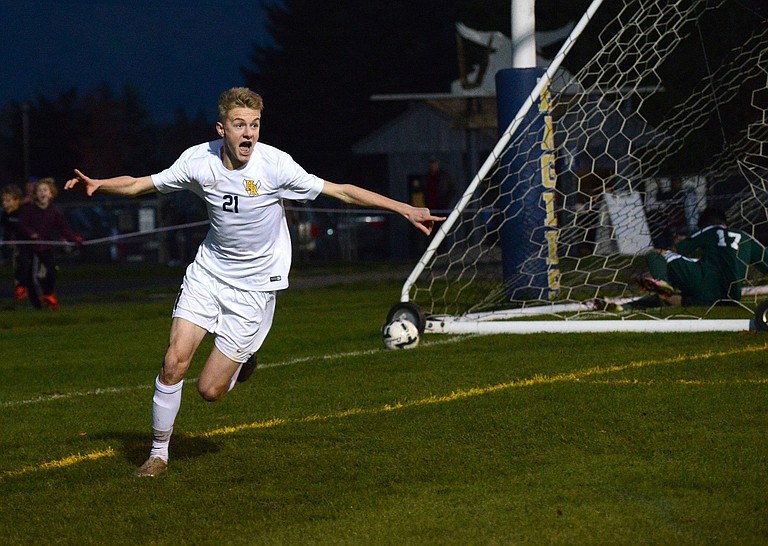 Saturday, November 5, 2016
It was chippy, it was physical, and it wasn't pretty, but in a first-round matchup with Rex Putnam Wednesday night, the HRV boys soccer team continued to do what they've done all season: win.
The top-ranked Eagles defeated No. 16 Putnam 2-1 in a home game where they probably should have defeated the Kingsmen by more — a team that finished the regular season ranked 26th out of 33 5A teams, only obtained five wins (two of which were league wins in the Northwest Oregon Conference), and squeaked into the playoffs after edging Bend 2-1 last week in a play-in game.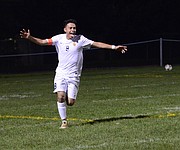 But in the playoffs, what happened in the regular season is of little importance.
"I was not surprised, because obviously, they're trying to pull an upset," HRV Head Coach Jaime Rivera said of the Kingsmen. "They're going to stick to their game plan. They believe that their game plan is going to make things work for them."
It was a tale of two halves for the Eagles, who came out fast and furious in the first 40 minutes, mounting attack after attack on Putnam's back line, while keeping the Kingsmen largely bottled up in their own zone. HRV had 11 shots on goal in the first half, while Putnam had just one.
Sophomore striker Robby Running opened up scoring for the Eagles, capitalizing on an attack from senior forward Noe Magaña, as Putnam's defense rushed out to meet the 5A Player of the Year and failed to mark Running, who slipped one in to make it 1-0. Senior midfielder Jorge Campos added another in a similar fashion with just under seven minutes remaining for the insurance goal.
However, HRV's normally potent offense failed to make an appearance in the second half. Rivera said the team moved away from the high-pressure attack that put Putnam on their heels in the first 40 minutes, and that opened the door for the Kingsmen.
"I thought we came out really strong in the first half. I like that and how dynamic we were in our combination plays, which lead to some good opportunities," he said. "I really enjoyed that and I thought that if we continued to do that in the second half, we would've had a bigger margin."
The Kingsmen, sensing the change, began pressuring HRV and in the 50th minute, took advantage of an errant pass by HRV's defense that was picked off by a Putnam forward and put it past the reach of keeper Travis Running, who had to stand on his head more than once to make a save in the final 40. Putnam's bench erupted at pulling within one goal of the two-time state champions.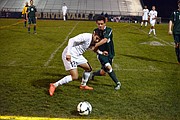 Both teams ratcheted up the intensity, playing an increasingly physical game as tempers and frustrations began to boil. Robby Running and Magaña took the brunt of it, with Magaña getting launched into the air on a hard challenge as he ran toward Putnam's penalty box midway through the second, and Running exiting the game with a leg injury after encountering a similar situation. Running would return later in the half, while Magaña dusted himself after taking a moment to recover on the pitch.
"They're resilient competitors and they want to be in the game to help their teammates be better," Rivera noted. "All season long those guys have been taking a beating and I'm glad that they're still healthy, but I do worry about that and care about their wellbeing. It's good to get out of a game like this with everybody healthy."
The Eagles didn't totally rest on their laurels, though, and countered the Kingsmen with some attacks of their own, nearly scoring again in the latter part of the half after a shot from senior defender Diego Ortiz rang off the post, drawing a collective gasp from an on-edge home crowd. But neither HRV nor Putnam could break through and the Eagles were able to weather the rally from Putnam.
Rivera gave kudos to the defensive performance the Kingsmen put forth, but acknowledged that the team needed to "play quicker," as well as compete for a full 80 minutes in their next game.
"At the end of the day, it's how we execute the game plan, and we didn't do a 100-percent job executing the game plan," he noted.
No. 1 HRV plays No. 9 La Salle in a quarterfinal match that will be played at Henderson Community Stadium this Saturday at 1 p.m. La Salle, also of the Northwest Oregon Conference, shut out No. 8 Springfield with a two-goal effort Wednesday evening. The Falcons (8-2-5, 5-0-2) and the Eagles (13-0-2, 6-0 Columbia River Conference) last played each other Sept. 20 in Milwaukie in a game that ended with a one-goal draw.