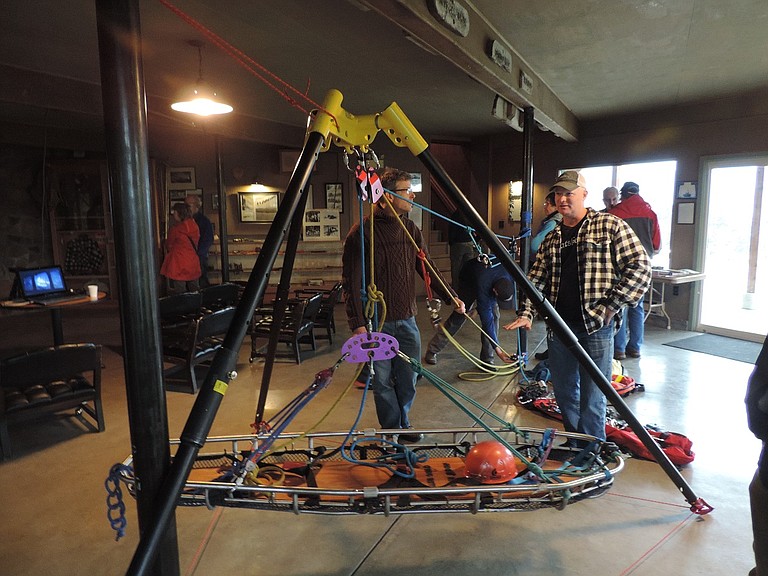 Wednesday, November 9, 2016
The gathering was the first of its kind, at least in years.
Crag Rats celebrated 90 years as an organization serving the community, with an open house at Crag Rat Hut on Oct. 30. The fire roaring within the huge, welcoming hearth was as much symbolic as a need for a heat source on a temperate afternoon as Crag Rats opened their doors and served cake and punch to about 100 people, including numerous Crag Rat alumni, many in the Crag Rats' distinctive black-and-white check vests, shirts or jackets.
They included Forrest Wells and Bill and Virginia Sheppard, viewing old photos. Downstairs, a slide show featured images of rescues, training, and snow depth measurements (back when Crag Rats used to do that — it's mostly done by computer now).
"This is such a wonderful opportunity for Crag Rats to come together, and we have people from all over," said Kent Lambert, a member since the 1950s.
Crag Rat Hut was built in 1966 after the group's original lower valley hut, near Highway 30 along what is now Interstate 84, was torn down in the 1950s to make room for the freeway. Crag Rat historian Bill Pattison said a "Building Materials Committee" — aka "scrounge group" — found the construction materials needed for the original hut. Pattison noted that Crag Rats were founded in 1926 and so-named by a wife of a member, referring to the men as "rats for climbing crags every weekend," but that the group dates to 1921 when it was called the Hood River Guides. (The hut is a spacious two-story lodge, with expansive patio and grounds, and the Crag Rats regularly rent it for weddings, receptions and other gatherings. Crag Rat Jeff Heater said his family rents it nearly every year for Thanksgiving, attended by 30-50 family members. Plans are in the works to expand the hut kitchen.)
The Crag Rats' other base of operations, and its spiritual home, is historic Cloud Cap Inn, located at the base of Eliot Glacier on Mount Hood. It's where the Crag Rats meet, train, and often start their rescue operations.
•
"You are wonderful neighbors. We are all in this together," said Jeanine Tervo of the United States Forest Service, who spoke at the open house along with Hood River County Sheriff Matt English and Pattison. Crag Rat Trustee Gavin Vanderpool welcomed the gathering. The Crag Rats acknowledged the support and enhanced equipment, provided via the Sheriff's Office, and training via Oregon Sheriff's Association.
"We are very fortunate to have the Crag Rats. We rely on them," English said, especially in light of the "major uptick" in emergency responses, often requiring the volunteers' participation, as Hood River County and the Gorge grow more popular as a destination.
English said, "The demand for Crag Rats' services and expertise will continue to grow."
Tervo said, "It's a unique time to look back at what this institution has done and also to look at the future."
Of the Cloud Cap/Tilly Jane complex, which Crag Rats help preserve and manage via special use permit, Tervo said, "I'd like to believe that complex will continue to rise in importance, as a significant portal to the north side of Mount Hood."
'Rat Tales' and the Crag Rat hut walls
An old sign reading "1/2 mile to Cloud Cap" and an attached plaque from "Friends of Crag Rats," old photos, the charter members' plaque, a worn 1950s rucksack, members' portraits, and more memorabilia fill the walls of the Crag Rat hut in Pine Grove. The diverse collection includes a 1935 full page cigarette ad, ironically displayed (panel at left) and the first Crag Rats' newsletter — both excerpted here:
News of Jan. 10, 1935
Rat Tales, Vol. 1, No. 1: "A near tragedy on Mt. Hood several years ago was recalled last Thursday evening, with Calvin White of Seattle, his mother, Mrs. Calvin White, of Portland, Ray Conway and L.A. Nelson joined the Crag Rats at their hut for the annual banquet, which has been a New Year's feature ever since the Crag Rats played their part in rescuing Calvin from almost certain death after he had become lost in the blizzard on the south side of Mt. Hood and had crawled under a log to die. About 50 were at the banquet, details of which were arranged by Crag Rats Arvo Hukari, Mace Baldwin, and Clyde Carlos.
"It was at 3:30 p.m. on Monday, Jan. 3, 1927, that Crag Rat Bill Cochran found Calvin White, who had been missing since the previous Saturday, after he had started out on trip on skis. More than 200 mountaineers from Portland and other sections of Oregon (responded)…"
Camel Climber Comics
'It takes healthy nerves'
The 1934 R.J. Reynolds full page color comics-style ad for Camels cigarettes portrays the Crag Rats as "Heroes of the Timberline" under the headline "It takes healthy nerves to be a Crag Climber."
The ad stars Crag Rats' founder Andy Anderson, and a thrilling adventure involving the rescue of two boys who fall into a crevasse, trapped but unhurt. "Lucky this snowdrift was here…"
Think Tintin meets Mark Trail on Madison Avenue.
"I've smoked Camels hour after hour during many thrilling rescue!" Anderson is quoted as saying, next to a photo that was evidently intended to give it adult credibility next to the (pun intended) breathless dialogue in the mountain rescue graphic story.
What's notable is it refers to the "Crag Climbers," but the term "Crag Rats" is absent and the rescuers' wear long red coats — no sign of the Crag Rats' signature black-and-white check. Andy tells the "frantic" parents when they call him, "My gang is ready to go!"
Andy rappels down and ropes the boys back to safety. One of them tells him "We're pretty cold and hungry, but we knew you would find us." And when Andy rejoins his fellow "Crag Climbers," one says, "Have a Camel," and Andy replies, "Oh boy, will I! I finished my last pack up there on the mountain."
— Kirby Neumann-Rea