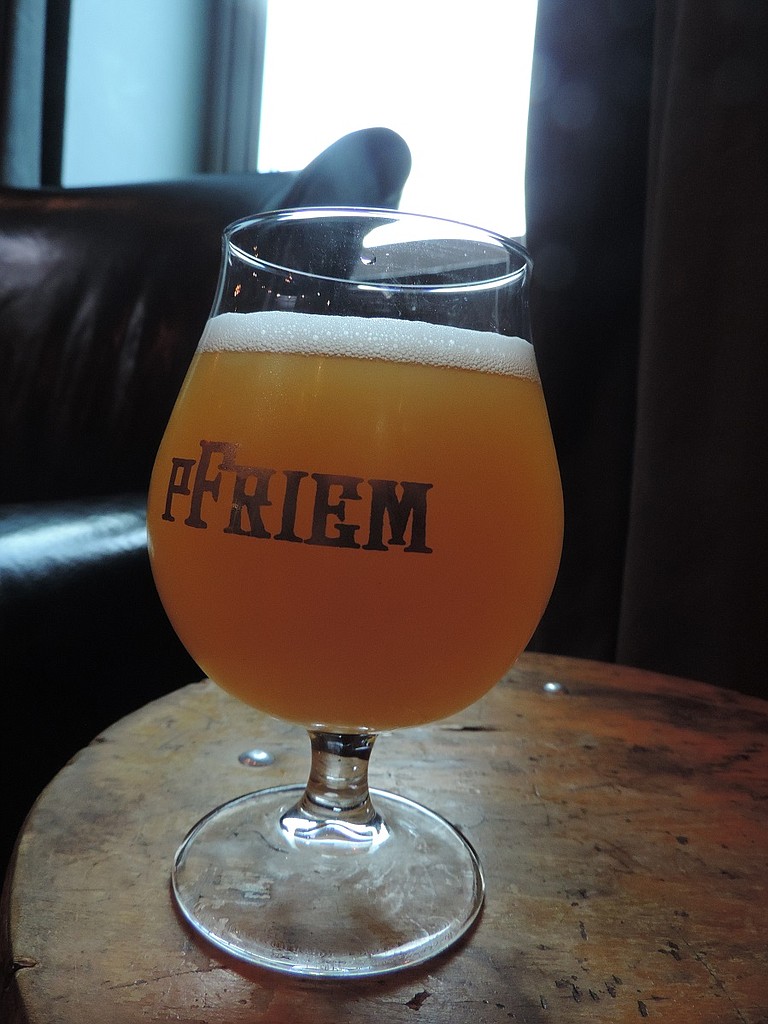 Wednesday, November 9, 2016
"The area has this sense of raw abundance, with thriving farms and orchards. It's all so close. Then, when you hit Hood River, there's an interesting mixture of forward-thinking people. And so much good beer."
Restaurateur and raconteur Maui Meyer is quoted in "50 Places to Drink Beer Before You Die," a perhaps overly-earnest title for an enjoyable book that you can hear discussed by the author, Chris Santella, Nov. 29 at Double Mountain Brewery, 5 to 7 p.m. Meyer's words are highlighted in Santella's chapter on Hood River, but also apply to the rest of the beer-blessed Gorge.
With that in mind, the coalition Breweries in the Gorge (B.I.G.) is hosting its first ever multi-brewery event; "The B.I.G. Swig," a one-day event inviting craft beer fans to get a sneak peek behind the scenes, with beer tastings and more.
B.I.G. is a non-profit organization that is comprised of 12 breweries located in the Gorge region of Washington and Oregon, from Washougal to The Dalles.
Each brewery will open its doors for beer tastings, share insight about their brewery.
The Columbia Gorge region is known for churning out world-class beers and is host to a wide variety of brewery concepts and sizes. Not all 12 breweries have the space to offer tours, but each one will host a tasting that will reflect each individual brewery's beer styles and share their approach to the craft beer culture.
B.I.G. is one of the only non-profit craft beer organizations that has members in two different states. Although the differing state alcohol laws can make events and promotions challenging, B.I.G. has successfully navigated through those challenges by working together, sharing ideas, and promoting each other.

"It's has been incredible to work with so many great brewery people from both Washington and Oregon. We are proud that Everybody's (Brewing) is part of such a supportive and passionate group of beer folk," said Christine Ellenberger, Everybody's Brewing owner and B.I.G. president.

B.I.G. Swig hours are between 11 a.m. to 4 p.m. (though noon to 5 p.m. at Logsdon and Solera).
Examples of what to expect Saturday:
Thunder Island, Cascade Locks — tank samples of Imperial vanilla porter; visitors can have a look at the tanks and meet assistant brewer Tessa Longnecker, who just joined Head Brewer Brian Perkey.
pFriem, Hood River — Pilsner, winter ale and Bosbesson — a Lambic-inspired blueberry ale aged in the barrel for more than a year and a half, including six months with the fruit from Hood River Blueberries
Solera, Parkdale — barrel samples poured from behind the bar, "something probably a minimum of one year old," Brewer Jason Kahler said.
•
Backwoods Brewing, Carson, www. backwoodsbrewingcompany.com

Big Horse, Hood River, www.bighorsebrewpub.com

Double Mountain, Hood River, www.doublemountain brewery.com

Everybody's Brewing White Salmon, www.every bodysbrewing.com

54-40 Brewing Co., Washougal, www.54-40brewing.com

Freebridge Brewing, The Dalles, www.freebridge brewing.com

Full Sail, Hood River, www.fullsailbrewing.com

Logsdon Taproom, Hood River, event hours noon to 5 p.m. www.logsdonbarrel house.com

pFriem, Hood River, www.pfriembeer.com

Solera, Parkdale, Event hours, noon to 5 p.m., www.solerabrewery.com

Thunder Island, Cascade Locks, www. thunderislandbrewing

Walking Man, Stevenson, www.walkingmanbeer.com