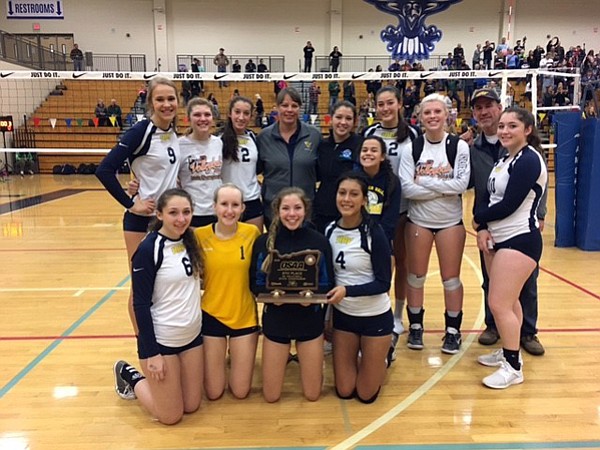 Originally published November 9, 2016 at midnight, updated November 9, 2016 at midnight
In their first state tournament appearance since 1993, the HRV girls volleyball team came home with a wealth of experience — and a sixth-place trophy to boot.
It was only the third time the school has qualified for the eight-team tournament, and though Saturday's finish at Liberty High School wasn't the highest in school history (that would be a fifth-place finish during HRV's first appearance back in 1988), the team had plenty to be proud of.
"Super pleased with how the girls performed and happy that they earned a trophy for their efforts… The girls had a fantastic experience at the tournament and my underclassmen really want to get back there again," said HRV Head Coach Scott Walker, who just wrapped his 11th season with the team. "The competition, the team meals, the hotel stay, the OSAA staff; it was all a great experience for us."
The Eagles entered the team with the lowest seed and was matched in Friday morning's quarterfinals with powerhouse Marist Catholic — a team that held the top ranking in 5A for the majority of the season. The Spartans proved to be as formidable as expected, downing HRV in three sets (25-11, 25-20, 25-13). Marist Catholic would go on to place third in the tournament after losing in a five-set upset in the semifinals with No. 4 Bend.
"Marist was just as tough as their ranking," Walker noted. "We had trouble getting them out of system, and they had some bombers."
The loss to Marist bumped the Eagles to the consolation round the next morning, facing No. 5 La Salle — a team that just the week before swept HRV in a nonleague endowment game that was used as pre-tourney tune-up. HRV apparently learned some lessons from that contest and turned the tables on the Falcons, defeating the team in three extremely close sets (25-23, 25-21, 25-22).
"I feel like we kept La Salle away from their strengths with some strong serving, and our setters put up some great hittable balls," Walker explained. "Quality contacts, and it felt really good to get that win when we dropped three straight to them a couple of weeks ago."
'The girls had a fantastic experience at the tournament and my underclassmen really want to get back there again.'
SCOTT WALKER
With a win in hand to help buoy their confidence, the Eagles advanced to the fourth-place/sixth-place game at noon on Saturday, facing No. 6 Summit. HRV put forth a valiant effort against the Storm, but couldn't manage to wrest a set away from the Bend-area school, who swept the Eagles (25-16, 25-22, 25-19).
"Against Summit we were right there for all three sets, but our serving wasn't as good and we went through some stretches where we couldn't pass the ball," Walker said. "Summit has a couple of great passers and we couldn't put the pressure on them and get them out of system like we did against La Salle."
On the court last weekend, Shae Duffy had one of her best performances in a season that has already seen plenty from the junior outside hitter. Duffy led the team with 38 kills over the three games, making opponents pay on nearly 40 percent of her attempts. She was also second on the team in digs with 28 (senior libero Rebecca Johnston led with 30). Her efforts in the tournament were rewarded by her selection to second team All-Tournament.
Aces were hard to come by in the tournament, but sophomore setter Emily Curtis led the way with three total, but had an even better day teeing up shots for his teammates, recording a team-high 62 assists. Her classmate, middle blocker/outside hitter Katie Kennedy was the top of the stat sheet in the blocking category with 2.5 for the tournament.
HRV will lose leadership with players like Johnston, Bianca Badillo, Brina Hebert, and Lorena Johnson departing the team due to graduation, but will still retain a great deal of talent. The future once again holds a lot of promise for the still-young HRV volleyball program and Walker can't help but look forward to 2017.
"It was really fun to play against a high level of volleyball in all three matches, and with the bar being set higher this year, I can't wait to see what we can accomplish next year," he said.