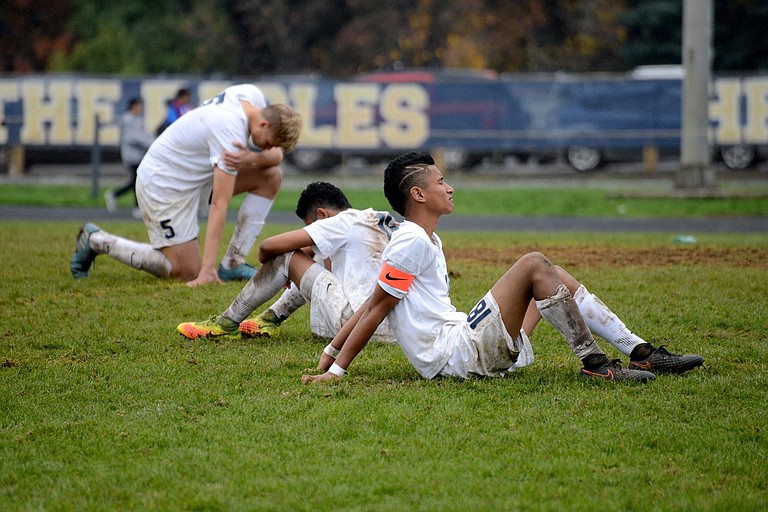 Originally published November 9, 2016 at midnight, updated November 9, 2016 at midnight
For the past three years, they've been unstoppable. Perennial leaders of the Columbia River Conference. Back-to-back 5A state champions. Fifty-one straight games without a loss.
But Saturday afternoon, in front of legions of stunned fans, the HRV boys soccer team could not get to 52.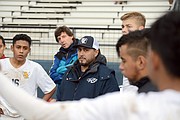 In a quarterfinal match at Henderson Community Stadium, the No. 9 La Salle Falcons pulled off a major upset over No. 1 HRV, defeating the Eagles 3-2 in penalty kicks after both teams failed to score in 80 minutes of regulation and 20 minutes of overtime. HRV, hoping for a threepeat in the 5A championships, won't be in the tournament final for the first time since 2012. It was the earliest exit for HRV since the 2011 season, when the Eagles lost to Rex Putnam in the first round on penalty kicks, which was also the last time HRV participated in a shootout until Saturday's contest.
HRV's battle with La Salle was fraught with frayed nerves on both sides of the ball as the two teams desperately tried to find the back of the net to no avail. Not necessarily surprising, since the schools have played each other close the past two seasons, including a 1-1 draw earlier this year at La Salle and a 0-0 draw in Hood River the previous year — the last time the Eagles were shut out at home.
For HRV Head Coach Jaime Rivera, it was a frustrating end to a season that had high expectations.
"We knew it was going to be an even match. Two good defensive teams — that's why they tied so much this year, I think, is that they're very good defensively," Rivera said after the game. "Even our best looks weren't good enough. Everything that I expected, was today. I was almost sure that one of those opportunities would fall in for us. They had theirs as well."
The match with La Salle was as physical as HRV's first-round contest with Rex Putnam earlier in the week, with both the Eagles and the Falcons drawing yellow cards. It was a match not without controversy, either.
HRV broke La Salle's back line on numerous occasions in the first half, but goals proved elusive. A few minutes into the first half, though, HRV got a golden opportunity, when a free kick from Jorge Campos dropped near Noe Magaña on the left side of the top of the penalty box, who dribbled a few paces before sending into the back of the net as he was pushed out of bounds.
The goal celebration for HRV was short-lived, however, as Magaña was ruled offsides by the officials. The home crowd unloaded on the referees as Rivera shouted for an explanation. Rivera maintains that Magaña was onsides, and watching game tape of the play only affirmed Rivera's opinion.
'We knew it was going to be an even match... even our best looks weren't good enough.'
JAIME RIVERA
Following the loss, fans took to social media and asked that Rivera file a formal complaint with OSAA about the call, but Rivera said Monday morning that he had no plans to do so. He did, however, feel that a general lack of available officials on any given night, not the quality of calls, was having an impact on the game.
"If anything, I want to help draw attention to the fact that we have a lack of referees and that this is posing an issue and is manifesting itself in many different ways," he said.
Regardless, the team had another chance at a goal near the end of regulation, when La Salle committed a handball in the box, awarding a penalty kick to HRV's Saul Chavarria. His kick sailed over the crossbar, keeping the game scoreless and a few minutes later, La Salle forced HRV into overtime.
With players battered and tired, two 10-minute periods of overtime still weren't enough to decide the match, though the Falcons came perilously close to scoring during a mad scramble in HRV's box with about three minutes remaining in the second overtime. For the first time in five years, an HRV boys soccer game would be decided by five rounds (at least) of penalty kicks.
Domingo Barragan and Erik Pitones started for HRV and both had their shots stopped by La Salle. But Travis Running did his job in net for HRV, stopping the Falcons' first two shooters. As third man, Jorge Campos broke the scoring drought, but La Salle quieted the crowd by slipping one past Running to tie up the score. Magaña then stepped up to the line, but was denied by La Salle's keeper. Then the Falcons scored to go up 2-1.
In a must-score situation, Angel Sonato rose to the challenge for HRV, connecting on his penalty kick to tie the score at 2-2 and keep HRV alive. Now it was up to Running to stop the next one.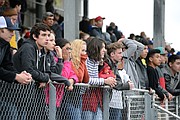 The shot was a rocket, about three feet off the ground and slightly to the right. Running picked the correct side, and dove with arms outstretched, making contact with the ball, but not able to wrap it up. The ball popped up, and landed with a sickening thump behind HRV's goal line. As the Falcons tore across the field to celebrate what no team had been able to do in three years, the Eagles covered their faces and sank to the ground in despair. The fans, out of their seats and screaming just seconds before, were now dumbstruck and silent, trying to process what had happened.
It was unfamiliar territory for the Eagles as they said their goodbyes. They were supposed to part ways in Hillsboro at the state championship, not here. This was a special team for Rivera, who has coached many over the past several years.
"A very charismatic group who were themselves," Rivera said. "They were themselves around me. That's one of the things I'll remember about them, was how comfortable they were around me. I let them do their thing. I think that bodes for a good culture, a good team culture. I'm really going to miss that."
HRV loses a significant chunk of players, some of whom have been on the team since their 18-0 season in 2014, never knowing a loss. Seniors include Gio Perez, Jackson Lebsack, Ernesto Garcia, Diego Ortiz, Campos, Magaña, Enrique Muñoz, Eduardo Barragan, Wenceslao Bolanos, Piko Sankari, Nathan Schmidili, and Domingo Barragan. But it has always been "next man up" for HRV. The program is strong.
"I think that after the sting goes away and for years to come, we'll be able to look back and be proud of the program that we've built here with the assistance of all the parents and the teachers and our fans and our supporters," Rivera said. "I think for years to come, we'll be able to look back and be proud of the program that we have built here. I just can't wait to work with next year's group of student-athletes and hopefully we'll continue to be able to make the community proud."
The respect for the program Rivera and the community have built extends far beyond the Hood River Valley. Their reputation as fierce competitors precedes them in games and follows the team off the pitch.
After the postgame handshake was over and as the Falcons got on their bus, turning their attention to a semifinal game with Wilsonville, La Salle's Cole Whritenour, a senior defender and captain who has been on the team the past three seasons, turned back and walked over to the HRV players as they packed up their gear.
"Hey," he told them. "That's the craziest unbeaten streak I ever heard of."