Originally published November 12, 2016 at midnight, updated November 12, 2016 at midnight
Hood River County voters went heavily for Hillary Clinton over Donald Trump, 6,359 (59.5 percent) to 3,223 (30.2 percent) and gave a solid edge to challenger Mark Reynolds in his failed bid to unseat Mark Johnson in the State House Dist. 52 race.
Reynolds gained 5,672 votes (55 percent) to Johnson's 4,622 (45 percent) in the county. Johnson won a fourth term in the overall race, with a 60-40 margin accorded him by voters in the portions of Clackamas and Multnomah counties that also comprise the district.
"It's humbling to have support now for four elections, and I'm excited about continuing to build on work I've been able to be a part of for the last few years," said Johnson, an Odell Republican who also serves on the Hood River County School District Board of Directors.
Asked about Reynolds' large Hood River County margin, Johnson said, "It's a diverse district. We campaign the same way and the message is the same on one side of the district as the other, and voters make their decisions on their own needs and priorities. We'll analyze it to see if there is anything I need to do in order to represent differently."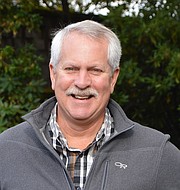 In local elections, Megan Saunders will be the newest Hood River City Council member, polling second in a race against three incumbents. Kate McBride gained 1,912 votes, and Mark Zanmiller 1,662. Tim Counihan, appointed last year, received 1,350 votes.
In Measure 14-59, the 3 percent municipal tax on retail marijuana revenue, Hood River city voters gave "Yes" a near 3-1 edge, 2,635 to 947.
In state races, Hood River gave large margins to victorious Democrats — Gov. Kate Brown, Sen. Ron Wyden, and Tobias Read for Treasurer — and for Brad Avakian for Secretary of State, who was defeated in his race against Republican Dennis Richardson.
County voters gave a narrow "No" vote to the state corporate tax proposal, Measure 97.
Cascade Locks voters retained Mayor Tom Cramblett, 335 votes to Joseph Shelley's 171, and returned three current councilors: Bobby Walker with 297 votes, Bruce Fitzpatrick with 265 and Glenda Groves with 242. Also running were Katelin Stuart with 178, Nicole Crites with 171, and Carl Zerfing with 162.
However, a total of 233 write-in ballots in Cascade Locks won't be counted in that race for at least a week, according to the County Elections Department, leaving the possibility that the outcome could change, with the margin between Cramblett and Shelley at 164 and the slimmest margin among council candidates at 64.
(County-wide, approximately 150 ballots are considered "question ballots" due to discrepancies with the signatures or other issues. These have not been tabulated and will be looked at individually next week.)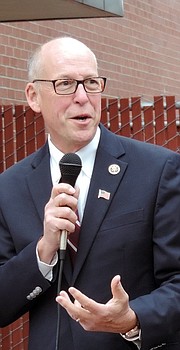 Hood River County voters gave a virtual split to challenger Jim Crary in his race against Hood River Republican Greg Walden in the U.S. House District 2 race. Returns had Crary, an Ashland Democrat, trailing at five votes behind Walden, out of 10,387 ballots cast — a razor-thin .05 margin of 49.94 to 49.89 percent.
Walden won his 10th term in the overall race — the Second District spans all of eastern Oregon — by a 72-to-28 percent margin. Walden raked in votes from the district's largest population centers, most notably Jackson and Deschutes counties, defeating Crary, a former attorney.
His victory came Tuesday night amid a sweep of GOP wins in the House and Senate, and the upset victory of Republican President-elect Donald Trump.
The outcome: Walden remains Oregon's only Republican congressional representative. He serves as chairman of the Republican Congressional Committee.
Walden, 59, grew up in Hood River and The Dalles. He has represented the district since 1999.
"I want to thank the voters of southern, central, and eastern Oregon for your support and the trust you have placed in me to once again represent you in our nation's capital," Walden said in a video statement.
Walden briefly asserted that he will focus on veterans' needs, work to create jobs, and defend against an "overreaching federal government, and reduce the government spending and debt."
A spokesman from Walden's office sent the Hood River News a link to Walden's statement but did not respond to multiple requests for further comment.
Rich McBride will become County Commissioner, after his uncontested run to succeed Maui Meyer, who decided not to run after 12 years in office. In uncontested races, Commission Chair Ron Rivers was re-elected, as was Hood River City Mayor Paul Blackburn, Sheriff Matt English, and District 4 County Commissioner Les Perkins. In Cascade Locks, the new Justice of the Peace, John Harvey, ran unopposed.