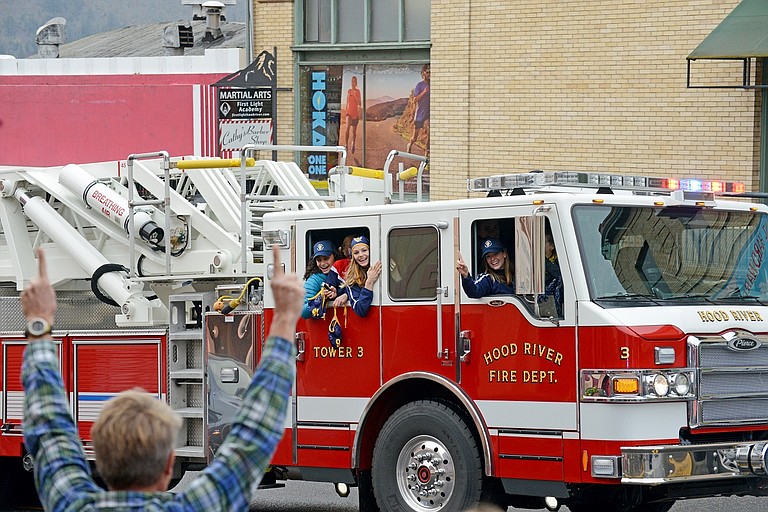 Originally published November 16, 2016 at midnight, updated November 16, 2016 at midnight
They may have started from the bottom in 2014, but now they're here.
The HRV girls water polo team completed its meteoric rise from winless rookies in 2014 to 5A state champions in 2016, knocking off last year's winner, Summit, in the title game at Osborn Aquatic Center in Corvallis last weekend, overcoming a two-goal deficit in the second quarter to win 5-2. The title came after wins over South Albany and Sandy earlier in the tournament.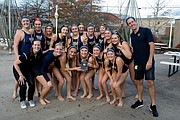 For a team that struggled mightily in its inaugural season, and then made it all the way to the third-place game last year, to a league title earlier this season, and then capped by a first-place trophy on Saturday, the growth the program has shown in the past three seasons is nothing short of remarkable.
"I think that going three years ago from being brand new, never winning a game, barely scoring a goal… to winning a state championship, I don't know if that's ever been done before," said Kellie Dunn, head coach of the Eagles, adding, "To us, winning the state championship, we never thought this would have happened three years ago."
Rose Finstad, a team captain and a junior who, as a freshman, was with the team in its first season, remembers well those "beat-downs." But, she remembers the team coming to a realization in the 2015 season as the players' raw athleticism gave way to a developing acumen for water polo fundamentals: They were getting better, and they could win.
"It proves a good point that hard work pays off," she noted. "Our coaches have been awesome. They've pushed us just the right amount to get better and we've definitely seen the reward from all that hard work."
'I think that going three years ago from being brand new, never winning a game, barely scoring a goal... to winning a state championship, I don't know if that's ever been done before.'
KELLIE DUNN, HRV HEAD COACH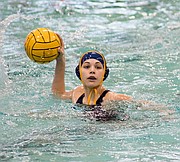 The Eagles have since had their underdog card firmly revoked, a trend that began in earnest during the regular season when the team started and finished on a tear, defeating opponents by double-digit margins with seemingly effortless regularity, only sustaining two losses out of 21 games. After winning the 5A/6A Mt. Hood Conference last month, other teams took notice and HRV entered the state tournament a No. 1 seed.
Sandy
In a first-round game, which we reported on in the Nov. 5 issue, HRV rolled No. 8 South Albany 21-2, reminiscent of the numerous lopsided contests the Eagles won during the regular season.
But Dunn expressed more concern regarding HRV's semifinal matchup with the No. 5 Sandy Pioneers on Friday, as the Eagles moved into the meat of the tournament. Yes, it was a team HRV had beaten by double-digit margins twice this year, but Dunn saw their conference opponent had significantly improved in the second game, and the Sandy Pioneers surprised more than a few people when they bumped off Bend in their opening-round game.
In the semifinal match, HRV raced out to a 3-0 lead in the first quarter and never relinquished it, but the Pioneers made a game of it by matching HRV's two goals in the second quarter. The Eagles pushed their advantage out to 8-3 in the third, but Sandy shut out HRV in the fourth quarter and put up three goals before the buzzer sounded, losing 8-6, but it making it closer than it needed to be.
Both Dunn and Finstad chalked up the game to "pre-tournament jitters." Dunn added that Sandy was prepared for HRV, and plunked two defenders down near their own goal at all times, curtailing the Eagles' valuable counterattack. Finstad and Jamie Robinson, two of HRV's most dynamic players in the pool, were double-teamed for most of the game as well.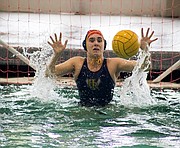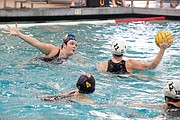 But it's the state tournament, and a win is a win.
"I think the biggest thing for me, nervous or not and playing a little tight, we still managed to show up and win the game and that's what we had to do," Dunn said, noting that the team had a made a goal to advance further in the state tournament than they did last year, and by beating Sandy, had accomplished that.
"I think once we won that Sandy game, the weight kind of lifted," she added. "Their eyes were brighter and they were more confident."
Summit
But now the team had a much more experienced opponent in Summit — ranked one spot behind HRV in the tournament and eager to defend their state title. Finstad said members of the Storm could be seen traipsing about the Osborn Aquatic Center in the 2015 state championship shirts, letting no one forget who the reigning champs were.
For all of Summit's confidence, there were some cracks in the foundation. The Storm escaped with a 7-5 win over Mountain View in a semifinal game that went into overtime. Moreover, HRV had seen Summit in a tournament earlier in the season and routed the Storm 8-1.
"We knew that we could beat them," Finstad said.
The Storm prevented HRV's offense from getting out to its usual fast start and put the Eagles in a two-goal hole in the second quarter, but Dunn wasn't concerned.
"Summit came out pretty strong and played the game we expected them to play and I think we started pretty solid too," she said. "Our defense was good and was stopping them… even though we were down, we were in control of that game. Our shots weren't falling yet."
Dunn told her players to be patient and wait for their shots, and they did. HRV tied it up with two goals and went into the half energized. HRV's scoring continued after halftime with three goals in the third quarter while the team's defense "swamped" Summit, Dunn said, wearing out their opponents.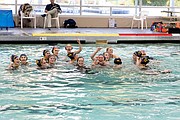 Up 5-2 heading into the fourth, HRV milked the clock for all it was worth, concentrating on long possessions and tough defense. As the minutes ticked by, Finstad and her teammates began crunching the numbers to figure out if Summit had enough possessions left to potentially make up the deficit. Going into the final minute, the venue got loud as parents, fans, and bench players took notice that the Storm had run out of gas and run out of time. The Eagles were officially state champions and celebrated by giving an impromptu pool water baptism to Dunn and Assistant Coach Dave Robinson, who were wearing their street clothes.
"When the final buzzer went off, the whole team jumped into the water and we pulled the coaches into the water… it was just awesome," Finstad said. "There was so much energy and happiness in that stadium."
"It was such a great game to end the season on," Dunn said. "There was no team we would have rather beaten than Summit because of their history of winning."
A team effort
There were many players who made HRV's run through the tournament possible. For instance, in the game against South Albany the week before, every single player on the HRV roster scored.
Juniors Finstad and Lauren Orr dogged their opponents, setting up numerous opportunities for HRV's offense, as well as racking up plenty of points on their own. Sophomore Jamie Robinson was a triple-threat nightmare, scoring goals, assisting her teammates, and picking the pockets of her opponents with several steals in each game. Junior Amber Kennedy "stepped up for us," Dunn said, taking over as goalie after starter Kat McElderry hurt her shoulder less than three weeks before the playoffs started. She recorded 10 saves on 12 shots in the title game.
"Watching her, you would never know she hasn't been playing goalie all season," Dunn remarked. "She did a fantastic job this weekend."
First team All-State
Faith Ocheskey, MVP (freshman); Jamie Robinson (sophomore)
Second team All-State
Rose Finstad (junior); Lauren Orr (junior); Amber Kennedy, goalie (junior)
Honorable mention
Courtney Castaneda (junior); Kennedy, field player
But it was freshman Faith Ocheskey who was the most dynamic player for the Eagles in the tournament. In the two games against Sandy and Summit, Ocheskey led the team in total goals (6), assists (3), and steals (19). For her efforts, Ocheskey earned the tournament's Most Valuable Player award.
"I have never seen that award go to a freshman — I don't think I've ever seen it go to a sophomore," Dunn said. "That's a testament to what kind of tournament she had."
"I was really honored to receive the MVP award; it was an amazing feeling, because I have been working hard for this sport and my athleticism," Ocheskey said. "I could not have gotten it, though, without my teammates pushing, encouraging, and supporting me. My coaches — swimming and water polo — have been super great as well, making sure that I strive to be the best that I can be every day."
Looking ahead
The team loses three seniors — Oona Johnsen, Sloan Hall, and Sarah Gottschalk — but the vast majority of HRV's roster should look the same next season as the Eagles will be in the unfamiliar position of having to defend their state title in 2017. Finstad said that interest in the sport is growing and a strong junior program should bring a new crop of talented freshman into the fold next year.
On a spectator level, interest has grown marginally since former coach Dave Cameron started the program a few years ago, but may see a boost with the state championship win. Finstad said she's tried to rally student support, while also having to explain to her classmates that no, this is not equestrian polo.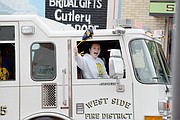 "Some people ask if it's a horse sport, like, 'How do you get the horses in the water?'" she said with a laugh.
For Dunn, the league title and state championship are huge achievements, but the work isn't done. Both Finstad and her coach mentioned that they want to advance the level of the team's play to make it even more competitive. In the last week of October, 6A powerhouse West Albany, a team that won its state championship last weekend, rolled HRV in a pre-tourney tune-up that saw the Eagles lose 17-3.
The loss showed HRV what it takes to be a truly elite team. The Eagles are always striving to improve, putting the work in the pool, learning the fundamentals and the nuances of the sport, Dunn said, and with that kind of work ethic and aptitude, she expects to see even greater things next year.
"I don't think this team is going to get complacent," she said. "I think this team, we're going to be a force for a long time."