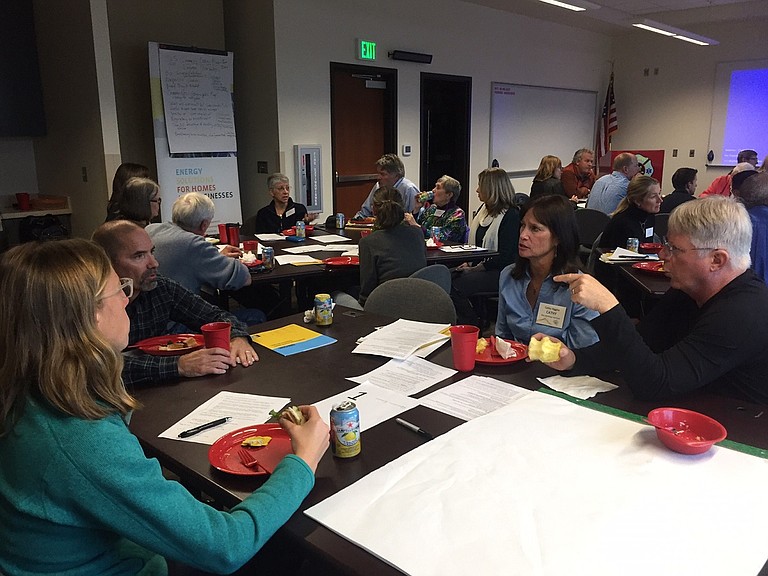 Wednesday, November 16, 2016
It was standing room only at an energy sustainability workshop held in Hood River recently.
More than 50 business leaders, government officials, and community advocates gathered at Hood River's Ty Taylor Fire Station Nov. 2 for "Hood River's Energy Future," an event focused on the county's progress towards energy independence and a resilient community.
Hood River County and Environmental Entrepreneurs (E2), a business group that advocates for economic policies that support the environment, hosted the gathering.
Presentations and group discussions covered various topics such as steps local farmers have taken to reduce their water and energy use, climate change's impacts on summer water supplies, and ways utilities might meet Oregon's 50 percent Renewable Fuel Standard by 2040.
"Clean energy is one of City Council's priority goals," said Hood River City Manager Steve Wheeler. "The large turnout and strong enthusiasm at the meeting indicates that this goal is in perfect alignment with the values of many people in the Hood River community."
A follow-up to last year's workshop, Making Energy Work for Rural Oregon hosted by Sustainable Northwest and Gorge Owned, the session highlighted strides the community has made — and is still working toward — in clean energy.
Current projects, such as the status of a feasibility study assessing resources for a potential net-zero Combine Heat and Power (CHP) generator at the city's wastewater treatment plant and Gorge Owned's residential and commercial GO Solar! campaign (set to launch in January 2017) were also highlighted.
Energy Trust of Oregon presented on renewable and efficient energy projects, while Jonathan Lewis from Hire Electric discussed the potential cost and emissions savings that come with efficiency upgrades, such as transitioning incandescent light bulbs to LEDS, a step Hood River Public Works is already doing with city street lights.
Phil Chang, field representative for U.S. Senator Jeff Merkley, attended. Audience members learned how to get involved in state and local policy involvement surrounding energy and climate change legislation.
The event doubled as the kickoff meeting for the Hood River Energy Plan Steering Committee — a group of about 15 volunteers from the public and private sector tasked with creating an energy plan that could be adopted by local governments.
Rounding out the day, Karen Chase, southern Oregon outreach manager for Energy Trust, led committee members through orientation about energy planning.
The group will meet monthly for the next nine months to guide the creation of a Hood River Energy Plan. All steering committee meetings will be open to the public. For details, contact Marla Harvey, energy and sustainability coordinator 541-387-6879, marla.harvey@co.hood-rver.or.us.