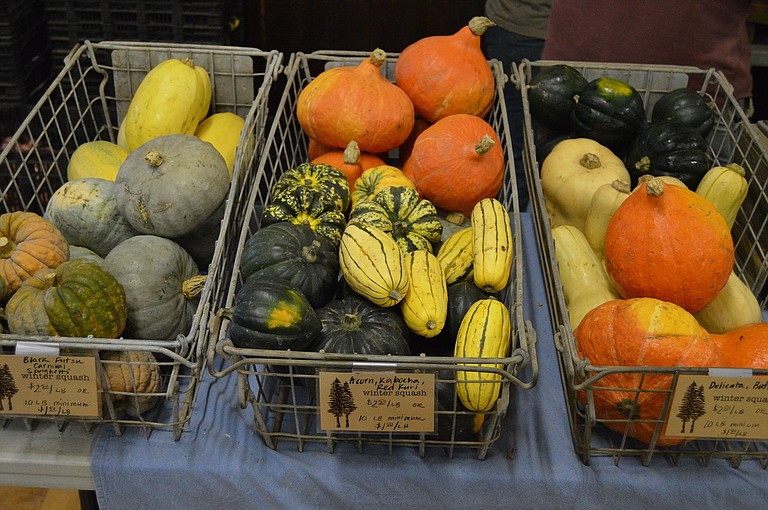 Saturday, November 19, 2016
Many people think farmers' markets are expensive, but a new study done this week by Gorge Grown Food Network shows many of the most popular fall produce is less expensive at the market than at the local supermarkets.
Consumer surveys in the past have found that residents perceived cost as one of the most significant barriers preventing them from buying more local food. With this finding in mind, Gorge Grown went out this week and compared the cost of common fruits and vegetables, both certified organic and conventionally grown, at the Hood River Farmers Market and three area grocery stores.
Several items are less expensive at the farmers' markets. Some of the best market deals included organic apples, carrots, cucumbers, green beans, onions, summer squash and tomatoes. Conventional baguettes and local greens and cheese were also found to be significantly less expensive at the market. Similar studies conducted across the country support the conclusion that shopping at farmers' markets isn't necessarily more expensive. And at this time of year, you can often buy storage crops, like squash and onion, in bulk for reduced costs, like at the Fill Your Pantry Market on Nov. 5, hosted by the Rockford Grange. Most produce at the market is harvested at peak ripeness, just hours before the market. This means that your purchases will stay fresher for longer, thereby reducing waste and costing less.
In addition to competitive prices, most farmers' markets offer programs to help make fresh, healthy food even more affordable and accessible. All 10 Gorge area farmers' markets accept Gorge Grown Veggie Prescription (Rx) Program vouchers and most also accept WIC, FDNP and SNAP (food stamp) benefits. Most markets even offer a $5 or $10 SNAP match: Local businesses donate funding to match every SNAP dollar spent up to $5 per shopper per market. And this year, kids get $2 to spend on veggies at each market with the POP Club (Power of Produce). That adds up, and inspires SNAP recipients to shop locally and buy fresh.
A dollar spent on fresh, locally grown food at a farmers' market buys more than just groceries. In addition to more nutritious, flavorful, fresh food, that dollar directly benefits family farmers and ranchers, bolsters our local economy, reduces environmental impacts, and preserves historic farmland.
If 20 percent of the fruits, veggies, and meat we consume in the Gorge were purchased directly from a local farmer, we'd keep $9.6 million in our local economy. If you'd like to contribute towards this goal, there is still time to shop at the Hood River Farmers' Market. Stop by Fifth and Columbia from 9 a.m. to 1 p.m. on Nov. 19 to see why shopping at a farmers' market is a dollar truly well spent. Visit Gorgegrown.com to donate to any of our fresh food programs.