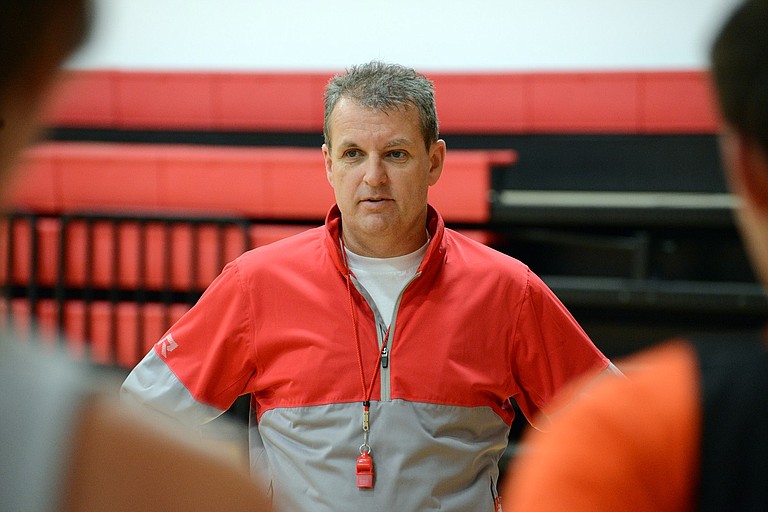 Wednesday, November 23, 2016
The Horizon boys high school basketball team's "new" head coach is feeling right at home at the Hawks Nest, and likely hasn't had too much of a learning curve when it comes to running drills and getting acquainted with this year's roster.
That's because the Hawks' varsity program will be helmed by none other than Darrin Lingel, who previously served as the team's head coach for seven years, during which Horizon saw a great deal of success. Samuel Trevino took over the position last year, but stepped down after the end of the season in order to spend more time with his wife and children, opening the door for Lingel's return.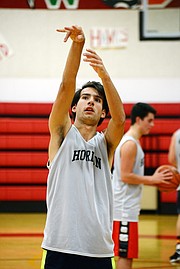 Lingel, 50, grew up in New Plymouth, Idaho, but has lived in the Gorge for the past 20 years, where he is the owner of Papa Murphy's Take and Bake Pizza franchises in The Dalles and Hood River. He lives in Mosier with his wife, Debbie, and has three children: Aaron, 24, currently serving in the Air Force; Hannah, 19, a sophomore at George Fox University; and Caleb, 14, an eighth-grader at Horizon who plays basketball on the school's middle school team that Lingel also coaches.
Lingel has long had an affection for the sport — whether it's playing, watching, or coaching it.
"I played high school basketball and enjoy watching the game on the collegiate and professional level," he says. "I still enjoy playing the game, but find it harder to get up and down the court, but I can still hit that three-point shot on occasion."
Serving as assistant coach under Ron Haines for two years, Lingel took over as head coach in 2008 and remained with the high school program until the 2014-15 season. During those seven seasons, Lingel and squad after squad of talented Horizon athletes ruled the Big Sky District and made their presence felt in the 1A classifications as well. This year, his brother, Todd Lingel, will serve as assistant coach.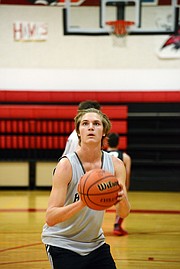 "As a head coach, I have a record of 165-37 — winning percentage of 82 percent. During my last five years prior to leaving, we lost a total of 17 games and won 135," he recalls. "The boys won five straight district titles and in those five years, they took home a state title, two runner-up trophies, a third and a fifth place. We had some great players who really developed their God-given skills."
After the 2014-15 season, which saw Horizon enter the state tournament with a No. 1 ranking (the team would finish third), Lingel says he felt it was time for a breather.
"I left the program to take a sabbatical; it was time for a break. My former assistant coach, Mike Totaro, moved to Troutdale and let me know the 14-15 season would be his last and I felt I needed to take a couple of years off," he explains. "I had always had the desire to coach my son, Caleb, when he gets into high school, just like I coached my son, Aaron, when he was at Horizon. I spent last year coaching Caleb's middle school team and will continue to coach them this season as well."
Horizon's 2015-16 campaign was a transition year, with a new coach and a team that lost multiple impact players to graduation. The Hawks were moderately successful, achieving an 8-6 Big Sky record (13-14 overall, including postseason play), placing fourth out of eight teams in the conference and qualifying for the playoffs. However, Horizon bowed out in the first round, losing to Damascus in what was the earliest postseason exit for the team since the 2009-10 season. For a program that had gotten used to dominating the competition for half a decade (and more), last year's season was an aberration for Horizon fans.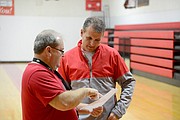 Lingel will look for the team to be more competitive this season and make a deeper run in the district tournament and in the playoffs. Horizon lost several players to graduation last year, including senior captains Jared Bryan and Kameron Brown, and will look to last year's juniors and a couple of talented underclassmen to fill that void.
"Our goal every year is to reach the championship game at districts and move on to state. This team is led by several seniors this year: Luke Holste, Ian Walker, Ethan Evans, William Decker, Sam Schneider and Quinn Roetcisoender," he says. "All will have an impact this year. Derek Johnston is returning as a sophomore and will be a key player this year as well, along with Bailey Holste. We will need to come together as a team and understand that it takes an entire team to have success."
While a potent offense is, of course, necessary to win games, Lingel says that defense is "always our first priority," and adds that the team will also focus heavily on the transition game, as well as "rebounding and taking care of the ball." He expects the Hawks will be competitive in the Big Sky, but it won't be an easy path to the top of the district standings this year.
"The Big Sky is again looking like one of the better conferences in the state. Sherman returns most, if not all, of their championship team from last year and are the early favorites to win state again," he notes. "Dufur, Arlington and South Wasco will be fighting it out as well. Should be some exciting basketball this year in the Big Sky."
•
The Horizon boys basketball season kicks off next Wednesday with a road game against Stevenson. The team will have its first home game Friday, Dec. 2 at 8 p.m. as part of the Hawk Invitational tournament.
Though it won't have much impact at all as far as standings are concerned, one of the biggest games of the year will be Jan. 12, when Horizon will play HRV on the Eagles' court. This is the first time in three years the two teams have met in the crosstown showdown; Horizon won the last meeting (Jan. 3, 2014), 59-49.