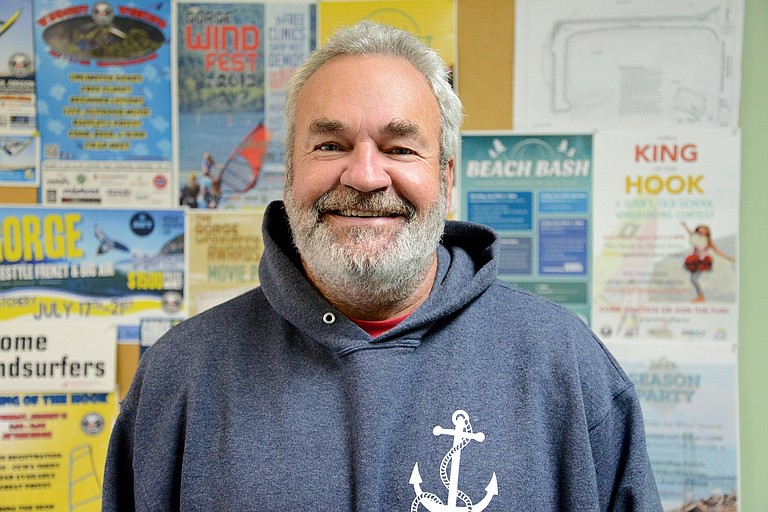 Saturday, November 26, 2016
For many people, especially longtime Gorge windsurfers, Bart Vervloet probably needs no introduction. He's been active in the Gorge windsurfing and local recreation scene since the mid-1980s and has been a resident of the area for just as long. "Bingen Bart" is now the executive director of the Columbia Gorge Windsurfing Association, taking over a post previously manned by Greg Stiegel. Vervloet recently took time out of his busy schedule to answer some questions sent to him by the News to help those readers who aren't familiar with Vervloet to get to know him, as well as see what's currently going on with the CGWA. Vervloet's comments have been lightly edited for the purposes of this story.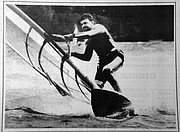 — Ben Mitchell, Hood River News sports editor
Hood River News (HRN): First, tell us a little about yourself and how you came to the Gorge.
Bart Vervloet (BV): I've lived in the Gorge since 1985 when I opened the Gorge Surf Shop in Bingen (now located in downtown Hood River). I had been in Seattle and was commuting down to windsurf every weekend and got tired of the drive and found a retail space and opened up on Fourth of July weekend, 1985.
I worked as a windsurfing instructor during college and later moved on to retail sales of windsurf and ski gear, depending on the season. I wanted to open a satellite store in the Gorge, but my boss at the time told me that skiers don't buy skis at ski resorts and didn't think they'd buy windsurfing gear either, so I gave him my notice and moved down to the Gorge.
I grew up in Portland, but was born in Holland, so when relatives came to visit, the Gorge/Mount Hood loop was an every-summer event, and I loved the Gorge then, so I knew where I was moving to and I still love it here.
My windsurf business got me involved with weather and shortly after moving here, I got involved with Q104 FM in The Dalles and my wind report ("Bart's Best Bet") was born, and lasted for 22 years until the station and license sold.
'The (Columbia Gorge Windsurfing Association) was born in 1987 and I have always supported their work.'
BART VERVLOET
HRN: Why did you decide to apply for the executive director position at the CGWA?
BV: The CGWA was born in 1987 and I have always supported their work. The CGWA has always worked for better and safer beach access, promoting windsurfing programs for kids and adults and generally informing visitors about how best to enjoy the beautiful wind conditions we have here. The CGWA is a non-profit corporation, supported by members and businesses who appreciate all the windsurfing opportunities here. We have swap meets, the Beach Bash, King of the Hook events, award events, and best of all we have the Grom program and A-Team kids sailing programs to make equipment available at little to no cost, so the next generation can learn the sport, learn to be good stewards of the beaches and water access we have here, and keep growing the sport.
I joined the CGWA as a board member last January, and in the fall, our previous executive director, Greg Stiegel, followed his heart to Alaska after doing a great job for the previous five years, and I applied for the job, hoping to build on his good work and move the CGWA to the next level.
HRN: What's currently going on with the CGWA and what goals or plans do you have as executive director?
BV: We are currently working on getting a natural rock staircase built at the Hatchery, and we are supporting the Port of Arlington in their efforts to build a new windsurfing and kiteboarding launch site.
Helping with access for windsurfing often means helping for access for other river users. Last year, we helped with funding the ramp at the Hook, and it gets used by windsurfers, kayakers, stand up paddlers and even surfskis now. Access for one sport is often access for all and the CGWA is well-organized to help with those causes. We often help state parks, port districts, and other access owners to build and maintain their facilities with work parties and fundraisers. Earlier this month, we spent half a day with Oregon State Parks renewing trails to the water, clearing brush, and removing tripping hazards at Mayer State Park in Rowena, and we have regular work parties at the Hook, the Hatchery and Swell City. The CGWA purchased Swell City two years ago to ensure windsurfing access at that great site forever.
I'm hoping that this year, more people become aware of the great things the CGWA does here in our watersports community and become members of the CGWA and involve themselves with the river access issues we all share. The more the merrier; we have a lot to share here, and an annual family membership is only $35.
Our website is gorgewindsurfing.org; we can be reached by phone at 541-386-9225 and our office is above G. Williker's toy store at Second and Oak and I invite anyone interested to stop by. Call first — a lot of our work is not done in the office.