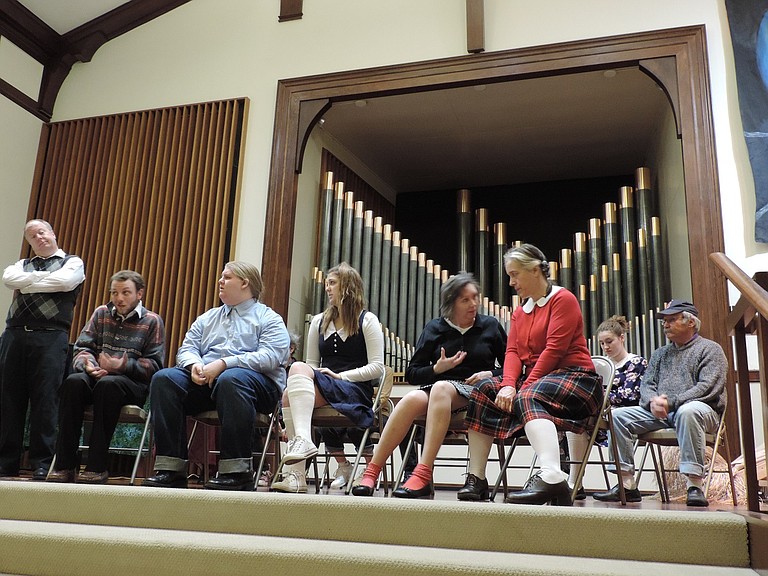 Wednesday, November 30, 2016
The Christ Church pageant rehearsal is underway, and Owen Meany (Jimmie Oates, second from left) is redefining the crèche experience, to the surprise of Rev. Dudley Wiggin (David Dye, left,) and his best friend Johnny (Aiden Tappert, third from left) and the rest of the pageant cast — youngsters portrayed by adults in the irreverently comic "Owen Meany's Christmas Pageant," opening Dec. 3 at 7:30 p.m. at Riverside Community Church.
The Plays for Non Profits Production, directed by Kathleen Morrow, runs Dec. 9-10 at 7:30 p.m. and Dec. 11 at 2 p.m. and Dec. 16-17 at 7:30 p.m. Also shown, from left, are Aiden Tappert, Savanna Rogen, Lorre Chester-Rea, and Kim Robichaud.
The comedy is based on "A Prayer for Owen Meany," written by John Irving, and adapted for the stage by Jane Jones and Myra Platt.
Tickets for the show are available at Waucoma Bookstore and online at www.showtix4u.com. Tickets are $15 for adults and $12 for students, seniors and groups of 10 or more. Tickets will also be available at the door based on seating.
The play is recommended for ages 12 and up due to mature themes.