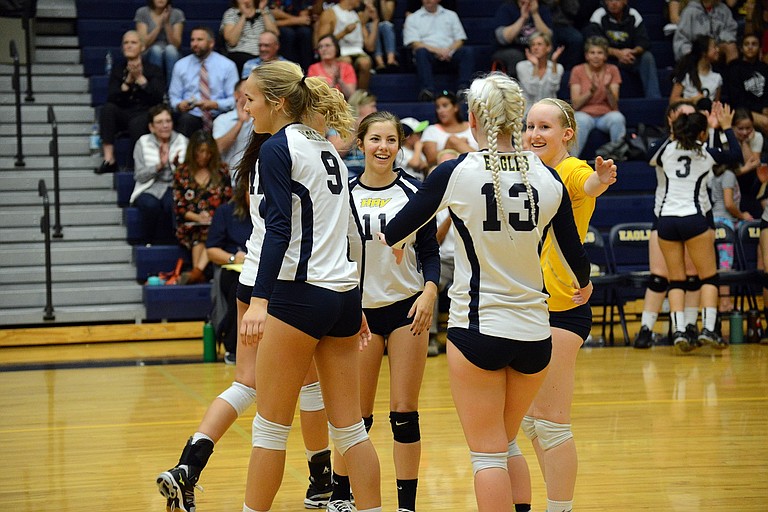 Saturday, October 1, 2016
They haven't played a game in the month of October yet, but the HRV volleyball team has already clinched, at the very least, a play-in berth.
The Eagles (18-1, 5-0 Columbia River Conference), defeated both Pendleton and Hermiston this week, widening the gulf between HRV and the other teams in the league. With Pendleton in fourth place at 1-4, and four games remaining in CRC play, HRV has officially clinched a play-in berth, as the Eagles can finish no worse than third. Even in the unlikely scenario that HRV would lose every single one of its remaining games and Pendleton would win, the Eagles own the tiebreaker, as they have defeated Pendleton twice in the team's three-game series.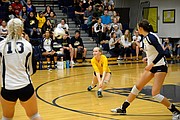 "As far as clinching, it feels good, but we have work to do if we want a higher seed and we want to win the conference to secure another home playoff game," HRV Head Coach Scott Walker said Friday morning. "This afternoon, we will get in the gym and keep improving."
HRV 3, Pendleton 0
The last time the Buckaroos (5-8, 2-3) and the Eagles met, they made things quite interesting for HRV in the CRC debut, pushing HRV to five sets for the first time that season.
Though the Eagles would eke out a win that time in Pendleton, they made sure to avoid a similar scenario in their own gym Tuesday night, sweeping the Buckaroos to remain perfect in league play.
HRV came out on fire, pummeling the Bucks 5-1 to start the game and taking the first set 25-7 — the biggest margin of victory for the Eagles in any set this season. Pendleton made it a bit more of a game in the second and third sets, but still lost 25-18 and 25-21, respectively.
Walker was thrilled with the result and called it a "huge improvement" compared to the teams' last meeting Sept. 13.
"We passed a little better, but the biggest difference was in our hitting and setting," he explained Wednesday morning. "In Pendleton we set at .308 and hit at .258, and last night we set .463 and hit at .395 — our highest percentages of the year."
As has often been the case this season, Shae Duffy was the deadliest on the attack for HRV tallying 15 kills on 22 attempts (55 percent) with only three errors. She also had a team-high nine digs, tied with libero Rebecca Johnston, and led the team with four aces. Katie Kennedy and Kennedy James recorded nine and 10 kills respectively, backing up Duffy on the attack. Kennedy had the most blocks, with 2.5.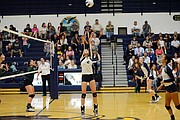 Setting up the kills were Emily Curtis and Hannah McNerney. Curtis had 23 assists on 44 attempts with two errors (55 percent) while McNerney put up 11 in 20 attempts and committed no errors. Lorena Johnson also had five assists in 14 attempts (36 percent) with no errors.
HRV 3, Hermiston 1
Hosting Hermiston on Thursday, the Eagles did the same thing they've done in pretty much every other game this season — win — but did it in a different way.
"We played a little reverse volleyball last night. Lately our passing hasn't been great but our hitting and setting have really carried us. Last night it was opposite where we passed the ball really well and had a bunch of hitting errors," Walker noted. "In the second set, we only had one shanked pass but eleven hitting errors. Hermiston put up a pretty good block and we kept ripping balls right into their hands or out of bounds."
HRV beat Hermiston by double-digit margins in ever set but the second, which the Eagles lost 25-21. Walker credited outside hitters Emilie Ellifritz and Duffy for helping the team out of their second-set slump to finish the game strong. He made note of Johnston's "amazing" passing Thursday night, as well as her "phenomenal" defense that produced a team-high 19 digs. Bianca Badillo was also good on defense with 11 digs and Emily Curtis continued in her role as the dominant setter for HRV, garnering 21 assists on 45 attempts (47 percent).
•
The Eagles have their last tournament of the season this weekend, but unlike the others, this one will be at Vannet Court in Hood River. The tournament starts on Saturday at 8:30 a.m. and will feature The Dalles, Ridgeview, and Hillsboro, in addition to 6A schools David Douglas, Beaverton, Jefferson, and McMinville.