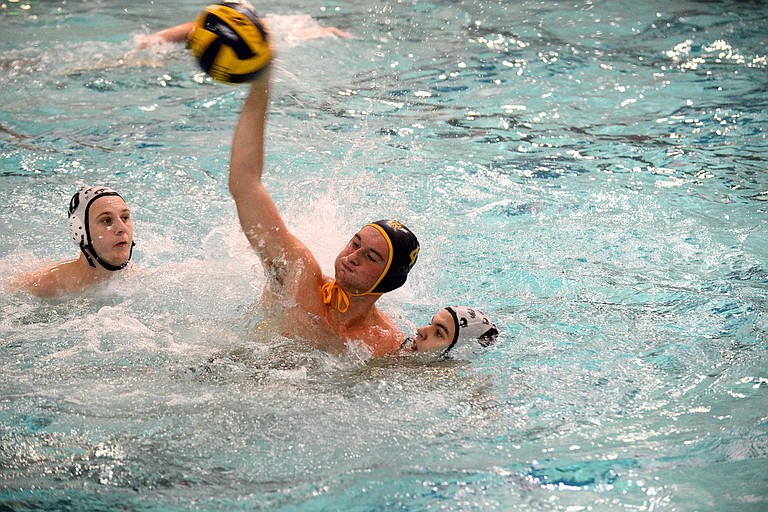 Saturday, October 1, 2016
The rebuilding HRV boys water polo team got a good look at what it takes to be one of the top water polo teams in the state when the Eagles hosted Parkrose at the Hood River Aquatic Center Tuesday night.
The undefeated Parkrose Broncos flustered HRV with its fast and furious attack, scoring a trio of unanswered goals to start the game as the Eagles tried to develop a plan to counter the physical team. They were unable to, falling 18-6 in what was HRV's first loss to a 5A team this season.
Head Coach David Robinson was expecting a difficult time against Parkrose, since the Broncos had defeated Barlow by quite a bit earlier in the season, while HRV had lost to Barlow 20-9 in a game Sept. 8. He described HRV's opponent as "fast and physical," with the Portland-area team quickly illuminating the areas in which the Eagles still have some work to do.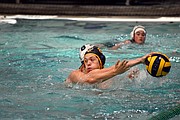 "We are young and it shows in the intangibles. Water polo is largely a game of will. Smaller players can play huge in the water and that is what I'm working to develop," he explained. "Parkrose came in with a visible will to win and we have to learn to do the same. I have it in four to five players for sure — I'm looking for the balance of players that can show me they have that on top of speed and skills. Some of my freshmen continue to surprise me and I have a pretty fluid bench and sub plan because of this."
Some of those younger players made the most of their opportunities Tuesday, with freshmen Corbett Blackman and Tae Carlson putting up two and one goals each respectively. Sophomore Chad Klaas also had a pair, and junior Cole Rothman had one. Liam Longland and Cael Price split time in net; Longland gave up 12 goals and saved two, while Price surrendered six and stopped two.
HRV was often able to stop the first wave of Parkrose attackers (5-meter group) Tuesday night, but it was the second wave (2-meter) that "gave us fits," Robinson said, noting that about 80 percent of the Broncos' goals came during transitions. On the other end of the pool, Robinson wanted to see more confidence in his players' shot choices and "trust their instincts" — something that should develop as the team matures.
"We have open shots and passes, but in water polo these windows are fleeting. You have to go with your impulse and make the play; I'm seeing a lot of hesitant decision making which shuts down the opportunity," he said. "This is on me to instill a culture of risk — it's OK to make the 'right' mistake and learn from it."
•
The boys will look to get their second win against David Douglas this season when they host the Scots Tuesday at 5:30 p.m. The boys also had a game against Centennial on Thursday, but results were not available at press time.
Girls team off this week
Kellie Dunn, head coach of the girls water polo, said HRV had no games this week, as Parkrose has no girls team and Centennial's team recently folded. Dunn said she is in the process of looking for the girls to play some competitive 5A teams at an unspecified future date, but mostly likely on an upcoming weekend.