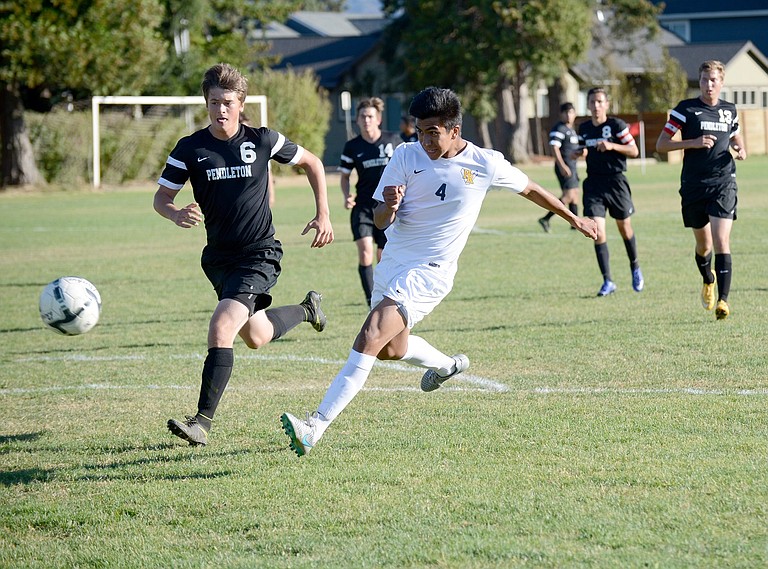 Saturday, October 1, 2016
Tuesday afternoon was a bad time to be a Buckaroo.
While the HRV volleyball team and girls soccer team were shutting out Pendleton in their own contests with the Bucks (see related stories on A7 in this edition), the Eagles boys soccer team did the same on the pitch at Westside Elementary, throttling their Columbia River Conference rivals with an 8-0 shutout — HRV's biggest margin of victory thus far this season.
The Bucks (1-4-4, 0-1 CRC) struggles against HRV (7-0-2, 1-0) last season seemed to have spilled over into 2016. Another first for HRV this season: No saves for Eagles keepers Travis Running or Gio Perez, who combined for the team's third clean sheet of the season, but faced no shots on goal from a bottled-up Buckaroo attack.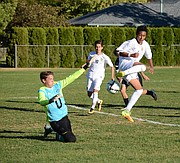 It took all of 90 seconds for HRV to score the game-winning goal, coming off the foot of 2015's 5A Player of the Year, Gio Magaña, who burned Pendleton's back line.
"If there's going to be a guy dribbling, that's the guy you want," remarked HRV Head Coach Jaime Rivera
He would add another to score two goals along with striker Robby Running and defender Ramon Evangelista. Defender Angel Sonato and midfielder Eddie Villafana rounded out the scoring.
Rivera has been demanding a more aggressive attack from his players after some low-scoring games this season. His request was met in a big way Tuesday.
He complimented the passing and communication of his players — seven of the eight goals were scored off assists — and the runaway game gave the team opportunities "to work on a couple tactical situations" for future matches. It also gave other players whose names don't normally show up on the stat sheet the opportunity to contribute.
Grabbing points thanks to assists were midfielder Saul Chavarria (3), middie Jorge Campos (2), and Magaña (1).
HRV 3 at Woodburn 3
The Woodburn Bulldogs (4-1-2) were gunning hard to break the Eagles' unbeaten streak Thursday night and came close to doing so in what was a rematch of the 2014 5A state championship game.
Woodburn looked like it had come out to avenge that loss and came closer than any other team has thus far this season to beating HRV, scoring two goals within the first 15 minutes to go up 2-0 on their home turf.
The Eagles erased their deficit thanks to the play of sophomore striker Erik Pitones, who scored two quick goals that allowed HRV to enter the half knotted up at 2-2.
After 32 minutes of Woodburn and HRV battling for a go ahead goal, Magaña scored it with less than eight minutes left to go in the match.
The boys were just four minutes away from grabbing a win in their last nonleague competition of the season when HRV defender Enrique Munoz "got tangled up" with a Woodburn player in the box and the Bulldogs converted on the penalty kick to draw 3-3.
"Honestly, though, didn't expect anything less," Rivera said in reference to Woodburn's intensity, as the two 5A teams have developed quite a rivalry over the last few seasons.
Campos and Domingo Barragan assisted on two of three goals for HRV and Running was electric in net, making an incredible 13 saves — easily a season-high for the Eagles.
•
The team only has one game next week: a road contest against the formidable Hermiston Bulldogs (7-1-1) Tuesday at 6:15 p.m. Hermiston is currently ranked third in the state; HRV is first. The Eagles return home Oct. 11 with a 4 p.m. match against The Dalles at Westside.