Wednesday, October 5, 2016
Eying the Columbia River Conference championships in a few weeks, the HRV cross country is getting into peak form, as evidenced by the team's dominance during Saturday's Champoeg Invitational in Newberg.
The girls took first place, edging second place Newberg by two points. The boys won by an even greater amount, outpacing second place The Dalles by 28 points. The girls race featured six teams, while the boys race featured nine.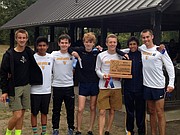 And while frontrunners Jesse Wiley and Jacob Bromham for the boys and Lottie Bromham and Daisy Dolan for the girls both did what was required of them (scoring second and third, respectively), some of the best performances of the day came from runners in the team's three through five slots.
"We were very happy with our back pack in varsity stepping up their game," noted Connor Truax, who finished third for HRV and sixth overall in his only second race back from injury.
Truax, a junior, highlighted his classmate Elkin Parker's finish in particular at Champoeg, where Parker placed seventh overall (fourth on the team) and shaved 33 seconds off his previous personal record to go under 17 minutes for the first time in his career.
It was the first look the team got of The Dalles thus far this season and the team defeated Hermiston by a large margin earlier in the season. The team hasn't faced its other CRC rival Pendleton yet, but Truax likes the Eagles' chances at the district meet, which will take place Oct. 26 in Hood River.
"We are really confident that we can take the win at districts, but we know we have to fight for it every step of the way," he said.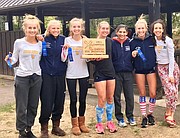 Dolan, captain for the girls team, was also pleased from what she saw from her teammates Saturday, with many runners (including herself) posting personal records on what she called a "flat, fast course."
An "unexpected" surprise came in the form of sophomore Evelyn Nuñez' sixth place overall finish in the varsity race. The race before, Nuñez was on the junior varsity squad, but was called up to the varsity team by Head Coach Brandon Bertram after an equally impressive performance at the Nike Portland XC invitational.
"She moved up really far and had a huge PR of more than a minute," Dolan noted.
With top runners doing what they're supposed to, and back of the pack runners consistently improving, Dolan also likes the girls' chances at districts this year, and said the team will have to "keep training hard and keep racing like we train" if they want to reclaim the title from The Dalles (HRV placed second at the race last year).
"We're really excited for it. We get to train here every day," Dolan said of the course at Hood River Valley High School. "It's fun to have home field advantage. We know that course backwards and forwards."
The Eagles have a couple weeks off from competition before heading to the George Fox XC Classic in Brooks Oct. 15.
Boys results
Jesse Wiley (2nd, 16:13.79), Jacob Bromham (3rd, 16:25.12), Connor Truax (6th, 16:39.85), Elkin Parker (7th, 16:47.00, PR), Finn Peterson (12th, 17:15.76, PR), Omar Quintana (17th, 17:31.09, PR), Muir Emmons (32nd, 18:26.33, PR).
Girls results
Lottie Bromham (2nd, 19:07.71, PR), Daisy Dolan (3rd, 19:08.82, PR), Evelyn Nuñez (6th, 20:07.81, PR), Celia Acosta (13th, 20:53.54), Reed Bauer (16th, 21:04.07, PR), Josie Peterson (17th, 21:06.02), Katie Koenig (25th, 22:06.65, PR).