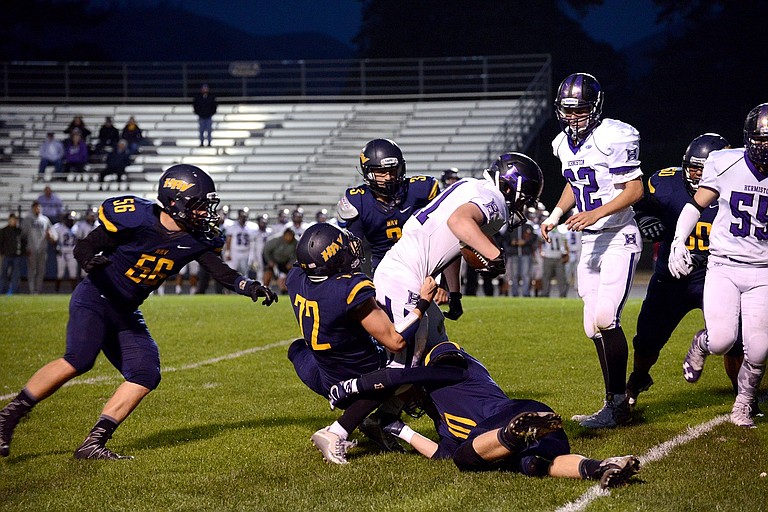 Wednesday, October 5, 2016
Halfway through the season, the HRV football team is on the outside looking in when it comes to the playoff hunt.
The Eagles (0-5, 0-3 Special District 1) fell to their former Columbia River Conference rival Hermiston (2-3, 2-1 SD1) by a score of 36-6 Friday evening in Hood River. With HRV currently at the bottom of the SD1 standings, the loss with Hermiston now essentially requires that HRV defeats Redmond (2-3, 2-1 SD1) in order to stay in the mix for a postseason appearance. The Eagles will host the Panthers in a game that starts Friday at 7 p.m.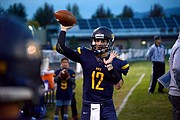 Like other leagues in 5A, the top four teams in SD1 automatically qualify for the OSAA's 16-team playoff bracket. Summit and Bend, currently undefeated in SD1 competition, lead the league, while Redmond and Hermiston are third and fourth, respectively. With four games remaining in the season, a loss to Redmond and a Hermiston win over Ridgeview (whose only win this season came in a Sept. 16 game with HRV that went into overtime), would mathematically dash any Eagles' playoff aspirations, as Hermiston and Redmond would own tiebreaker scenarios with HRV.
The Bulldogs didn't have drastically different numbers when it came to time of possession or number of plays ran in the game, but Hermiston had bigger plays (6.7 yards per play as opposed to HRV's 4.2) and had far greater opportunities, scoring on five of the team's seven trips into the red zone. The balanced ground and air attack (184 yards and two touchdowns passing, 243 yards and three touchdowns rushing) proved effective against HRV.
Hermiston's backs and wideouts were adept at finding holes and burning HRV corners and the Bulldogs cruised to a 14-0 lead at the half, the gulf widened to 36-0 after Hermiston converted on a two-point conversion following an 18-yard touchdown pass thrown by Bulldogs' sophomore quarterback Andrew James to receiver Tucker Salinas.
HRV's lone score of the night came with less than two minutes remaining in the fourth quarter, when running back Michael Jones found the end zone on a 9-yard rush. It was Jones' first game back after he was sidelined the past two weeks with an ankle injury. The junior racked up 106 yards on the ground on 14 attempts (7.6 yards per rush) and also led the team in receiving, catching all eight of his targets for a total of 54 yards (6.8 yards per catch).
Another bright spot in HRV's offense continues to be the play of sophomore quarterback Caden Leiblein, who connected on 23 of his 30 passing attempts (76.7 percent completion) Friday night for a total of 161 yards. He attained a QB rating of 115.08, and had one interception, which came on a play in the first half when Leiblein threw into double coverage.
Friday's homecoming matchup with Redmond will be HRV's penultimate home game of the season. The Eagles will be on the road for contests with Pendleton (Oct. 14), and Mountain View (Oct. 21) before wrapping up the season Oct. 28 with Summit in Hood River.