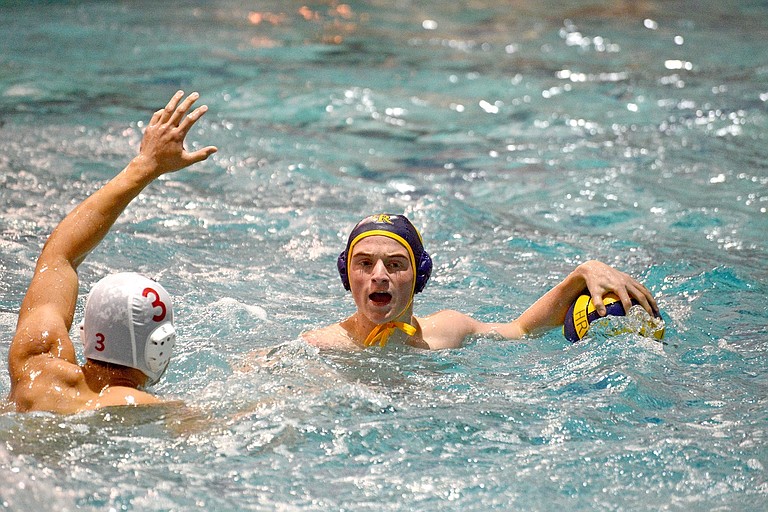 Originally published October 8, 2016 at midnight, updated October 8, 2016 at midnight
The HRV boys water polo team has typically spread around the scoring fairly well this season, but that was not the case this past week.
JJ Mears dominated the pool at the Hood River Aquatic Center, serving as a one-man wrecking crew who nearly defeated David Douglas singlehandedly on Tuesday, scoring 12 goals in HRV's 19-12 victory over the Scots.
"JJ Mears had a game of a lifetime — on fire," said his coach, David Robinson.
Mears, a junior and one of the more experienced players on a young HRV boys roster, helped the boys overcome first-quarter frustrations for the Eagles, who fell behind in the opening minutes before knotting things up 4-4 towards the end of the first seven minutes of play. Robinson referred to the game as a "raucous thriller," before HRV pulled out in front of David Douglas to beat the Scots by seven.
Putting HRV over the top were Cole Rothman, Chad Klaas, and Ruben Blaine, who each scored two, while Klaas also had a team-high seven steals. Tae Carlseon rounded out the scoring with a goal.
Mears followed that up by once again singlehandedly matching the score of his team's opponent, putting up a half-dozen goals during HRV's 16-6 defeat of Hillsboro on Thursday. Rothman and Klaas pitched in with three goals apiece (Klaas also led the team with three assists and five steals). Conner McElwee found the back of the net twice, while Blaine and Pelle Bergstrom scored a goal each.
Girls steamroll David Douglas, Hillsboro
This week, the girls water polo team continued to do what it does best: completely overwhelm HRV's opponents.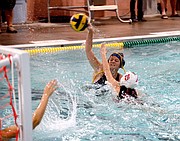 The girls first picked apart David Douglas in the teams' second meeting of the season, roaring out to an 8-0 lead in the first quarter before Head Coach Kellie Dunn slowed the pace down and put in her bench.
That only worked somewhat, as the team pushed the lead out to 12-0 before the Scots finally scored halfway through the third quarter. The Eagles would go on to win 15-5.
"I really like how much the scoring was spread out across the team and varsity bench with this game," Dunn remarked. "It definitely shows the depth of this team."
Jamie Robinson had the lion's share of the goals for the Eagles, putting up four, but a lot of names made it onto the score sheet for the Tuesday home match, including Rose Finstad (3), Amber Kennedy (2), Allie Burke (2), Faith Ocheskey (1), Ella Mudry (1), Sarah Hall (1), and Courtney Castaneda (1). Burke, Ocheskey, and Robinson had one assist each. Lauren Orr also added an assist and had a team-high six steals.
Dunn said HRV keeper Kat McElderry was battling an injured shoulder during the game, although no one would really know it as the junior stopped five shots and gave up one goal. She shared time with Anna Galbraith who saved two and let in four.
On Thursday, the girls played an identical game against a Hillsboro team decimated by injuries and illness. The Eagles went up 8-0 in the first quarter, then put in the bench and coasted to a 15-5 to stay unbeaten this season.
Goals were scored by Castaneda (4), Finstad (4), Robinson (3), Mudry (2), and Ocheskey (2). Recording assists were Finstad (2), Hall (2), Orr (1), Kennedy (1), Robinson (1), Ocheskey (1), and Sarah Gottschalk (1). Robinson also led the team in steals, with four. McElderry and Galbraith again split time in goal, with McElderry recording six saves and Galbraith recording two.
•
HRV water polo next hosts Sam Barlow on Tuesday at 5:30 p.m. and Sandy on Thursday at the same time at the Hood River Aquatic Center.