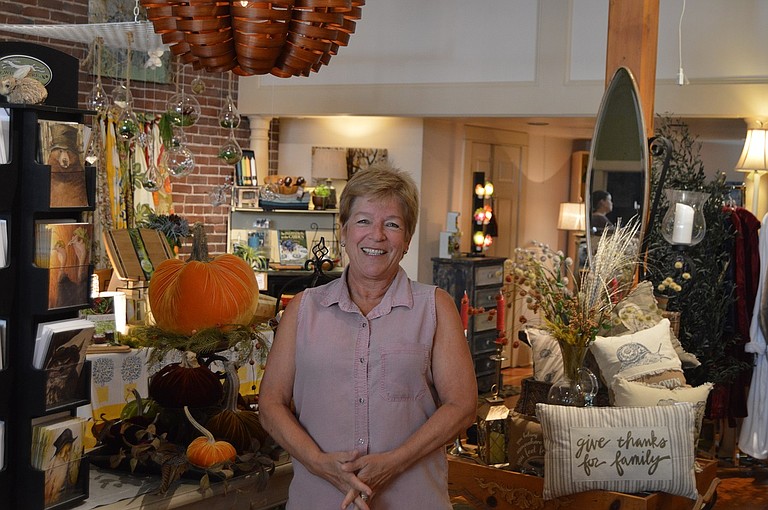 Wednesday, October 12, 2016
At the end of February, a longtime downtown business will close its doors.
Meg Dueber opened At Home on Oak Street in 1998 at its 105 Oak St. location. And this month, she began preparing for the store's closing, scheduled for Feb. 28.
"On Oct. 1, we'll start actively moving on and moving out. It'll take a long time, too," Dueber said last week, noting that she's collected 19 years of "odds and ends" that must now be sold, including displays, counter and shelving.
There's a reason she's starting the process now — it's downtown's busy season.
"Once July hits, you're running until Dec. 31, and then everyone leaves," she said, "so I have to sell what I have by December.
"If, in February, all I have to do is sweep it out and mop it up, I'll be grateful."
Dueber grew up in Cannon Beach, Ore., where the family ran a variety store. From there, they opened up numerous others, from restaurants to souvenir shells. Dueber had a clothing store in Cannon Beach prior to moving to Hood River, so starting a business wasn't new territory.
"There were no home décor stores when I moved in," she said. At Home on Oak offers small home furnishings, lamps, rugs, bedding, towels, and lots of soaps and candles.
"It's been an opportunity to get the creative juices out. It's been fun — I will miss that part," she said.
Through the years, she's worked with "a lot of great people," and has enjoyed talking with the visitors and townspeople who shop at the store.
"I'm going to miss connecting with the people in town," she said. "It's great to have them come in and chit-chat. They come from all over the world and they end up here."
Although she plans to close the store in February and wants the bulk of items sold by then, she's still planning to have Christmas décor, which will go up in November.
"So Christmas is coming early this year," she said, even though she likes to keep holidays in their proper order — no Christmas before Thanksgiving, she said. "The first of November will be Christmas for me, but I've got to do it. Christmas is a busy time of year."
She chose the Feb. 28 closing date because that's the day her lease is up. Her landlord, Gary Bushman, "has been the best landlord ever," she said. "He's been a really thoughtful, nice guy throughout."
She's not sure what is next for the building.
"I don't like being indoors, but if I have to be, I can't think of a better space," she of the shop's light and airy feel.
As for herself, she's not retiring — just following a different path. Her focus hasn't been on the store for the past year and a half because she is the primary caregiver for her mother, who resides at one of the assisted living centers in town.
"So I'm reinventing myself — but I doubt I'll go far. I have some other ideas, maybe do something in a smaller space at a different time. Or it might be something totally different.
"It will be fun to see what comes next; it's been such a joy," she said.
Dueber hopes to continue with her involvement in town in one form or another — she's just not sure what that's going to look like just yet. And she's also hoping to spend more time outdoors and traveling, including visits to Cannon Beach.
"I love that beach," she said. "I'm looking forward to getting to visit it again; I haven't been able to because I've been busy."