Wednesday, October 12, 2016
In celebration of Minoru Yasui's 100th birthday, Hood River Library, Columbia Center for the Arts and Gorge Owned Network will host events next week in Hood River.
Yasui, a Japanese American who was born in Hood River, was a lawyer who championed human rights. During World War II he fought laws that targeted Japanese Americans and Japanese Immigrants and filed a case challenging the constitutionality of curfews targeting minority groups. He was convicted for breaking curfew and was interned until 1944. After his release, he moved to Denver, Colo.. In 1986, his criminal conviction was overturned by the federal court.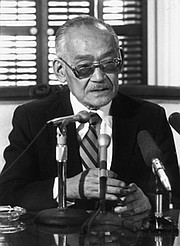 In 2015, President Barack Obama awarded Yasui the Presidential Medal of Freedom, which is the highest civilian award in the nation, for his work for human rights.
The Library will display Yasui's Presidential Medal of Freedom and unveil a permanent Minoru Yasui legacy stone on the library lawn at 4 p.m. on Oct. 19. A centennial birthday reception will follow the unveiling. The library will be hosting the medal from 10 a.m. to 7 p.m. on Oct 18-19.
The exhibit and reception are part of a larger community celebration of the life of Yasui. The Columbia Center for the Arts will host "Vision and Vigilance," Readings from Citizen Min, followed by a discussion on Tuesday, Oct. 18 from 7 p.m. to 9 p.m.
The evening will feature:
• Introductions by Maija Yasui
• A staged reading of excerpts from the play Vision & Vigilance by Holly Yasui, based on the activist life of Min Yasui
• A panel discussion by local community group leaders
• Community discussion and exchange of ideas
Audience participants will experience the story of "Citizen Min," who purposely violated the military curfew imposed on Japanese citizens under the law EO9066 in order to test his constitutionality. Min was imprisoned for his trust and belief in the American constitution, and spent nine months in solitary confinement at the Multnomah County Jail as he appealed is case the US Supreme Court. He was released from jail in 1943, only to be sent to the Minidoka American concentration internment camp in Idaho.
After the war, Min moved to Denver where he continued to fight for the rights of all people. In the 19070s-80s he spearheaded the national movement for redress: an official apology and reparations for Japanese Americans imprisoned in the World War II camps. In 1983 he returned to Portland to reopen his wartime case in the US District Court of Oregon. Min died in 1986 and was buried in his beloved hometown of Hood River. In 2015 he was posthumously awarded the Congressional Medal of Honor by President Baraka Obama, which was followed by a unanimous passing by the Oregon Senate and House to designate March 28 as Minoru Yasui Day.
The event encourages the on-going discussion of community, equality, and civil rights, and community members are encouraged to attend and participate.
The center and Gorge Owned will also host the world premiere screening of a film by Yasui's granddaughter, Holly, "Never Give Up! Minoru Yasui and the Fight for Justice," and a talk on Yasui's Oregon legacy on Oct.19 at 7 p.m. – the kickoff of annual Sense of Place Lecture Series.
"Never Give Up!" is a documentary film by Holly Yasui and Will Doolittle.
Minoru Yasui was born 100 years ago in Hood River, on Oct. 19, 1916. The film will cover Min's childhood in Hood River in the early 1900s, his World War II constitutional test case challenging the forced removal of Japanese Americans from the West Coast, and the wartime experiences of the Japanese American community. The 50-minute film will be introduced by Min's daughter, Holly, and will be followed with comments by Peggy Nagae, Min's attorney when he re-opened his World War II case in 1981. Holly Yasui, Nagae and Doolittle will then field questions and comments from the audience.
Holly Yasui is the youngest daughter of Minoru and True Yasui, and is co-founder with Nagae of the Minoru Yasui Tribute (MYT) Project. She has worked in higher education in the U.S. and Mexico and in community development and water projects in Mexico. She is currently working on the film and a play about her father.
Nagae was the lead attorney for Yasui in the re-opening of his World War II case, and co-founder with Holly Yasui of the Minoru Yasui Tribute project. Peggy has been highly recognized for her work on the National JACL Redress Committee, and as a Presidential appointee to the Civil Liberties Public Education Fund. She works as a diversity and leadership consultant.
Doolittle has over 30 years in media production and has produced and directed numerous short documentaries on a variety of issues, including wetlands protection, farm worker rights, indigenous ceremonial rights, and honoring cultural diversity. In 2013, Will released his first feature-length documentary, Dancing Salmon Home. His production company is Moving Image Productions, LLC, in Eugene, Ore.
The film screening and lecture will be Wednesday, Oct. 19 at Columbia Center for the Arts. Doors open at 6:30 p.m., and the presentation begins at 7 p.m. Come early to enjoy a glass of wine or beer and meet others in the community. Gorge Owned's (GO!) Sense of Place is an annual lecture series that seeks to foster a deeper understanding of and connection to our landscape and to one another.