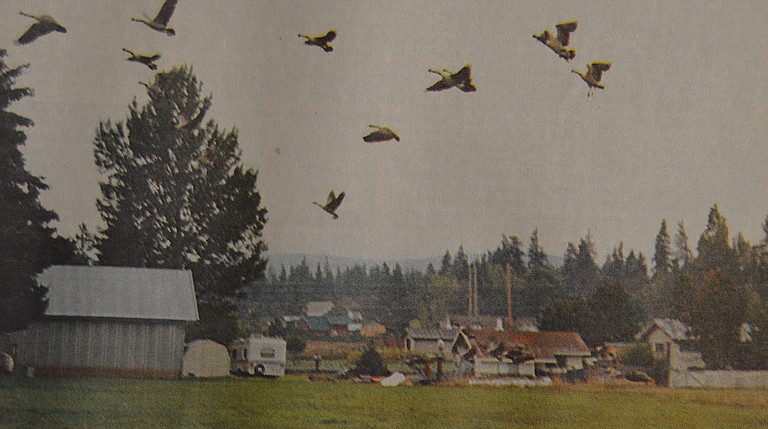 Wednesday, October 19, 2016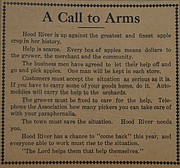 1916 — 100 years ago
Shortage of experienced apple packers is proving a serious handicap in harvesting the present bumper crop. Despite the prospects for a big crop, the attendance at the packing schools this year was not so large as usual and the shortage for experienced help has been serious. It was felt last week at Association's big community picking house at Van Horn, where the loose fruit accumulated faster than it could be packed. It was found necessary to stop deliveries for a time until those on hand could be taken care of. In other community packing houses, as well as among individual growers, the same trouble was experienced. The shortage of boxes, which has also caused some inconvenience, was relived to some extent last week, so Manager Stone states.
1926 — 90 years ago
With an official trip last Tuesday of Forest Service officials and commissioners from Multnomah and Hood River counties over the new Cooper's Spur Road, the completion of this important mountain road is now conceded. Messrs. Doggett and Cooper have completed the grading and surfacing of the last unit, from the end of the road completed the past summer to Cloud Cap Inn, and the rock crusher has been dismantled and stored for the winter. The Cooper's Spur Road, as it is called, has been open practically all summer, the contractors having arranged their surfacing program to make it possible for cars to go through to the Tilly Jane and Legion camps.
VERBATIM: Bank Purchase Is Now Indicated
County Court Decides To Ask Circuit Judge Wilson To Discuss Project In Near Future Prospects of Hood River County securing the former Butler Bank building for a courthouse are now better than they have been since the voters, two years ago, and by a majority better than two to one, voted that it should be acquired for court house purposes.
At its meeting Wednesday, the county court and the budget committee went into details and it was decided that, because of the interest he has exhibited in this important matter, Circuit Judge Wilson should be invited, at an early date, to consider with County Judge Hasbrouck and Commissioners Forrest L. Moe and J.D. Smullin.
E.O. Blanchar, president of the First National Bank, assured the court that, if the people want the Butler Bank building for a court house, the directors of the bank he represents can make provisions for more space for banking purposes in their own building.
— Hood River News, October 16, 1936
1936 — 80 years ago
After a full year of outstanding work in Oregon, Co. 615, Civilian Conservation Corps (Captain E.H. Stambaugh) left Camp Wyeth on Tuesday night of this week for Illinois, where members will either be released or allotted to further duty elsewhere. In the unit were 112 young men who, with their other officers, have made a real name for themselves and have earned the praise of the Forest Service and others. Many of them still had the smoke of the Oregon coast fires in their nostrils, for they performed wonderful service in battling flames with threatened several cities, and more recently participated in the work controlling the fires at Beaver Creek and Larch Mountain.
1946 — 70 years ago
In the early hours of Wednesday morning, the first killing frost of the coming winter settled down on all sections of the valley, with temperatures ranging from 26 degrees downward. In the lower valley, most of the more tender garden plants blackened as the morning sun hit them and from ornamental trees of the non-coniferous varieties, leaves fell like rain. Fortunately for growers of the valley, a large percentage of fruit is already off the trees, but the sharp frost will spur growers to more rapid harvesting in the next few days. From the harvesting standpoint, this fall, with its clear, bright weather, has been one of the best ever remembered.
1956 — 60 years ago
Sixty families dependent upon the Neal Creek Lumber Company payroll, along with the entire economy of Hood River Valley, hang in the balance today. The company is being forced to suspend operations following the disastrous $250,000 sawmill fire Oct. 5 and may not rebuild unless a decision is made today to improve the Loop Highway 35 to permit large-scale logging operations from the valley to the Bennett Pass area. Local, state and federal representatives meet here today to make a decision. If the decision is "yes," Neal Creek plans to rebuild its sawmill. If the decision is "no," the mill probably will not be rebuilt because of the shortage of available timber.
1966 — 50 years ago
Students cast an eye toward the vacant Safeway store building on Second Street as a possible recreation center during a meeting of the Hood River Youth Council early this month. With some $1,200 tucked away in the treasury as a backlog, the group formed a committee which is now investigating to find out how much it would cost to convert the store building into a rec center. "We're still going to need some help," said Chris Kirby, a Youth Council officer.
1976 — 40 years ago
An agreement that will lead to construction of a new hangar building at the Hood River airport received approval from the Port of Hood River board here this week. It clears the way for construction of a 90-foot wood structure east of the present administration building on land that will be leased to a private party. Wes Stevenson of Rt. 6, of Gorge Leasing, has been working with the port toward the agreement. The lease will be for five years, with 25 three-year renewal options.
1986 — 30 years ago
A proposed application for up to $7.2 million in bonds to buy and expand the Hood River Inn and Village property cleared the county commission Monday night. Approval of the requested supportive resolution passed after commissioners briefly questioned attorney Jerry Jaques about the proposal. About 12,500 square feet of retail space related to a destination resort has been proposed on the Village property — an island now planted with grass and shrubs lying between the main building and a new McDonald's restaurant. "Retail tenants will include windsurfing shops, bicycle shops and a boutique for guests," states the application.
1996 — 20 years ago
Orchardists throughout the Hood River Valley may have been plagued with problems this year, but as the season drew to a close, the sun shone brightly on them. Literally. If there was one thing to celebrate about this year's harvest season, it was the excellent picking weather, growers said this week. It wasn't until this past weekend that rain began to stall the harvest. Some growers are looking forward to the end of the season so they can put this year behind them and begin to prepare for their next crop, they said. Many reported only picking between 50 and 70 percent of an average crop this year. Some growers were also plagued by a shortage of pickers, while orchardists in Parkdale faced a devastated Bartlett crop.
2006 — 10 years ago
Candidate signs dotting lawns like mushrooms overnight show that a fall election is just weeks away. But one measure that may not have received as much attention as other issues is the proposal within Hood River County for the merger of two fire districts in the upper valley. Dee and Parkdale have been separate rural fire protection districts even though the volunteers train together. "People think it's already happened because we've been training together for more than a year," said Mike McCafferty, Parkdale fire chief. The idea of merging the two districts has been kicked around before now. McCafferty and Assistant Fire Chief Rod Blumenthal said they have heard the idea come and go during their respective 17 and 27 years with the department.
— Compiled by Trisha Walker, news staff writer