Saturday, October 22, 2016
Gorge Ecumenical Ministries (GEM), hosts a forum for Oregon candidates on Oct. 24, from 6:30 to 8 p.m. at Riverside Community Church, Fourth and State streets, Hood River.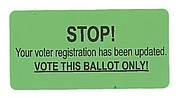 Candidates have been invited from District 2 of the U.S. House of Representatives and District 52 of the Oregon House of Representatives races.
Invitations have also been issued for persons speaking for and against Oregon Initiative 97, the proposed corporate tax.
There will be an opportunity for questions, and Spanish-language interpretation will be provided.
For details call Rev. Vicky Stifter, 541-386-1412.
GEM is an interfaith organization composed of representatives from area faith communities and churches.
•
Ballots for the Nov. 8 General Election should arrive in most homes by Friday or Saturday. Voters should check the name on their ballot and make sure to sign only the envelope with their name on it. Signing someone else's ballot envelope will invalidate it.
Call the Elections Office at 541-386-1442 if you have any questions about your ballot or the elections process.
NOTE: About 500 county voters who recently changed their voting information will receive TWO ballots including one with a unique green sticker.
Only one of these ballots is valid: keep the ballot with the green sticker, fill it out and mail it or drop it off, and destroy the other one. If you submit the wrong one, it will not be counted.