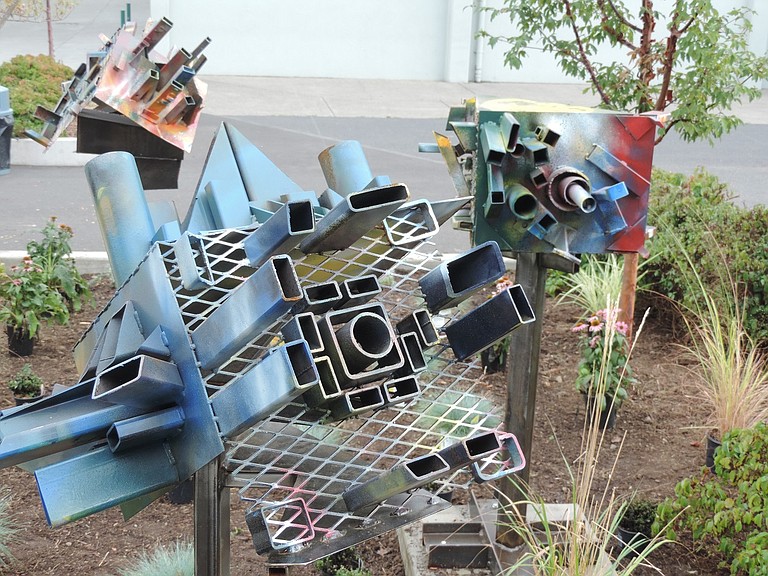 Saturday, October 22, 2016
Bees are critical to pollination, and new sculptures in the community will become homes to bees while standing as artistic representations by middle school students.
Working with Hood River artist MacRae Wylde, students at Wy'east Middle School created the sculptures from reclaimed metal tubes, mechanical tread and other materials last spring. Arts in Education of the Gorge coordinated the project as a way to blend students' learning about art and the importance of agriculture. Wylde taught the students concepts such as negative space and the way shapes can refer to other things figuratively.
One set of sculptures is visible at FISH food bank garden, and other another can be seen in the courtyard of the Wy'east Performing Arts Center (through the breezeway next to the main entrance.)
This winter, the round and square spaces will be filled with bamboo and other organic material, creating homes for mason bees. Wylde did the actual welding, but creatively the pollinator project was the students' doing.
"I enjoyed putting out a bunch of information and letting them take it where it wanted to go," Wylde said. "I did a little steering, and in the shop I did some minor editing, but not much."
Following the basic designs, the students realized that their cube-like creations closely resembled flowers, and had the idea of placing them atop poles to resemble flower or plant stalks.
The students worked in teams after coming up with the designs, some following a definite plan while others were placed their metal stamens, pistils and petals at random.
When it came to painting, Wylde set the sculptures on drop cloths and gave the students spray paint and masks, and let them go to it. One student sprayed his gloves and manually transferred the paint to metal. Another modified a pen to create a nozzle to make fine stripes.
"I've never seen a group that enjoyed themselves so much," he said.