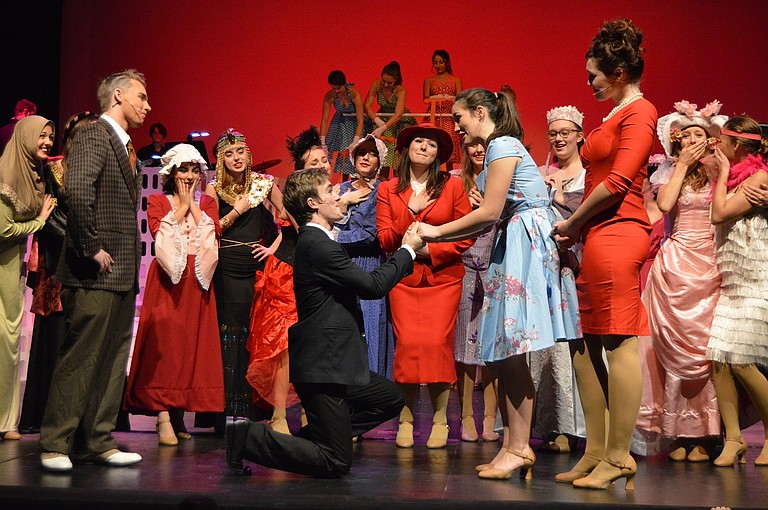 Wednesday, October 26, 2016
Hood River Valley High School's fall musical, "Catch Me If You Can," is a big production.
Set changes? Check.
Costume changes? Too many to count.
Musical numbers? Vegas-big.
Cast, crew and musicians? Staggering.
But it's the immense nature of the production that makes the smaller moments more rewarding, said senior Jasper Krehbiel, who plays Detective Hanratty in this, his fourth HRVHS musical.
"The amount of characters, the dancing — it's harder," he said. "There's a big show element compared to 'Grease' (last year's musical), but it might be more rewarding as a show because the spotlight is on the solo songs — because the ensemble songs are so big."
"Catch Me If You Can" is based on the true story of Frank William Abagnale, Jr., who spent the years between 15 and 21 as a check forger and imposter.
"He's lonely," noted longtime Director Rachel Harry of the character Frank Jr., who is played by senior Sean Gray. "It's really a reflective story of a kid who meets a lot of people, but is always moving."
The hardest part of playing Frank Jr., said Gray, has been understanding the character.
"He goes through the ups and downs with his family struggles, especially with his dad," said Gray. "It's pretty sketchy."
"If you look past the pizazz and high kicks … you will find a tragic family story of alcoholism, infidelity, and a confused, struggling teen trapped in a society that he cannot understand," wrote Harry in her director's notes.
The show, which Harry describes as "very ensemble driven," contains Rockettes-style dances that she choreographed herself.
"I love the dance numbers," Harry said, "and the kids love to do the dance numbers … the music is just fun."
If the first act sets up Frank Jr. and Hanratty's game of cat and mouse — and how Frank Jr. became a con artist — the second explores relationships: Frank Jr. and Hanratty's, as well as Frank Jr. and Brenda's, his love interest, played by junior JoJo Summersett. There's a heart-wrenching scene late in the first act, when Hanratty realizes Frank Jr. isn't the seasoned con artist he'd imagined — and another in the second, as Brenda comes to grips with Frank Jr.'s real identity.
It also explores the person beneath the criminal, the complicated bonds between children and their parents (played by seniors Matt McCravey and Elizabeth Bricker), and the relationship between Hanratty and Frank Jr.
"It all comes down to their relationship," Harry said, "the detective and the kid. I love that, as a teacher; there's behavior issues and stuff, and we look beyond that and see the kid.
"In real life, (Hanratty) befriends Frank Jr. and hires him to be an advisor," she continued. "And he pays back every dime."
But for the serious nature of the themes, there are some deeply funny moments, too — it is a comedy, after all, noted Harry.
"I am a director, and I love a good story that can combine humor and poignancy," reads the director's notes.
The cast includes some familiar faces and a few new ones, with almost everyone picking up several roles.
"It's the kind of musical you'd only expect to see on Broadway or Vegas," Harry said. "… There are all these big show numbers."
The story inspired the feature film by the same name, which was nominated for an Academy Award in 2002 and starred Leonardo DiCaprio.
In brief: "It's an amazing story in a New York Rockettes format," Harry said.
A large cast, crew and band
Frank Sr. — Matt McCravey
Frank Jr. — Sean Gray
Detective Hanratty — Jasper Krehbiel
Paula — Elizabeth Bricker
Carol — Ann Marie Goodman
Roger — Nathan Daniel
Brenda — JoJo Summerset
Dollar — Sam Hannigan
Branton — Cooper Case
Cod — Kelsey Stewart
ENSEMBLE
Savannah Rogan, Westlake Cannon, Skyler Beard, Emma Dexter, Alex Gamez, Cathryn Kellett, Eva Jones, Francis Dickenson, Raquel Cooper, Lily Galvez, Lauren Church, Ella Van Cott, Alex Bertadillo, Atari Gauthier, Sara Zeman, Sofie Larsen-Teskey, Katelyn McAllister, Carly Wyatt, Kendra Wilkins, Megan Ball, Paul Hargrave, Blair Holman, Anna Ticknor, Aleeyah Enriquez
CREW
Olivia Acosta, Paul Hargrave, Vicente Calderon, Amy Webber, Matilda Kahler, Rod Krehbiel, Ruban Gonzaga, Noah McCarthy, Callie Farris, Sara Hamada, Zach Barbour, Wyatt Brownlee, Nicholas Spezia-Shwiff, Skyler Maden, Sullivan Cannon, Margo Goodman, Casey Holzman, Jeff Lorenzen, Terra Neal, Joshua Breedlove, Sophie Finstad, Michael Furrow, Randy Gray, Cooper Case, Michael Church, Zachary Barbour, Paul Hargrave, Sienna Reynolds, Anna Tichnor, Cathy Peldyak, Christine Marquez, Meiling Bonglaphone, Theresa North, Trish Rogen, Jana Hannigan, Emily Spezia-Shwiff, Emma Dexter, Rebecca Johnson, Conrad Nielsen, Casey Holzman
BAND
Linda Taylor, Elizabeth Bailey, Larry Wyatt, Aidan Tappert, Kate Dougherty, Alan Taylor, Emily Spezia-Shwiff, Nathan Parker, Paris Green, Lucy Fine, Nathan Johnson, Charlie Bickford, Luke Serra, CJ Thorpe; Dan Kenealy, music director