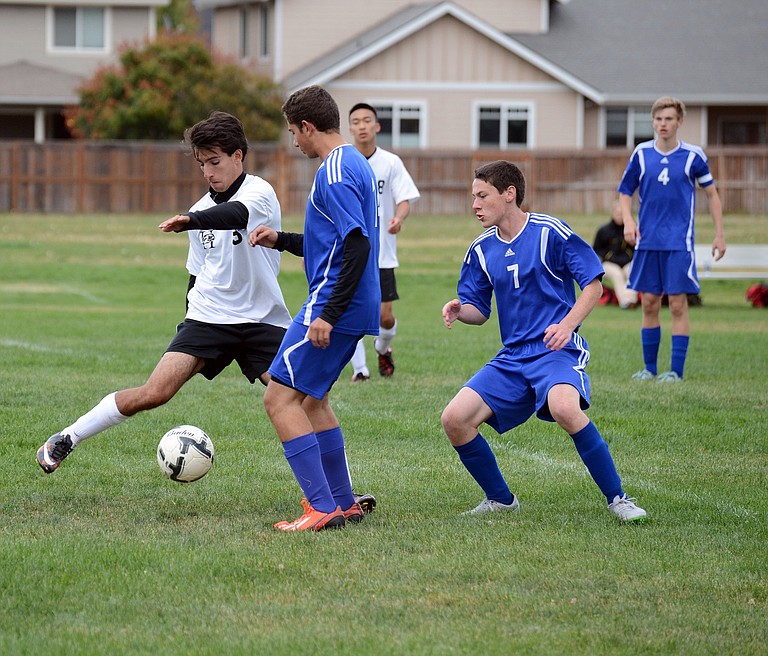 Wednesday, October 26, 2016
A four-goal effort by Horizon soccer lead scorer Quinn Roetcisoender wasn't enough to lift the Hawks over the North Clackamas Christian Saints in a 1A semifinal playoff game played in Oregon City Monday.
The Hawks lost to the Saints, 5-4, in a wet, physical, back-and-forth, hard-fought game that saw multiple lead changes. The game went through two overtime periods and had to be decided by penalty kicks. Horizon fell 3-1 in the penalty kick round, denying the team an opportunity to defend last year's 1A title in the championship match Friday. Instead, Horizon will play Damascus Christian in the third-place game Friday at 6 p.m. at Wilsonville High School. Damascus lost to Umpqua Valley/Melrose Christian 4-1 Monday in its semifinal game.
'It was an intense game. It was definitely the most exciting one of the season so far.'
ANDREW STENBERG
Horizon's previous meeting with North Clackamas in the regular season resulted in a scoreless draw and the two teams were just as evenly matched this time around, although Horizon Head Coach Andrew Stenberg said the rainy weather and the wet surface opened up more scoring opportunities for both teams.
"It was an intense game," he said Tuesday morning. "It was definitely the most exciting one of the season so far."
The high-scoring affair didn't get going until midway through the first half when North Clackamas drew first blood, scoring on a free kick from about 20 yards out. The Saints didn't have the lead long, however, as Roetcisoender responded several minutes later, picking up a through ball from midfielder Derek Johnston and putting it into the back of the net to tie up the game. Several minutes after that, the senior striker capitalized on a Saints defensive breakdown and scored again to give the Hawks a 2-1 lead heading into halftime.
North Clackamas struck back in the second, pulling even with Horizon in the 50th minute after the Saints were afforded a 1-v-1 opportunity with Hawks keeper Ian Walker, who faced a barrage of shots in Monday's game, recording a dozen saves. Ten minutes after that, the Saints gained the lead again, firing a "laser shot" from 25 yards out that made it past Walker.
Down 3-2 with just seven minutes remaining in regulation, Roetcisoender came to the rescue for Horizon yet again, breaking through North Clackamas' back line to score a hat trick and force the game into overtime.
In the first of the two 10-minute overtime periods (no golden goal), North Clackamas once again established a lead, scoring five minutes in on a play where Walker came off his line in an attempt to stop a through ball, which took an odd hop over Horizon's keeper and toward a North Clackamas foot that put it into the back of the net.
Horizon didn't manage a score in the first overtime period and couldn't get much going in the second until a North Clackamas player tripped Horizon's Tony Li in the box at the end of overtime. Officials awarded the Hawks a penalty kick, taken by who else but Roetcisoender, who again tied the game for Horizon, sending it to penalty kicks.
Both North Clackamas and Horizon missed their opening kicks, with Ethan Evans taking his shot right at the Saints keeper. Then, North Clackamas scored. Luke Holste got his opportunity next, but, like Evans, put it right into the keeper's grasp. On North Clackamas' next possession, the Saints converted once again.
With Hawks down two goals in a do-or-die situation, defender/midfielder Derek Johnston connected on his attempt to keep the Hawks alive. But the Saints scored yet again, forcing Horizon into a score-or-go-home scenario. Sophomore defender/midfielder Brady Lynn stepped up to the line, and like some of his other teammates, took a shot that went right to the goalie. North Clackamas saved the shot to win the game and advance.
Stenberg said Lynn was understandably distraught at the outcome, but the weight of the loss rested on the team's shoulders — not Lynn's.
"He definitely took it hard; it's definitely one of those things where we had to try to bring him back," Stenberg said of Lynn's reaction. "It definitely wasn't his fault… we had multiple missed opportunities."
The loss was disappointing, as Stenberg hoped the team could have repeated last year's 1A championship win. However, this year's team had about half the numbers of last year's squad, which provided a number of challenges for Horizon — playing younger athletes, having fewer options to pull from on the bench, and fielding smaller teams for intra-squad scrimmages in practice.
In light of all that, Stenberg felt his players should feel proud of their performance this season.
"Obviously, we were hoping for a championship because we had it last year, but by literally losing half our team, being able to pull out third place on Friday would be a win for us… I'm definitely satisfied with what we've done so far this season," he noted.