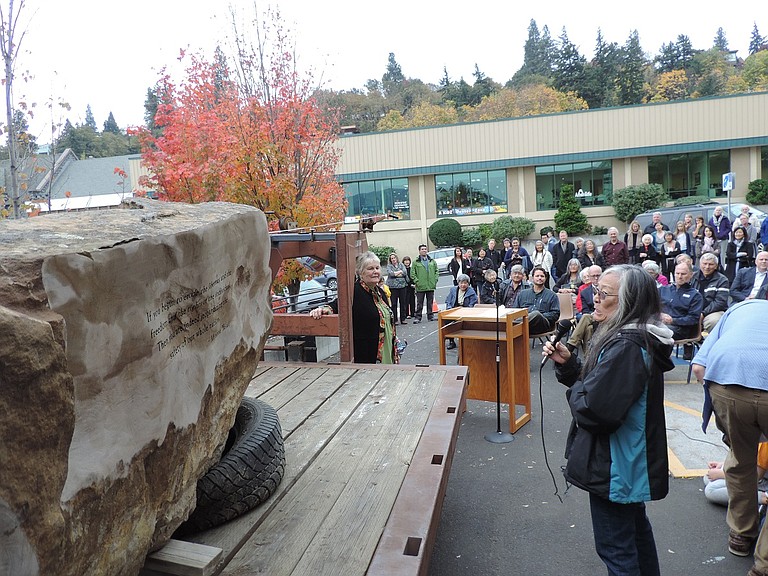 Wednesday, October 26, 2016
He was a 25-year-old man who challenged FDR.
That put the courage of Minoru Yasui in perspective during events held at Hood River Library, History Museum of Hood River and Columbia Center for the Arts for the centennial birth anniversary of Yasui, Hood River native son and lifelong civil rights advocate. Yasui was arrested March 28, 1942, for violating the curfew, as an intentional challenge to Franklin Roosevelt's Executive Order 9066 that violated the rights of Japanese-American citizens and their families by taking away their rights and property and putting them in prisons known as internment camps in 1942-45.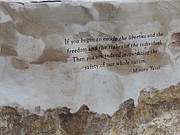 Yasui received the Medal of Freedom from President Barack Obama in 2015 for his lifelong work representing the rights of minorities and the underprivileged. Yasui, who died in 1986, was born on Oct. 19, 1916, in Hood River. He attended Hood River High School and went on to become the first Japanese-American to graduate from the University of Oregon Law School and to pass the Oregon State Bar.
Last week brought 100 or more people to three events: an evening of readings and a discussion of the work and legacy of Yasui at Columbia Center for the Arts, Oct. 18, where "a significant sized group addressed civil rights in Minoru's memory," said Maija Yasui, his niece, who organized the gatherings along with other members of the family. On Oct. 19, family and community gathered for the dedication of the Yasui Legacy Stone, to be placed this winter next to Hood River Library, and that night's premier of part one of "Never Give Up," a documentary on Yasui by his daughter, Holly Yasui.
Chani Hawkins, Yasui's great-niece, read a statement on behalf of the family. It said, in part, "In my eyes, his legacy is straightforward and elegant. Min's legacy is the words inscribed on his final resting place with his beloved True. Justice for All. Three simple words, so inclusive and with so much meaning. He lived by those words, and worked for those beliefs until the very end. Min was an advocate for civil rights, for anyone who was in need, regardless of race, creed, or color. This dedication ceremony is a time to set apart a particular place to honor and memorialize his service and dedication to all people."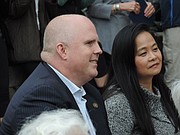 At the arts center Oct. 18, Lynn Fuchigami Longfellow, executive director of Oregon Nikkei Project, spoke along with Chisao Hata, Vision and Vigilance project manager, and Holly Yasui.
Maija Yasui said she hopes that the result of the events is "that each of is engaged in maintaining and increasing Minoru's legacy of civil rights for all people."
"This is really special," said State Rep. Brian Clem (D-Coos Bay), who helped lead the passage of Oregon legislation declaring March 28 as Minoru Yasui Day in the state. He attended the events with his wife, Carol Suzuki, a Parkdale native. Clem noted that, growing up, he knew of Hood River as a place of good fruit, but the history of internment of Oregon residents in World War II was not something he learned until he lived for a while on the Suzuki farm, and came to understand the impact of Yasui's life and work. Clem credited Hood River legislators Sen. Chuck Thomsen and Rep. Mark Johnson as instrumental in helping in the Yasui Day legislation. Johnson also spoke Tuesday at the arts center.
A notable act of Yasui was that in the 1970s, he would legally represent the Japanese American Citizens League, an organization he founded, yet chose not to support him after his arrest in 1942.
"It shows what kind of a man Minoru was. It takes a small ego and a big heart to do that," said attorney Peggy Nagae Wednesday night. Nagae represented Yasui in the 1983-86 reopening of his 40-year-old legal case before U.S. District Court in Portland. She spoke and answered questions following the premier screening of part one of the documentary.
"I hope we will remember Minoru and what he meant for all of us. Go forth and do good work," she said, noting that next year's 75th anniversary of Executive Order 9066 will be an excellent opportunity for society to look at the status of civil rights in America in the 21st century.
n
Maija Yasui thanked the Yasui clan, local students, and the library for their parts in the years-long Min Yasui Legacy Project that led to last year's rare presidential honor and the placement of the Legacy Stone. County Commissioner Maui Meyer spoke and U.S. Rep. Greg Walden read Obama's Medal statement. Hood River Valley High School ASB President Abby Walker stood with Walden, who was ASB president in 1971. Niko Yasui, great-nephew of Yasui and HRVHS activities director, announced that Walker and other students will head up a process in which students and community members will annually nominate HRVHS students as justice heroes, and their names will be added to one side of the memorial stone.