Originally published October 26, 2016 at midnight, updated October 26, 2016 at midnight
Representatives on both sides of Oregon Ballot Measure 97, as well as candidates for state and federal offices, squared off Monday at a voter forum in Hood River.
The event, held by Gorge Ecumenical Ministries at Riverside Community Church, gave the public a rare chance to watch candidates interact — and sometimes trade jabs— in a semi-formal debate. The evening forum was the first of its kind, held locally, in this election cycle.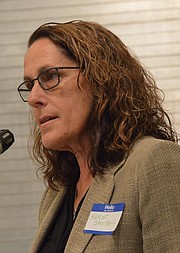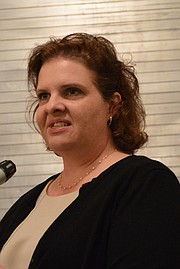 About 25 people gathered at the conference room. Speakers included House District 52 candidates Mark Reynolds and office holder Mark Johnson, U.S. House District 2 candidate Jim Crary, and two speakers focused on Measure 97: Harriet Strothers and Tonia Hunt. Sen. Chuck Thomsen of Hood River, who isn't running, also attended.
First came the Dist. 52 candidates. Johnson (R-Hood River) is seeking a fourth term representing the district that spans from east Gresham to Hood River. Reynolds, an Odell Democrat, is a retired teacher challenging the incumbent.
Questions from the public, read by moderator Rev. Vicky Stifter, quizzed the candidates on their respective campaigns, from financing to policy positions.
Reynolds described his union support as an asset and criticized Johnson's backing by corporations.
"I'm proud to have taken campaign contributions from organizations and unions whose members support their work, so I don't really see that as a conflict. I see money from large corporations who have special agendas for Oregon … I would like to see us address campaign finance reform," Reynolds said.
Johnson said he supported a campaign finance reform bill that was struck down in the Democratic House, and challenged Reynold's campaign for also taking corporate contributions.
"What I don't think he really appreciates is when he takes money from Tina Kotek, our House Speaker, or he takes money from others in the Caucus, he's also taking money from Union Pacific, he's taking money from Pfizer, because those are the people who fund them," Johnson said.
On minimum wage, Reynolds supported the statewide hike, while Johnson opposed it and called for a farm labor housing bill alternative.
On presidential endorsements, Johnson argued "none of the above" were suitable, while Reynolds castigated Republican candidate Donald Trump.
Both called for increased state funding for education.
Dist. 2
Crary was the lone speaker for the Dist. 2 race. The Democrat from Ashland traveled across the state to speak at Monday's forum.
Rep. Greg Walden (R-Hood River), who has held the office since 1998, declined to attend.
Crary mapped out his top focus points: campaign finance reform, addressing climate change, income equality, and "fixing" social security.
"Here's what I'd like to see: Only U.S. citizens who live in the district where the (candidate) is on the ballot should be able to contribute," Crary said.
He disagreed sharply with Walden's support for Trump. "There's so many things that absolutely disgust me (about Trump), so no way," Crary said.
When Stifter asked Crary why he, as a "longshot" candidate, is running against the longtime incumbent, Crary referenced the swift political movement achieved by candidates like Trump and Bernie Sanders.
"There's a lot of people not happy with the status quo. Therein lies my chance, albeit small."
Measure 97
Two speakers, both from Portland, stated their case regarding Measure 97, a proposed corporate tax on the Nov. 8 ballot.
The controversial initiative would establish a 2.5 percent tax on certain corporations with sales over $25 million, in an effort to help fund state services like education.
Harriet Strothers, a certified public accountant, condemned the measure as a "stealth tax."
"The proponents of Measure 97 try to hide their tax on sales by imposing it on the companies that sell goods and services in Oregon. That's sneaky; it's a stealth sales tax that would end up being passed on to consumers with higher prices," Strothers said. "(The measure) will hurt low and middle income families and seniors on fixed incomes the most."
She argued there's no guarantee the funds will be used for education or other programs.
"These funds could be used for anything, they could presumably be used to bail out pension funds for government employees, who created M97 and are funding the campaign to pass it."
Tonia Hunt, executive director of the non-profit Children First for Oregon, lauded the measure's potential to put revenue in state coffers. She maintained that the funding would be used for the general state programs as needed.
"We support this measure wholeheartedly because of the great benefit for kids and the state," Hunt said.
Referencing funding struggles for state programs like education and social services, Hunt said, "All those things are a real challenge in Oregon and at the same time we give the greatest discount to the largest corporations in the world, doing business here in Oregon … that doesn't make sense."