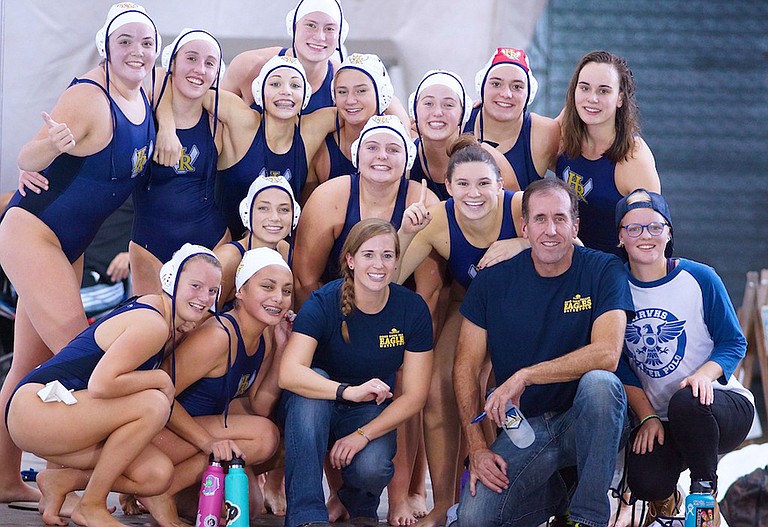 Saturday, October 29, 2016
In their inaugural season in 2014, they didn't win a game.
In 2015, they made it to the postseason.
And in 2016, the HRV girls water polo team can now hoist the Mt. Hood Conference trophy for the first time.
Winning the conference title is a big achievement for the young team — not only because the program started just three years ago, but also because the Eagles play against much more seasoned teams in the mixed 5A/6A conference.
"Winning the league title in a conference with 6A teams with years of experience is definitely a major mark of progress for our program," said HRV Head Coach Kellie Dunn. "It is truly an exceptional team to have made it so far in just three years. While we are really excited about the league championship and want to give that its proper moment, our work is not done yet. With state looming around the corner, we have to stay focused on our goals and not get complacent."
Almost as impressive as the conference title was the victory HRV had to get to win it. On Wednesday, the Eagles (11-1) played 6A Reynolds (8-4) less than two weeks after the Raiders defeated HRV in a brutal, double overtime loss — the Eagles' first and only defeat of the season.
This time, playing in the pool at Mt. Hood Community College, HRV gave Reynolds no quarter, tearing into the Raiders in the first quarter, going up 5-1. Reynolds matched HRV's two-goal output in the second, but the Eagles reasserted themselves in the second half, limiting the Raiders to just two goals while scoring nine of their own on the way to a 16-5 win.
Jamie Robinson led the team with seven points, scoring five goals and notching two assists. Rose Finstad and Lauren Orr were close behind with six points each — Finstad with five goals and an assist, Orr with two goals and four assists. Faith Ocheskey terrorized Reynolds' offense, racking up an impressive eight steals as well as a pair of goals and assists, while Courtney Castañeda rounded out the scoring sheet with two goals.
Amber Kennedy and Sloan Hall split time in net and combined for 10 saves. They replace starting keeper Kat McElderry, who recently dislocated her shoulder and is out for the season.
Both the boys and the girls have a seeding meeting this Sunday and while compete in a playoff game later next week in Corvallis. Check the Hood River News for updates.