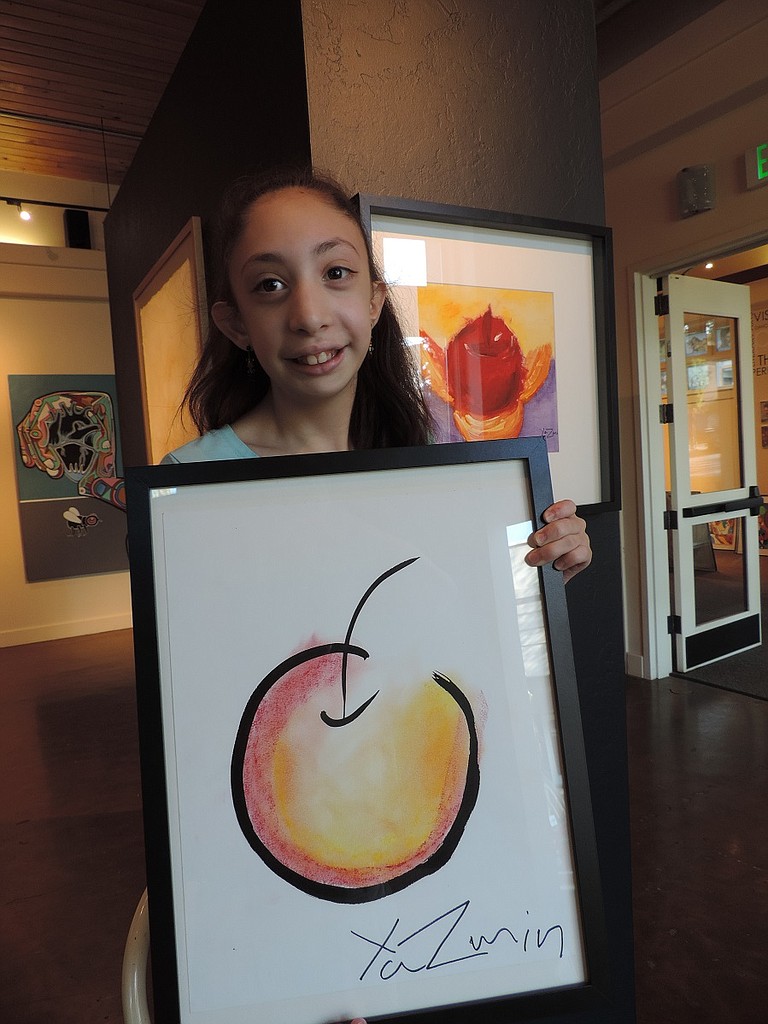 Originally published September 3, 2016 at midnight, updated September 3, 2016 at midnight
Columbia Center for the Arts will showcase "Emerging Artists" in its new show in the Columbia Arts Gallery through Oct. 2.
One artist, 13-year-old Yazmin Villegas of Hood River, exemplifies the meaning of emerging artist, as provided by juror Laurie Balmuth: someone in the early stage of their career, who hasn't yet established a solid reputation as an artist among art critics, art buyers, and art galleries, who is new to the world of professional art exhibitions, recently out of school and embarking on an art career, or studio artists of any age new to the creative process.
"It makes me happy," says Yazmin of her art. Yazmin, a special needs student at Wy'east Middle School, transfers her shyness into clean, vibrant lines in her depictions of animals, fruit, and still life objects.
Physical challenges have made sports and other physical pursuits less an option for Yazmin, and she has avidly pursued drawing as well as other arts and crafts since she was a small girl. Her mother, Monica Romero, saw in Yazmin a distinct interest in art, and two years ago enrolled her in a ceramics class at Columbia Center for the Arts. The class was a turning point for Yazmin, as it was taught by someone with experience and academic credentials in working with differently-abled students, artist Yvonne Pepin-Wakefield of The Dalles.
"She taught me to do things better," Yazmin said.
"It has been a real positive," Romero said.
"Since she was young she always enjoyed art and has been one of the best in her class at drawing. Sometimes in groups she can get overwhelmed, but her art has been a great way to give her socialization."
Even with her mother, Yazmin is minimally verbal, but Romero sees each day how much she enjoys creating, and a frequent "thumb's up" tells her when Yazmin feels pride in her work.
"When she started the ceramics class, she was totally non-verbal, no eye contact, with the students and myself, but I could see in her work there was something inside of her," Pepin-Wakefield said. "When we would go sit on steps and have snacks between breaks, after a week she would come sit down next to me and elbow me, so I knew there was a communication going on, though she still hadn't talked to me."
She told Romero that she works with students individually, and Yazmin started coming to her studio.
"The transformation has been amazing, socially, artistically," Pepin-Wakefield said. "I am aware of the different ways she processes and some of her sensory motor skills aren't on par," but that has not limited her artistic ability.
Pepin-Wakfield has been teaching Yazmin related skills beyond the palette or canvas: how to do an artist's inventory, write a biography and letter of thanks, and how to greet the public — something she will need to do repeatedly at Friday's opening.
"When she came into the gallery the other day, she shook hands with people and waved at the gallery director — that is something she wouldn't have done that last year," Pepin-Wakfield said.
The "Emerging Artists" show is not Yazmin's first: she won a blue ribbon in the Middle School-High School Show at The Dalles Art Center last year; juror Toms Royal did not know Yazmin's personal history when he gave her a top prize. Pepin-Wakefield said her work was chosen "because of the spirt and movement" of her painting.
Pepin-Wakefield approached CCA about a show for Yazmin, and they told her Emerging Artists was coming up, so she submitted several of her works and they were juried in the same way as the others.
Pepin-Wakefield has taught Yazmin fundamentals such as how to hold pencils and brushes and concepts of shading and perspective, and provided her "vocabulary to enhance the visual references, and exploring different media."
"Through the process, we talk about girl things, and things Yazmin enjoys," such as the comic book "Dracula High" and toys known as Shopkins, noted her teacher.
"I learn things from her, and we put into play the things that stimulate her," Pepin-Wakefield said.
Yazmin has focused on acrylic painting, and some of her still life works interpreting fruit have a vibrant, Impressionist quality. Yazmin also does one-stroke drawings in the Japanese Sumi tradition, which Pepin-Wakefield introduced her to. Pepin-Wakefield was a Fulbright Scholar in Japan, studying calligraphy, and recalled the calligraphy kits that students take everywhere with them.
Now Yazmin has just such a kit, a backpack full of supplies she takes everywhere, and the Sumi method is one she has reveled in.
"That hand-eye coordination is so focusing and helps in all aspects of mind and body. You have to be dedicated, keeping to one stroke. We worked on scene, and from life, and she had to have that deep level of concentration and hand-eye," Pepin-Wakefield said.
"I hope we can continue to study together and see her progress grow. With the right encouragement and training, I can see her being an art teacher one day," she said.
---
Exhibit details: In the Lobby Gallery, local artist Sue Krigsberg will be showing a retrospective of her creative work over the past few decades, highlighting the journey of an artist as their style continues to emerge through the year.
In the Nook Gallery will be writing submissions from this year's Writing Up the Gorge workshop participants, complemented by artwork by artists Chas Martin and Rick Wheeler. This exhibition is sponsored by Windermere Realty in Hood River.
Other participating artists are: Mary Andrews, Casey Caruso, Carmen Chan, Nate Chavez, Steven Christian, Maya de Ceano-Vivas, Chris Fackler-Lowery; Thomas Gail. Jinx Griswold, Jolene Johnson, Jill Kelly, Nessryne Lamarti. Barrett Lamont, Judy Larsen, Moriah Lee, Tien-Chu Loh, Leslee Lukosh, Maggie MacLean, Krya Mairead-Gorski, Tim Moore, Janet Pahl, Huon Quach, Diana Rogero, Genevieve Scholl, J. Scott Stephenson, Michael Stewart and Nic Vik.