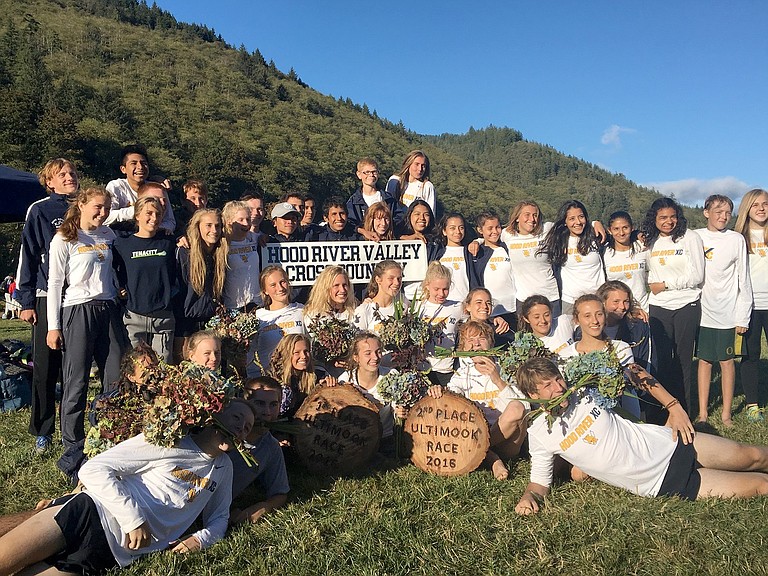 Wednesday, September 7, 2016
It was the first cross country race for half of the HRV varsity runners present at the Ultimook Invitational on Saturday, but you wouldn't know it.
The girls placed first of 16 teams and the boys place second of 19 teams in what Head Coach Brandon Bertram called "a promising start."
Senior Daisy Dolan placed first for the girls and second overall, finishing the 5,000-meter race in 20 minutes, 14.3 seconds. She was followed by scoring runners frosh Lottie Bromham (third, 20:41.2), frosh Celia Acosta (sixth, 21:10.6), sophomore Josie Petersen (ninth, 21:30.9), and frosh Reed Bauer (11th, 21:49.6).
Senior Jesse Wiley was first for the HRV boys and second overall (17:18) and was backed up by scoring runners Elkin Parker (junior, fourth, 17:43), Finn Peterson (junior, 11th, 18:08.7), Jacob Bromham (senior, 21st, 18:34.4), and Omar Quintana (frosh, 22nd, 18:38.5).
HRV will next host the Skip Sparks Invitational on Sept. 14 at Henderson Community Stadium; races start at 3:30 p.m.