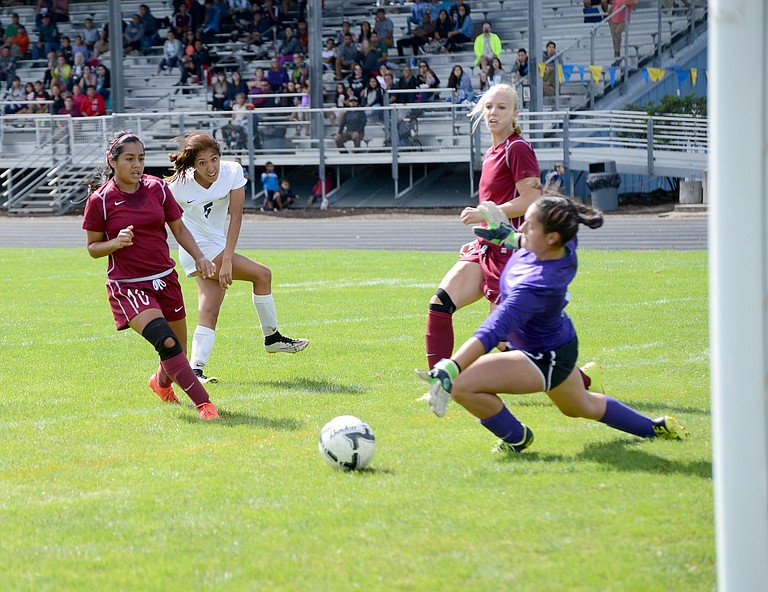 Wednesday, September 7, 2016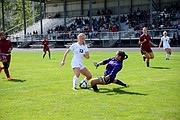 The HRV girls soccer team has ruled the roost in the Columbia River Conference for the past several years, taking the CRC title every year since Kevin Haspela took over as head coach of the team in 2010, although the Eagles did share the title with Hermiston back in 2012.
Despite that district success, the team has struggled in recent years when it comes to making it through the early rounds of the 5A state tournament. The past two seasons, HRV failed to make it past the quarterfinals after drawing the top-ranked teams in the state (Putnam in 2014 and Summit in 2015).
Thus, Haspela and his team of 19 varsity players have some very concrete goals set this season in an attempt to reverse the quarterfinal curse and challenge some of the perennial 5A powerhouses for the state title.
First off: win every one of their league games this season and take the CRC title. HRV nearly accomplished that last season, save for a 0-0 tie with Hermiston. Second: advance to the semifinals or better in the state tournament. Third: enter the playoffs with at least 10 wins. Last season, HRV finished 9-5-2, which was the best finish in Haspela's career, but 10 wins could result in a higher seeding for HRV, avoiding an early-round matchup with 5A's most elite teams.
And judging by this year's team, Haspela feels there's no time like the present.
"This is the most experienced group of players I've ever coached," he noted. "We have seven seniors and 12 juniors playing varsity. They have a high soccer IQ and can quickly detect where breakdowns in our team play is occurring. If they can learn from mistakes and communicate well, we will be playing good soccer."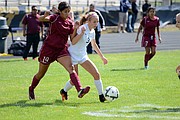 HRV lost some key seniors like Kara Kiyokawa and Jenissa Ramirez on defense, as well as Sindy Magaña on attack, but a large portion of 2015's core group of players have returned for the 2016 season. Those include four-year varsity players like net-minder Vanessa Silva (2014 CRC Goalkeeper of the Year), Mona Diaz (midfielder), and Cielo Rivera (midfielder/forward, All-Conference 2013-15). Haspela also expects "big things" from junior captain Claire Davies ("a strong utility player") and junior captain Yahaira "Yaya" Chavarria, who will "anchor our defense with quickness and ball-winning capabilities," he said.
Like in most other sports at HRV, the CRC games will obviously be the most important contests on the calendar for the girls soccer team, but because Haspela is looking for the highest possible seeding in anticipation of the postseason, the nonleague schedule carries equal importance for the Eagles. They will have to work especially hard to improve their standing this season, as HRV faces 5A opponents like Hillsboro (lost in the 2015 semifinals to Summit, the eventual state champions) and La Salle (lost in the 2015 finals) as well as 6A Barlow.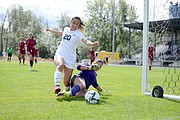 HRV eased into its nonleague schedule with a contest against 4A McLoughlin (0-1-2) on Saturday at Henderson Community stadium, which saw the Eagles unload on the Pioneers, scoring six goals in the final 23 minutes of the first half en route to an 8-0 victory. Rivera scored a hat trick in the game, while Davies and Halle Campos had two apiece. Diaz tallied the other goal for HRV.
Haspela was pleased in that half of the goals came from combination passes and one off a set piece. There were five players who each recorded an assist in the game: Diaz, Makena Zorza, Ami Santillan, Erin Sutherland, and Ashlee Ponce. Claire Oswald, a junior, started in net for HRV and earned a clean sheet, but had little to do as HRV's possession game was so strong that Oswald didn't have the touch the ball once in the first half.
The girls were scheduled to play at Hillsboro on Tuesday (results not available at press time) and then travel to Franklin High Thursday at 5:30 p.m.