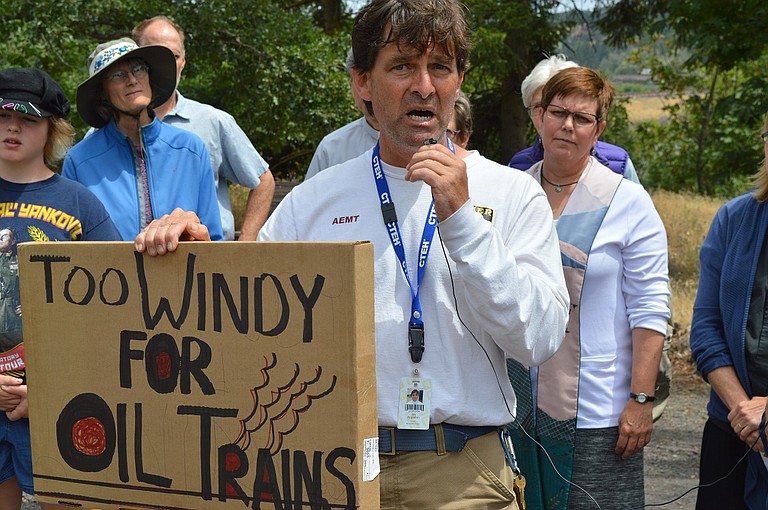 Originally published September 10, 2016 at midnight, updated September 10, 2016 at midnight
Perhaps just two or three years ago, Union Pacific Railroad's plan to add roughly four miles of new track in the Columbia River Gorge near Mosier probably would not have sparked much of a fuss. But times have changed, primarily due to several derailments involving trains carrying crude oil that exploded and burned and — in one particularly horrific accident in eastern Canada — took the lives of dozens of people. Locally, a June 3 derailment of an oil train at Mosier, which caught fire and burned for several hours, literally added fuel to the fire of opposition to oil train traffic.
Worry and fear that this type of scenario could bring tragedy to the Columbia River Gorge brought approximately 150 people to the Columbia Gorge Discovery Center Tuesday afternoon. Almost all of them were there to object to a Union Pacific proposal called the "Mosier Double Track Extension," which calls for extending an existing railroad siding at Mosier to create 4.02 miles of second mainline track through the area.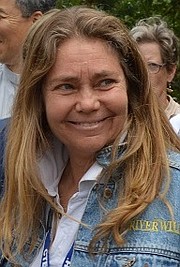 Although the track project is not directly related to the movement of oil trains, opponents of the railroad's proposal — spearheaded by organizations such as Friends of the Columbia Gorge, Sierra Club, and Columbia Riverkeeper — rallied in front of the Discovery Center in advance of a 3 p.m. quasi-judicial hearing before the Wasco County Planning Commission, which will decide whether to approve or deny the railroad's application.
Project opponents carried signs adorned with slogans that included "No More Bomb Trains," "We Love the Gorge Too Much for This," "Big Oil — Riding the Rails at our Expense" and "Turn Back the Oil Trains."
One sign-carrying protestor, Bambi Foy of the Dalles, said she hopes the level of opposition influences decision makers to deny the railroad's request to expand.
"I hope we get some action," said Foy, who runs the raptor program at the Discovery Center. "So many times we protest and nothing happens."
Jim Appleton, Mosier's fire chief, said he does not want to see the expansion plan approved, adding that he was not at all reassured because only a tiny percentage of rail traffic is crude oil.
"The elephant in the room is haz-mat (transport of hazardous materials)," Appleton said. "One percent was too much on June 3."
Mayor Arlene Burns of Mosier put her feelings in a poignant perspective.
"We request denial of this project," she said. "We have been severely impacted (by the June 3 derailment). Our town is still traumatized. We know we dodged a bullet."
Peter Cornelison, a member of the Hood River City Council and a field representative for Friends of the Columbia Gorge, predicted there would be much more rail traffic if the new trackage is allowed.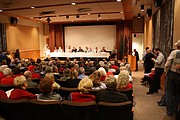 "There will be many more dangerous oil trains likely to pass through if this is approved, and not all trains will pass through safely," he warned.
The Dalles Mayor Steve Lawrence spoke at the rally, and he stressed safety issues.
"We have a Columbia River Gorge created thousands of years ago, and where we're at is, the river has to flow, the fish have to run, the people have to be safe, and the railroad has to operate, so what do we do?" Lawrence said. "One, the railroad has to make sure the railroad is safe. Two, they have to lobby for safer cars and materials. Three, I think they have to slow down through communities. And four, I think they have to remove the treated ties from AmeriTies as soon as they are treated. If they did those things, they'd be better citizens."
Another of the speakers at the Discovery Center rally, Rev. John Boonstra of White Salmon, said by hauling coal and oil, corporations like Union Pacific are putting the planet at risk.
"There is corporate denial over what's giving rise to global warming," Boonstra said.
However, once the Wasco County Planning Commission hearing got started in the auditorium of the Discovery Center, UP officials were quick to point out that making rail operations more efficient by adding a few miles of mainline track has essentially nothing to do with oil train traffic, and would not necessarily result in more trains operating through the Gorge.
"This project is not about an increase in the number of trains. It's efficiency and fluidity for existing traffic. Only market conditions increase or decrease the number of trains," explained Clint Schelbitzki, UP's director of public affairs.
"The market drives train traffic," said Wes Lujan, UP vice president for public affairs, adding that a relatively small rail expansion is not going to determine the number of trains passing through a region. "And less than 1 percent of our traffic is crude by rail."
Schelbitzki explained the reasons why the railroad wanted to build several miles of a second mainline through Mosier.
"What we have in Mosier is just over a mile of double track. With the expansion, trains moving east and west can proceed on without having to stop," he said. "That is what is driving the need for this project."
Schelbitzki added that because of the bottleneck at Mosier, trains are waiting in The Dalles for traffic to clear before they can proceed westward.
Wasco County Planning Director Angie Brewer presented details of the railroad's proposal to the crowd and to the members of the planning commission.
She said the railroad's plan calls for the existing 1.35-mile siding at Mosier to be expanded east and west, allowing trains to keep moving rather than having to stop and wait on the siding for another train to pass.
Brewer pointed out that Columbia River Gorge National Scenic Area and Wasco County rules allow railroads to make infrastructure enhancements. Railroad projects are considered a permitted use, but are subject to review and conditional use provisions.
"The railroad was in existence before the Scenic Area rules, and the rules allow for railroad expansion," Brewer explained. "The plan does anticipate this type of development and allows the railroad to be maintained, repaired, and modified in some way, shape, or form."
However, the county can add conditions to a proposed project before granting approval. Among possible conditions under consideration are mitigation plans for wetlands and white oak trees, as well as building at least two safe crossing for use by tribal fishers.
Aaron Hunt, Union Pacific's director of corporate communications, told the crowd the railroad company was deeply sorry for the recent oil train accident at Mosier.
"We reiterate our apology for the incident at Mosier on June 3. We recognize this was a severe incident," Hunt said. "Every employee at UP works constantly to avoid incidents like this. We sincerely apologize."
Toward the end of the hearing, which lasted approximately five hours, members of the planning commission approved a motion to close the record as of Sept. 13, and then continue the hearing on Sept. 26 at 3 p.m., again at the Discovery Center.
"They will meet and consider and deliberate, and they may take more than one meeting before making a decision," said Dustin Nilsen, senior planner for Wasco County,
On Wednesday, Lawrence said the issue comes down to safety.
"I am not categorically opposed to a second line," Lawrence explained. "Any line has to be safe. One of our goals in The Dalles is the safety of our citizens, and that's a paramount concern. As I told the railroad a year ago, moving volatile Bakken oil in unit trains, it only takes one accident and then it's too late. Let's not wait until it's too late."