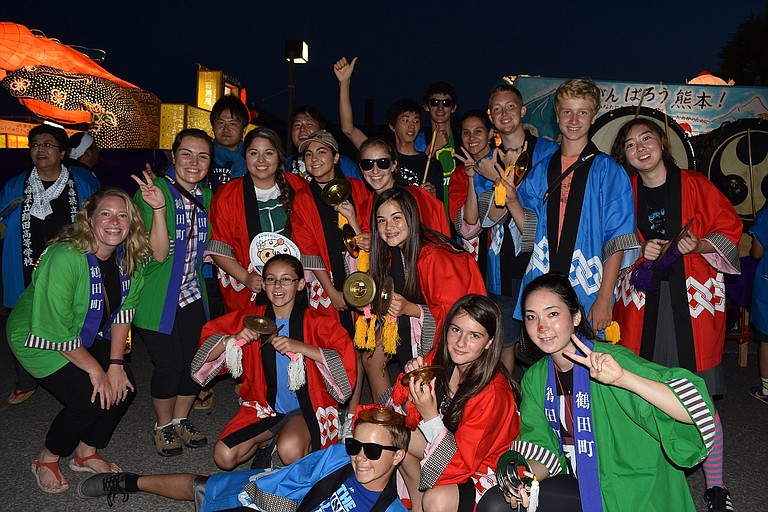 Wednesday, September 14, 2016
Rice fields, shrines, fireworks, museums, humidity, judo, shopping, convenience store food, meeting a famous dog, Pokémon, host families, Japanese hospitality and fire torches are just a few of the memories that come to mind when I think of the 11 day trip to Tsuruta, Japan, I and 15 others embarked on this past August.
Slated as a trip of cultural exchange, the 16 of us comprised the 2016 student delegation to Hood River's sister city of Tsuruta. This trip occurs every two years and is open to all Hood River junior high and high school students. This year the group was quite young, with the majority of the students in junior high school. For many of them, it was their first trip out of the country and for almost all, the farthest from Hood River they had ever travelled.
We began our trip as many do, leaving Portland International Airport. From Portland we were bound for Vancouver, Canada. Our passage through Canada was seamless and with just enough time to grab some maple-flavored goodies, we boarded the plane for our longer leg of the journey, non-stop to Narita, the largest international airport in Japan.
Despite the personal entertainment provided on the plane, many of the students became quite restless. They were beyond ready to get off the plane when we were only halfway there. Brimming with anticipation and excitement made the option of sleeping (which I suggested numerous times) nearly impossible for most of them. We were all in for a long flight of movies, games and conversation.
After nearly 10 hours, we finally arrived in Japan. After some hang-ups in immigration and getting our rail passes to travel throughout the country, we were finally ready to make our way to the hotel and really begin our Japanese adventure.
We had booked a hotel that was somewhat centrally located and easy for us to navigate to and from. By the time we arrived there that evening, we were too tired to seek out a proper dinner. It was decided that in true Japanese style we would go find food at a konbini (convenience store) for dinner that night. Japanese konbinis are remarkable places. You can find a plethora of food, drinks and snacks including a variety of items that they will heat for you free of charge. You can buy anything from a cup of noodles to oden (a soup dish served hot at the counter) to rice balls and even pasta. The group scrambled in every direction and everyone found their own culinary delights to sample. After that it was off to bed.
The next morning, the group took a guided full-day tour of some of Tokyo's must see places. We went up to the lookout at Tokyo Tower, saw the Imperial Palace grounds, visited Meiji Shrine, walked through the beautiful Hama-Rikyu Garden, shopped down Nakamise Street, which eventually led us to a Buddhist temple, took a river boat cruise and even sparred with a ninja. The tour was nice in that it combined many of the things that Japan is known for — scenic beauty, technology, shopping, history and religious beliefs and practices. We ended the day walking through Akihabara, the district known for anime, manga and electronics.
Spurred by the interest in Pokémon GO by many members of our group, our second day in Tokyo we made our way to the Pokemon Mega-Center, a large store specializing in Pokémon goods. A Pokémon lover's paradise, this store carried everything from stuffed animals to phone cases, pens and notebooks, to edible Pokemon products such as cookies and ramen. There was even an appearance by Piplup (a penguin-looking Pokémon), who might as well have been a pop-star as everyone there fawned over him and crowded to take his picture.
Strapped with our Pokémon goods (many of us left the store with stuffed Pokémon peeking out of our backpacks), we continued touring the area. On our way, several of the students expressed interest in visiting a cat café while others were interested in checking out a seven-storied arcade building equipped with hundreds of arcade games, claw machines, a karaoke bar and even a bowling alley. I took five of the students with me to the cat café while the others went on to the arcade.
Themed cafés are popular in Japan. Some have animals and things to enjoy that you might not otherwise get to experience while others are purely just fun and intriguing like the toilet, nurse or vampire themed cafés. In this particular café, for approximately $10, we were allowed to enjoy the company of the feline residents of an upper floor apartment. Home to about 10 or so cats, the cats were free to roam the apartment and visitors were invited to pet and play with them. Kitty toys as well as drinks, magazines, games and Wi-Fi were provided. It was a rather relaxing experience. We left the café after an hour and met up with the rest of the group at the arcade. That group had thoroughly enjoyed themselves as well, even though a couple of them were having some motion sickness issues due to the games. All in all, our last day in Tokyo was a win-win for everyone. It was now time to make our way up north to Tsuruta.
We caught the bullet train in Tokyo and arrived in Tsuruta around 7 p.m. that evening. The Tsuruta Town Office had a private limousine bus ready to take us to the town where we met our host families. Introductions were made and we were all whisked off to our respective host family's homes, where we would spend the next week fully immersed in Japanese culture and activities.
We met the Tsuruta mayor and town office staff the following day and were given goody bags filled with souvenirs from the town, including apple juice produced in the area. From the moment we arrived in Tsuruta, we were shown the most unbelievable hospitality and kindness. This treatment was given by everyone we encountered, young and old. We met the brass band club at Tsuruta Junior High School later that day and they performed several songs for us accompanied with a handmade welcome sign. We were also invited to watch a judo demonstration at the junior high school and several members of our group were taught some throws from members of the judo club. Even with the language barrier, the students from both cultures were able to interact and share their interests.
Our time in Tsuruta was packed full of activities. One day we were given tours of the town office and nearby fire station. At the fire station we were allowed to climb on and into the firetrucks. One of the boys got a full pseudo-medical experience as the firefighters strapped him to a gurney and loaded him onto an ambulance. That same day we visited Fujimiko Park and saw the resident cranes, the namesake of the town ("Tsuru" means crane in Japanese), that the town keeps and walked across the wooden bridge over to where the cherry trees and playground are located. The playground has a large play structure equipped with a free-fall slide as well as roller-slides, where the participant sits on a pad and rolls themselves down a collection of rollers that increase with speed as they proceed.
One evening shortly after we arrived, we were honored guests at an official welcome party put on by the town. Our host families, town office staff and members of the sister city committee were all there to celebrate our visit. We were given honorary citizen certificates and pins and a traditional festival garment to wear at the upcoming town festival. It was an evening of good food, conversation and Taiko drumming. The Tsuruta Taiko group performed and invited us to try out the drums ourselves.
Outside of Tsuruta, we visited several museums, including two Nebuta museums in nearby Hirosaki and Goshogawara. Nebuta are illuminated, paper floats that depict brave warriors and historical figures that are carried through the towns during their summer festivals. There are several different types and the ones we saw were fan-shaped and the really tall Tachineputa that stand around 75 feet tall and weigh approximately 19 tons.
We viewed the vast Inakadate rice art, and travelled the coast, even meeting Wasao, the prefecture's famous dog. The group still doesn't entirely understand why he's so famous. We just know that he's a cute, squid-eating dog, they made a movie about him and that he has his own merchandise. I guess you have to meet him to understand and even then you still might have some questions. As a side note, our group was filmed on national Japanese television while we visited Wasao.
One of the most memorable activities was Tsuruta's summer festival. As part of the festivities, we joined the townspeople in making the longest sushi-roll in Japan. Every year the town office provides the tables and ingredients and people gather in the middle of town to create the sushi roll. It is a step-by-step process and after the completed roll is lifted off the table to ensure its length and durability status, the townspeople divvy up the roll and everyone gets to eat their creation. We also participated in the town's parade and were taught to play the drums and cymbals as we marched throughout the town.
Our last night in Tsuruta was bittersweet. We participated in a scared shrine ceremony and then returned to Fujimiko Park, where we led a fire torch parade across the bridge. Our torches were large sticks of wood wrapped on one end with a cloth soaked in kerosene. We had to use extreme caution when holding and carrying the torches because if we held them the wrong way, there was a good chance that we could get burned or set the bridge on fire. With our torches in hand, we made our way to the other side where everyone was waiting for the fireworks show to begin after our arrival. We were joined by students from the local elementary schools, all armed with their own flaming torches. It was an incredible sight to see; the line of torches marching across the lake one by one, the fire reflecting in the water below. It was an ideal summer evening to sit with our host families and friends enjoying the fireworks together.
Our goodbyes the following morning were full of hugs and tears. It's remarkable that the memories and friendships made in the span of a mere 11 days have the capacity to last a lifetime. If you asked any member of our group the one aspect they enjoyed most about the trip, I'm quite sure the answer would be the same: the host families. There's nothing quite like the experience you get from staying with a host family. They invite you into their lives and families and treat you as their own. Creating and fostering these relationships is what these Hood River - Tsuruta sister city exchanges are all about.