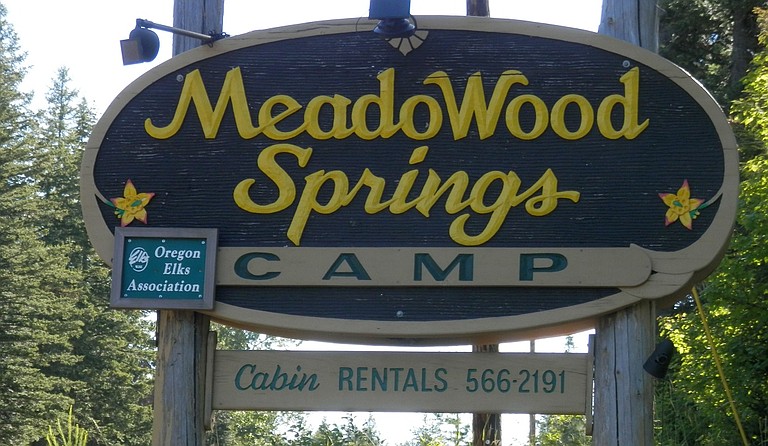 Saturday, September 17, 2016
Hood River Elks Lodge No. 1507 supports a number of local and statewide organizations, but this summer had the opportunity to do something it hasn't in 25 years — send two local kids to camp.
Not just any camp: Camp Meadowood, a speech and hearing camp located in Pendleton providing intensive therapy for young adults with speech, hearing and language disorders. The Oregon State Elks Association began supporting the camp in 1973, and since that time, the Hood River lodge has helped contribute funds and volunteer hours to send campers and maintain its grounds.
But the local lodge hasn't sent a child from the Hood River area to Camp Meadowood in 25 years, something member George Johnson and his fellow Elks decided to change.
Johnson's first challenge was finding potential candidates.
"When I began this project, I didn't know where to look to find kids who would be qualified to go to camp," Johnson said. "I checked with doctors, the hospitals and others, but was unsuccessful."
It wasn't until he contacted Kidsense Pediatric Therapy Center, located in downtown Hood River, that he got a lead — Annette Brody, co-owner and licensed occupational therapist, suggested Trish Leighton, speech/language pathologist at Hood River County School District middle and high school sites.
"In a small town like this, we know all the clinicians," said Leighton. "George let Annette and I make some big decisions."
With Leighton's help, a girl and a boy were selected, one from Wy'east and one from Hood River Middle.
"Students were selected based on their potential to get the most out of camp," said Leighton. "These students have difficulty interacting socially and pragmatically with peers and adults."
There were other criteria, she said: Students had to be independent enough to take care of themselves while at camp and manage being away from home. Only 30 students are selected per camp session, so there was no guarantee her students would even make it in — Meadowood has its own set of criteria, including the age group and needs of all children selected for that session.
"They select their clients-slash-campers based on the whole gamut of campers and campers' needs," said Leighton. "It really speaks to the program — they work so hard to make it a good fit for everyone."
For parent Carrie (last name withheld by request) and daughter Megan, who attends Wy'east and is autistic, the camp wasn't even on the radar until they were contacted by Leighton — not only was Carrie unaware that the camp existed, but that the Elks' scholarship was also available.
"My initial thought was, 'Wow, this could be a really great opportunity for Megan,' but I wasn't sure what to expect, what they were planning to do at camp with the kids," said Carrie.
"The intent of Meadowood is to provide a program wherein children can receive speech management services directed to their specific needs in a setting that will provide a unique opportunity for growth in independence and self-reliance," explained Johnson. "… Therapy in a recreational setting encourages children and motivates them to accept challenges and risks they may avoid in a conventional setting."
Days include small group, large group and one-on-one instruction — or what amounts to 16 hours of therapy sessions per day.
Picking Megan up after camp was like picking up a different kid, Carrie explained.
"Her hands weren't up in that bunny position — she looked like a young woman with confidence," she said. "She appeared taller to me. It was neat to arrive and see my child like that, interacting with other campers with such ease, campers and camp counselors.
"… The first words out of my daughter's mouth was, 'I finally found my people.' It was an amazing experience for her."
Leighton is also happy with the outcome. "Both (students) were enthusiastic when they returned," she said. "They met a lot of kids and they enjoyed being there. The parents thought it was a great thing and appreciated the scholarships immensely. Both would love to go back next year."
Carrie said that Megan wants to return to Meadowood next summer and the family is starting to save for the $1,200 tuition now.
"It's well worth it and I highly recommend it," she said. "What's neat for us, she made friends that she still communicates with."
Johnson is hopeful that the Elks will be able to send two new students again next year.
"I want people to know that this camp is available to kids ages 6 to 16 and what it can do to affect and benefit their lives in a very positive way — it can literally change their lives and what better thing can we do then try to help them become more successful?" he said. "I was truly touched by the letters the families wrote to me after the camp, and how they felt that it was such a rewarding and positive experience."
It took club members a year to raise the money to send both students, Johnson said, with donations coming in in $1 or $5 increments.
"We give back and help those less fortunate, and especially young people, who are our future," he said. "We are a social club that likes to contribute to the well-being of our community."
And, of course, there's the social side.
"We have a large facility downtown where you can meet a friend after work, enjoy a delicious meal on Friday or Saturday night or if needed have a reunion or private party in our ballroom," he said.
"You can play bingo on Saturday night, shuffleboard or just relax in our upstairs area and enjoy the great view of the river and Mount Adams. We have a very nice athletic area if you like to play racquetball or handball, or just enjoy using the treadmill or various athletic equipment. We have a lot to offer our members," he added.