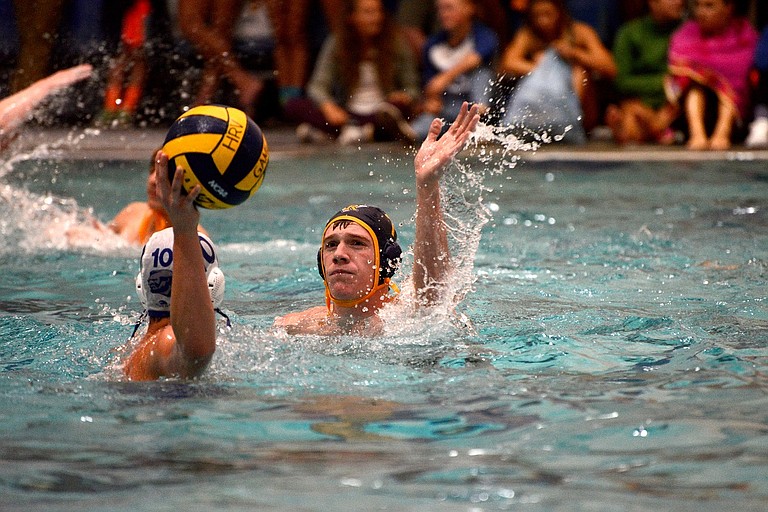 Saturday, September 24, 2016
It's been a different kind of season for the boys water polo team, except for one key aspect: they keep winning.
HRV's (4-1) latest wins came courtesy of Grant (1-4), whom the Eagles defeated in their home debut Tuesday, 11-6, they followed that up with a defeat of Gresham (1-4) on Thursday.
The team is still in a period of transition, however, from what it was last season and with that has come a need for a few adjustments here and there.
"As I mentioned previously, the boys' culture is shifting from a few standout players last year that dominated offensive play to needing an effective team on both offense and defense. This always takes longer to develop but I'm seeing progress week to week," Head Coach Dave Robinson explained. "The exciting part is the core of this team dynamic is mostly sophomores, a few juniors and some freshman, creating a great picture for the coming years."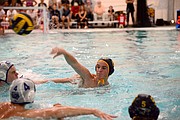 Though the Eagles won, the Generals made it a close game and had a stiffer press defense than was expected. Robinson also noted that HRV took too many shots within the opposing goalie's "halo" — essentially, the semicircle area above the water that a keeper can reach with their hands without moving. Grant never led in the game, but did get as close as 4-3.
"Shooters focusing on the wrong object — the goalie — versus just inside the intersection of the bar and post as well as poor shooting angles are the usual contributors to the halo effect," Robinson explained. "I will do specific shooting clinic practices going through the fundamentals but time is limited and there is defense, other basic fundamentals, swim conditioning, ball protection, etc. These are long-term developments that start with good clubs in the pipeline that I'll try and hone over four years."
Though the team has been more well-rounded in terms of scoring this season, Cole Rothman dominated in the contest with Grant, putting up a team-high six goals. JJ Mears was also busy in the pool Tuesday night, scoring twice as well as tallying three assists and four steals. Bryce Donald, Connor McElwee, and Pelle Bergstrom had a goal each.
It was a similar situation Thursday at Gresham, where the boys didn't have a dominant victory over the Gophers, but a victory nonetheless, defeating the 6A school 12-8.
"The boys came out pretty strong, but did struggle a bit to find their stride against a very physical team and a really solid goalie," said Kellie Dunn, assistant coach for the boys. "They handled the pressure well and maintained their focus even with the refs letting the game be rougher than usual."
Mears scored a quarter of the goals for HRV, while McElwee, Klaas, and Corbett Blackman tallied two. Bergstrom, Donald, and Pen Paphanchi had a score each. Liam Longland was busy in the cage, racking up seven saves.
The boys next host Parkrose (4-0) Tuesday at 5:30, then travel to Centennial Thursday.