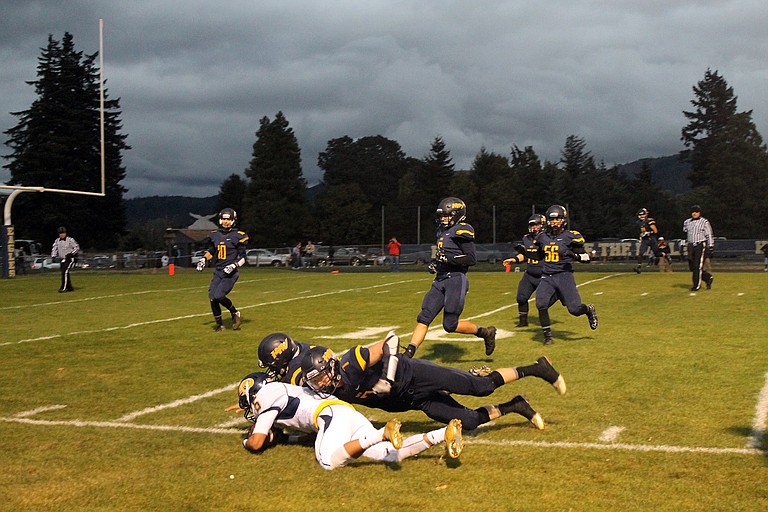 Wednesday, September 28, 2016
The Hood River Valley High Eagles football team played extremely tough in a Special District 1 home game against the highly regarded and fifth-ranked Bend Lava Bears (4-0). A much younger Eagles (0-4) squad with just eight seniors made a valiant effort against a more experienced Bend team (20 seniors) and they were within two scores for most of the game last Friday.
The Eagles, guided by coach Caleb Sperry, trailed just 20-6 with a little over one minute remaining in the third quarter. Bend scored with 1:09 left in the third to build an insurmountable 27-6 advantage after three. Bend's momentum continued in the fourth as they pulled away for a 42-12 victory.
HRV looks to get its first win when it hosts the Hermiston Bulldogs (1-1 SD1, 1-3 overall) Friday at 7 p.m. at Henderson Community Stadium. Hermiston also lost Friday 27-14 at home to the defending state champions and the second-ranked Summit Storm (2-0 SD1, 3-1).
Bend scored on its opening possession to go up 7-0 with 7:56 left in the first quarter. The Eagles responded quickly, though, and scored just 55 seconds later.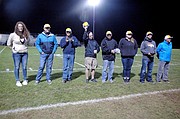 A three-play, 77-yard scoring drive was capped by a 76-yard touchdown pass from sophomore quarterback Caden Leiblein (14-for-31, 198 yards passing) to junior receiver Tanner Wells (two receptions, 93 yards, TD). Wells caught a screen pass at the Eagle 40-yard line near the right sideline and then sprinted downfield while outrunning Bend defenders and into the end zone for the score. The point after touchdown failed, though, and Hood River trailed 7-6 with 6:51 left in the first quarter.
Bend built a 14-6 lead after one quarter. HRV's offense stalled somewhat against the Lava Bears tough defense, but Leblein contributed mightily on special teams in Eagle punting situations as he boomed solid kicks downfield in the first half and twice pinned Bend inside its own five-yard line. Near the end of the first half, senior defensive lineman Wyatt Mansfield sacked Bend senior quarterback Chase Lettenmaier to help thwart the Lava Bears' potent offense. However, Bend managed to get a late score to build a 20-6 halftime margin.
HRV had a golden opportunity to trim the margin to one score in the third quarter. Led by Leiblein, the Eagles engineered an impressive drive on their second possession of the second half. Senior receiver Dylan Peterson (three receptions, 37 yards) and sophomore receiver Christian Zack (four receptions, 68 yards, TD) each caught key passes to gain pivotal first downs. A 25-yard pass from Leiblein to Zack put the Eagles deep in Bend territory at the Lava Bears five.
A key fourth-down-and-three play was well executed by sophomore running back Brandon Rivera, who scrambled near the end zone, before he was tackled at the Bend one-yard line. However, two plays later, the drive fell short on a costly Eagle turnover, giving Bend possession and denying a chance for an HRV score that could've made it 20-14 in the third.
Bend then regained the momentum and scored to take a 27-6 lead and the Lava Bears extended the margin to 35-6 in the fourth. Despite the lopsided score, the Eagles never gave up and they continued playing hard and then put together a scoring drive. A 33-yard TD pass from Leiblein to Zack made it 35-12 with 6:41 left in the game. It marked the first career touchdown scored by Zack on the Eagle varsity team.
"We played pretty well against a very good Bend team, but I think we could've played a little better," said Zack. "We just have to continue to play hard in every game and hopefully, we'll be able to get a win against Hermiston."
HRV junior running back Michael Jones and junior receiver Connor Coerper were unable to play because of ankle injuries. The Eagles are hoping that the two key starters will be available to play Friday.