Wednesday, September 28, 2016
VERBATIM: Harvest Will Soon Be At Its Height
In about a week, Hood River's apple harvest will be in full blast. Picking of the earlier varieties is now under way and Winter Bananas are being harvested. In another week the harvesting of Yellow Newtowns will probably start in some sections of the valley, while the Spitzenbergs will come later. More labor than ever before will be required to get the fruit off of the trees. However, the government employment office in Portland is already calling for 1,500 pickers and packers. Manager Stone of the Association says that while there will be plenty of work for all who come, he does not anticipate any such serious shortage as predicted by some.
The crop is maturing under ideal conditions.
—Hood River News, September 27, 1916
1916 — 100 years ago
Instead of hard surfacing one mile of road between the Multnomah County line and Cascade Locks, S. Benson is using the same amount of money in macadamizing the entire distance of two and a half miles to the Locks. The first information of this Judge Stanton got was when he motored over the road the last of the week and was told by the contractors that the road was being made of macadam instead of hard surfacing material. The work is progressing rapidly.
1926 — 90 years ago
Construction work began in earnest on the new senior high school building last week. The excavation work had all been finished the previous week and the ditches for footings were cleaned out down to solid gravel. Last week the concrete footings were poured and the frame work for the auditorium floor was set up. This week the forms for the concrete walls will be made and pouring will be well in hand by the end of the week. Almost before anyone can realize it, a new high school building will be erected and made ready for occupancy next year.
1936 — 80 years ago
Hood River will have its second parking lot within a few days, according to Leonard Freygang, who operates the Western Auto Supply store on Cascade and Third. Tuesday, he leased the old Argo hotel site and the adjoining property from the E.A. Franz estate and already is preparing the land for a well-lighted parking space, which he expects to have available within a few days. Since the fruit packing and canning season opened, parked cars have caused much congestion at the eastern end of Cascade and Columbia streets. Freygang expects to rent parking to business men and women who are willing to pay a small sum each month to keep their cars off the streets.
1946 — 70 years ago
Around midnight Wednesday, fire resulted in considerable damage to Ma's Squeeze-In restaurant on the ground floor of Hood River Hotel, and also did some damage to the rear end of the barber's shop adjoining. Thanks to the prompt arrival of the Hood River volunteer fire department, the blaze was confined to the two small ground floor units and was not given a chance to extend itself to the hotel, all rooms of which now have guests. Naturally, there was some apprehension among these guests and smoke permeated the hotel building, but their fears were quickly allayed when the fire department rapidly controlled the blaze. Cause of the fire is not yet definitely ascertained.
1956 — 60 years ago
Another milestone in the fruit history of Hood River Valley is being reached this week with the formal announcement that the red Bisbee sport of the Starking Delicious apple variety is being patented by Stark Brothers' Nursery of Louisiana, Mo. Only a few trees are available for commercial testing, Stark said during his visit here last week. It is a story of two Hood River Valley brothers, Roy and Ben Bisbee, who became orchards "on a shoestring" and who discovered a red sport apple which is a model gift from any student to a teacher.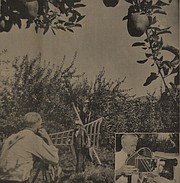 1966 — 50 years ago
Paasch Road's wood-deck bridge was earmarked for replacement by the County Commission during a meeting here on Wednesday. The bridge described by county officials as "a hazard long overdue for replacement" will be taken down, presumably within the next year, to make way for a new concrete structure complete with sidewalks and railing. Cost has been estimated at $100,000 with federal, state and county governments sharing the bill on a 60-20-20 percent basis.
1976 — 40 years ago
There was no Monday Night Football this week for hundreds of persons who depend on the Columbia Gorge translator signal for their pictures. Directors of the Columbia Gorge TV, Inc., the non-profit organization which operates the Underwood Mountain translator system, shut down operations Monday morning because of the lack of financial support. "We won't turn it back on until we reach our goal of 300 new members," said Roy Bransky, a board member. It was the first shutdown of this type in the 20-year history of the group, which formed to bring a TV picture for areas which had no other access to a signal. Updated information Wednesday morning indicated about 180 or so persons had submitted new memberships.
1986 — 30 years ago
If the City of Hood River faces a tough winter as it was last year, it could be a long, difficult season. The reason: old and worn snow removal equipment, say city officials. When sunny, warm summer weather turned to September rain, it prompted city workers to look even one step farther. What they saw made them especially apprehensive this year. One look at the equipment used by the city for snow removal is almost like looking back in time. Half of the vehicles in the city's fleet were built in the 1950s, and their age is causing concern. "If we have snow, we have a problem. The people of Hood River should pray for rain," says Don Weidner, city administrator.
1996 — 20 years ago
Construction of a trailhead on the Scenic Columbia River Highway near Hood River may be one step closer to completion if President Bill Clinton signs a $3.7 million appropriation bill passed this month by the House and Senate. The appropriation falls under a bill that includes a number of other transportation items. The $3.7 million is intended to fund the construction of a western trailhead for a linear park between Hood River and Mosier, said Jeanette Kloos, the Scenic Area coordinator for the Oregon Department of Transportation. The trailhead and linear park plan is part of a project begun last year that involves reopening the Mosier Twin Tunnels. Eventually, recreationalists will be able to hike or bike from Hood River, down the historic highway and through the tunnels to Mosier.
2006 — 10 years ago
The sign posed in an orchard near Pine Grove Grocery this week spelled the situation out in English and Spanish: Pickers needed. Pear growers have been squeezed during the past weeks of harvest as fruit ripens at both ends of the Hood River Valley. Some growers have finished harvest while others are midway or have just begun the race from tree to bin. "The pears come off in 21 days," said Pat Moore, of Moore Orchards. "You adjust crews to get done by that time frame." His operation finished harvest Wednesday without any labor issues. "We got lucky," he said. Craig Mallon, a field man for Duckwall-Pooley, said the Parkdale orchardists are the ones still needing to finish their crops. "They're not quite halfway done. For this time of year there should be enough pickers," he said. As far as where the pickers are, some growers said there is the same number as usual but overlapping harvests throughout the valley have stretched thin available resources.
— Compiled by Trisha Walker, news staff writer