Originally published April 5, 2017 at midnight, updated April 5, 2017 at midnight
When Bob Francis, former director of the Mid-Columbia Council of Governments (MCCOG), recently announced he was going to Florida to take a city manager's job — March 31 was Francis' last day as head of MCCOG — the agency wasted little time in finding a replacement.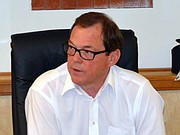 David Meriwether, who previously served as administrator for Hood River County, was hired on March 28 to serve as interim director. The MCCOG board voted unanimously to hire Meriwether for the opening, and he started work on Monday, April 3.
"I'm looking forward to it," Meriwether said on Friday.
Meriwether served as administrator of Hood River County for about 15 years before retiring in June 2016. As administrator, Meriwether's role was to oversee all county staff and carry out policy for the Hood River County Board of Commissioners.
"It's strictly for a few months," Meriwether said of his new role. He added that he is not interested in filling the position on a permanent basis. "I intend to stay retired, but I am in position to fill in on a temporary basis."
The Dalles Mayor Steve Lawrence, one of the 10 members of the MCCOG Board of Directors, praised Meriwether as an ideal candidate for the role.
"He's a great choice," Lawrence said. "He oversaw the execution of codes and permitting for Hood River County. He's just the guy. We all know him; know his strengths. We've got a guy who knows the playing field."
MCCOG, which is based in The Dalles, is a multi-jurisdictional agency designed to bring efficiencies of scale to an area that stretches across Wasco, Hood River, Sherman, Gilliam and Wheeler counties. MCCOG provides joint services as well as centralization of expertise and funding opportunities.
The organization oversees programs geared to benefit the five county-area and the citizens who live there. MCCOG programs focus on work force opportunities and development; family services; services and resources for senior citizens and the disabled; grant writing; public transportation for the area; building codes services; recycling resources; and a variety of educational, technical and environmental services across the region.
Lawrence said Meriwether, who lives in Hood River, was lured out of retirement to take over as interim director until a permanent director can be named.
"I think somebody called on him," Lawrence said. "He will come in for several months and he will be evaluating MCCOG."
"It helps that it's so close," Meriwether said. "I know the organization and the county and city officials involved. That made it an easy decision for me."
One consideration Meriwether may need to review is whether Wasco County's building services, including building codes and permits, will stay with MCCOG or go to Wasco County.
"That will be a conversation we'll have with the county," he said.
Meriwether said he would serve as interim director no later than the end of November.
"It will give me time to get a handle on things and see if there are any opportunities to better the organization or the services being provided," Meriwether said. "We'll look to provide the best services in the most efficient way."